New flight connects the neighbours of Hue, Da Nang
April 20, 2019, 10:52 [GMT+7]
Hai Au Aviation, a tourism flight provider headquartered in Ha Noi, is going to run sightseeing flights from Da Nang to Hue, the neighbours in the central region of Viet Nam.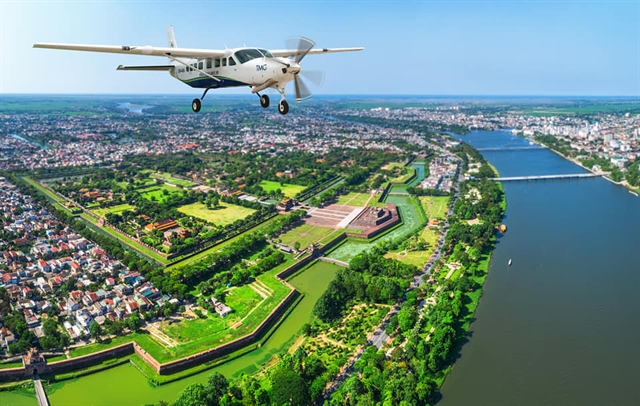 An aerial view of the royal citadel and the Huong River in Hue City. — Photo provided by local Department of Tourism
The service will have the first flight on the route on 25 April.
According to Hai Au Aviation, the flights will offer customers 30 minutes looking down on vibrant Da Nang as well as aerial views of Ngu Mountain, Huong (Perfume) River, and the royal citadel – popular landscapes in Hue.
Passengers will enjoy the flights on the American single engine light turboprop Cessna 208 Caravan. Each flight will accommodate 12 passengers, aiming to supply passengers with spacious and comfortable seats.
Online booking is available at online.sales@haiauaviation.com. Tickets for a flight connecting Da Nang and Phu Bai airports cost 3,620,000 VND or 155 each US$.
The service offers several choices to passengers, including one-way flight from Da Nang to Hue, two-way flight on the route, or single flight for sightseeing in Hue or Da Nang.
According to Thua Thien-Hue Department of Tourism, the sightseeing flights are expected to boost local tourism in the number of visits and the diversity in its tour programme.
In related news, the aviation service is working with the tourism sector in the central province of Quang Binh to open a flight from Da Nang to the 'kingdom of caves,' including the world's largest grotto Son Doong.
Demand for caving tours in Quang Binh's Phong Nha is on the rise but the almost seven-hour trip by bus prevents visitors from taking the tours. The flights are expected to solve the issue.
(Source: VNS)
.