Central kitchen model heats up in Viet Nam
October 22, 2019, 09:29 [GMT+7]
The increasing demand for food delivery applications has helped spread the trend of central kitchens from China, India, Japan and Indonesia to Viet Nam.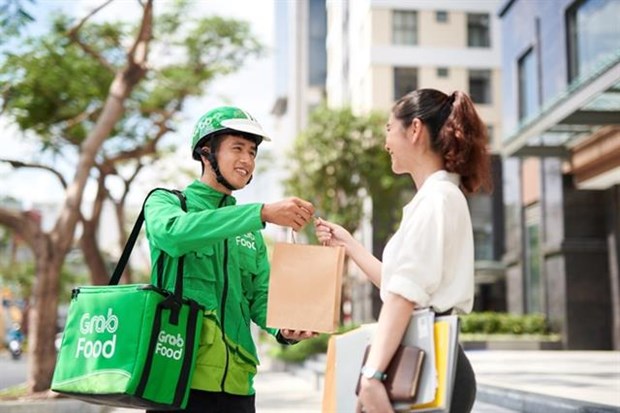 Grab – Southeast Asia's leading multi-service super app – recently launched a central kitchen, GrabKitchen, in Ho Chi Minh City after weeks of trialing the model. (Photo: Grab)
Grab – Southeast Asia's leading multi-service super app – recently launched a central kitchen, GrabKitchen, in Ho Chi Minh City after weeks of trialing the model.
The kitchen is located in Thu Duc District. The company calls this model "cloud kitchen".
The kitchen features 12 popular restaurants on the GrabFood platform.
Each one has a separate kitchen, equipped with basic utilities. Processing equipment is installed by the restaurants. Grab does not charge a lease for the space, it only charges for electricity, water and a commission.
"Viet Nam is the second country where Grab has opened a GrabKitchen model. In the Indonesian market, within a short span of six months, we expanded to more than 10 GrabKitchens across the nation as of September. We aim to launch more than 50 GrabKitchens by the end of this year, the largest regional network of cloud kitchens in Southeast Asia," said Jerry Lim, Country Head of Grab in Viet Nam.
In Viet Nam, the concept of GrabKitchen could also achieve considerable growth, he added.
He also said that the company would set up more kitchens in the city this year and expand to Hanoi and Da Nang next year.
Grab's central kitchen is a place for popular restaurants on GrabFood. The platform is to exploit places with high demand. This is a way to satisfy customers, while maximising the revenue potential for the restaurants.
Based on analytical data, Thu Duc district is a place of great demand because of its young demographic and high population of students and workers. However, many of their favourite restaurants were far away, said Lim.
Lam Thanh, owner of Tiem An Cho Lon restaurant, told the online newspaper VnExpress that having a branch in the 'central kitchen', he did not need to pay attention to space, infrastructure and management, just focus on process.
GrabFood said that the platform's total transaction value increased by 400 percent in the first half of this year, with the average number of daily processed orders hitting 300,000.
A recent report by Google, Temasek and Bain & Company commented that Grab and Go-Jek were leading the way in distributing online food in Southeast Asia.
Ride-hailing has more than quadrupled in value from 3 billion USD in 2015 to almost 13 billion USD in 2019. As it stands, the sector's 2025 potential exceeds 40 billion USD, up from 29 billion USD predicted previously, as a result of the booming food delivery sector, according to the report.
By sparing consumers the inconvenience of humid weather and traffic jams, food delivery has become particularly popular in metro areas.
After Lala left the market, GrabFood's rivals are Now and Go-Viet's GoFood, with non-stop promotional activities.
A newer but common name in some HCM City districts is Baemin of South Korean start-up Woowa Brothers.
In the near future, at least two platforms have confirmed their participation in the food delivery war, including beFood and Vato.
The use of promo codes and ubiquitous marketing campaigns certainly played a key role in convincing users to try out such services. But increasingly, the wide variety of cuisine options available, including affordable meals from food court and street food stalls, the enticing user interfaces and speedy deliveries have become the determining factors behind recurring usage, according to the report.
(Source: VNA)
.