Greater efforts needed to make Da Nang 'sleepless city'
October 31, 2019, 16:19 [GMT+7]
The New York Times, an American newspaper with worldwide influence and readership, has ranked Da Nang 15th in their annual list of 52 best places in the world to visit this year. Actually, this is just an assessment in terms of natural landscape, infrastructure, and daytime services, whilst the city's nighttime activities, including shopping, amusement and cuisine for tourists have not been diversified.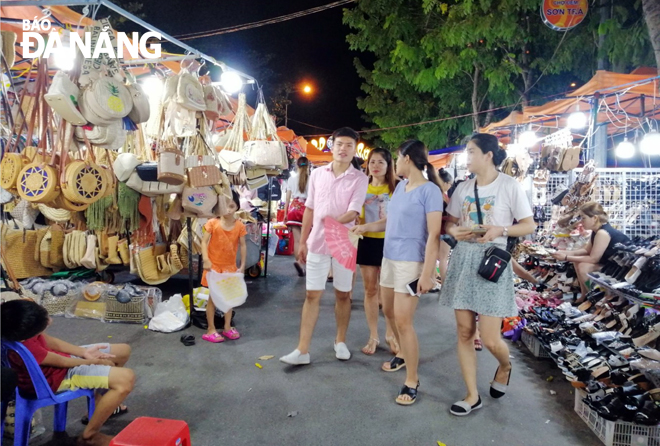 It is high time for the city to develop many diversified and healthy services to serve tourists at night. Tourists are pictured shoping at the Son Tra night market.
Between January and September, the combined total number of domestic and foreign tourist arrivals in the city reached 7.2 million, equal to 87.6% of the year's target, and up 18.4% versus the year-ago period. 5.1 million of them stayed at local accommodations.
The total revenue generated from tourism activities hit 25,311 billion VND, making up for 92.4% of the year's target, and up 20.7% versus the year-ago period. In particular, the revenue from accommodation, catering and travel services stood at 17,673 billion VND, up 9.2% compared to the same period last year. Domestic and foreign tourists' average stay period in the city is 1.68 and 1.86 days, respectively.
However, the tourism industry is still facing a shortage of attractive nighttime entertainment products, which is an arching issue facing the city authorities. For example, many tourists miss the opportunity to admire bridges at night as tourist boats operating on the Han River must stop operatting before 10:00pm in accordance with the city's regulations.
Also, some such nighttime cultural and artistic tourism products as Tuong performances, 'bai choi'(singing while acting as playing cards) and street parades of live music and dancing are held at outdoor areas on weekend evenings, hereby relying entirely on the weather.
Meanwhile, the scale and quality of products on sale at the night markets of Helio, Son Tra, and Thanh Khe that have been put into operation, has yet to be inviting to visitors.
In a similar vein, shops, entertainment venues, bars, and pubs along downtown Bach Dang and Tran Phu streets that are packed with customers at night are located near residential areas. Therefore, their nighttime operation activities are not allowed to linger through midnight in order to avoid affecting locals.
Le Dinh Thanh, a female visitor from the capital city of Ha Noi said, "If possible, Da Nang should make a difference by creating cheap, light and compact souvenir products that tourists easily buy so as to preserve their travel memories, or to present to their relatives and friends as gifts as they return home.
For example, in Thailand, visitors can easily buy lovely, eye-catching bags, wallets fearing the image of an elephant which is the iconic of this Southeast Asian country. Likewise, holiday-makers to Singapore find it very easy to buy lion-shaped keychains or miniature maps of this destination.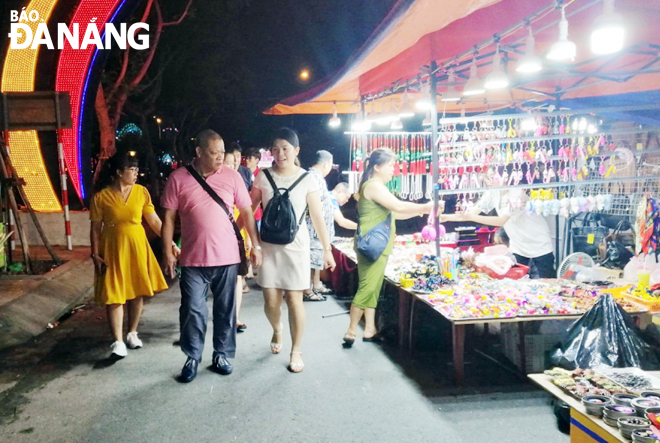 Addition to night markets, the city is in need of other highly inviting tourism products and services to increase tourist arrivals.
Robert Callan, a male British tourist, highlighted the significance of creating more amusement areas and overnight entertainment activities for tourists in Da Nang in the coming time. He pointed out to the fact that the city still lack nighttime entertainment venues.
After watching the Dragon's head breathes fire and squirts water at the eastern end of the namesake bridge and visit some tourist sites in the inner city, he has no choice but to drop into small pubs on Bach Dang Street as a relaxing way to experience the bustling urban vibes, and watch the seemingly never-ending stream of traffic pass by along this busy street.
In Beijing, China, shops and restaurants which open from 8 pm to 6 am could receive a subsidy of 70,000$, and areas which operate at least 12 hours at night get 700,000$.
Regarding solutions to make Da Nang a 'sleepless city', Director of the municipal Department of Tourism Truong Thi Hong Hanh said focus will be on operating a tourist quarter located in My An Ward, Ngu Hanh Son District on a 24/7 basis, developing walking quarter cum night market on a section of Bach Dang Street, and allowing tourist boats operating on the Han River to operate until midnight.
Besides, large riverside shopping centre and service clusters to the east of the 2 September, Bach Dang and Tran Hung Dao routes, at the An Thuong tourist quarters, along Truong Sa - Vo Nguyen Giap - Hoang Sa coastal routes will be encouraged to extend their operation time to midnight to serve tourists.
As for long-term measures, the Department will facilitate investors to soon develop new tourism products. included will be a cultural and amusement complex to the southeast of the 2 September Peace Monument, the Da Nang International Fireworks Festival Complex, a duty-free area in Hoa Vang District, and a n international cuisine village in Cam Le District, and refurbishing the landscape on both banks of the Han River and along Truong Sa - Vo Nguyen Giap - Hoang Sa and Nguyen Tat Thanh coastal routes to open entertainment services.
.