Stricter management of tour guides' operation needed
October 28, 2019, 17:07 [GMT+7]
In the face of Da Nang's fast growing tourism industry, the city is now facing a shortage of tour guides with high qualifications and good professional ethics. The municipal authorities, therefore, are strictly mulling over long-term solutions to increase the number and improve the quality of tour guides, and ensure a healthy tourism environment as well.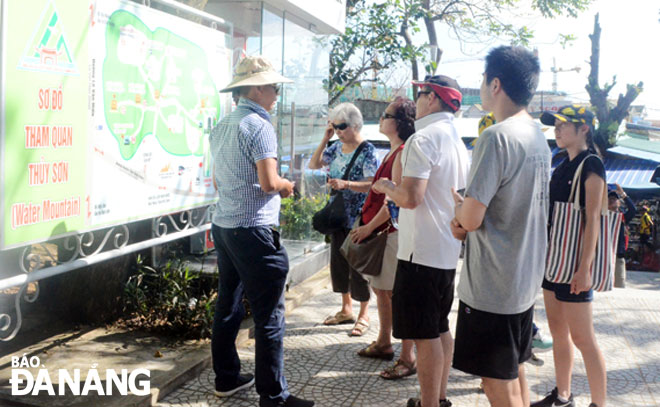 Tour guides are regarded as 'tourism ambassadors' for the city. Here is a tour guide on duty at the Marble Mountains Tourist Area
According to the latest figures released by the municipal Department of Tourism, the city has a total of 4,511 licensed tour guides, currently serving international and domestic tours.
However, there has been a shortage of human resources serving visitors' groups from such tourist source markets as South Korea, Thailand, Japan, Italy, and Spain. Most of them are showing their age, whilst younger ones are less experienced, and still lack foreign language skills and knowledge on the culture and history of local tourist sites.
In some cases, many tour guides only think of their own benefits more than those of the tourists or travel agencies.
According to the current Vietnamese regulations, travel firms serving foreign tourists in Viet Nam must use local tour guides, with no foreigners allowed to work as tour guides. However, many foreigners have worked illegally as tour guides for visitor groups from their country to the city.
The foreigners are reported to do all the talking both on tourist coaches and at local popular attractions, whilst the city's foreign languages-speaking guides work as 'sitting guides', and their job is purely to keep silent throughout the tour, and only show up to work with the inspection teams from the city authorities whenever a foreign tourist group is checked.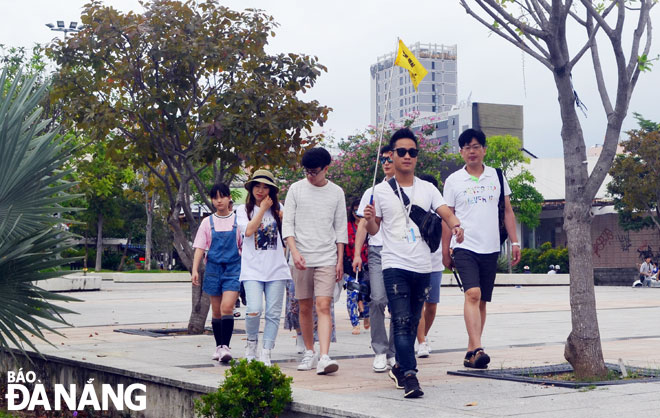 South Korean tourists visiting the city
Nguyen Van Hien, the Head of the Management Board of the Marble Mountains Tourist Area, pointed out to a concerning case in which tour guides intentionally move some visiting sites from the tour itineraries.
Recently, some tour guides only took their visitors to the 'Am Phu' (Hell) Cave, instead of the whole tourist area. Clearly, not only does this problem affect tourists' tours but it also blights this tourist attraction because visitors do not have a deep insight into of the historical and cultural value of this place.
Late 2017, the municipal Tour Guides' Association started using quick response (QR) codes to help both tour guide control agencies and tourists to discover cases of people illegally working as a tour guide.
Tourists can now use their smartphones to scan a QR code in a tour guide's card to determine whether the guide was conferred a genuine trade certificate by authorised agencies.
After scanning a QR code, a data system storing the tour guide's information will connect with a management website show it to tourists. Those cards with a QR code failing to appear on the website and others with a headshot different from that on the website are falsified ones.
The municipal Department of Tourism is focusing on completing compulsory introductory commentaries for oral presentations about local attractions, with their versions in the Chinese and Korean languages.
The release of the introductory documents aims to avoid the spread of distorted information about the truth of Da Nang's history and its culture, and those of Viet Nam as a whole.
These copies of these documents are now offered to the city's Travel Association, the municipal Tourist Guides' Association, and travel agencies across the city.
Another measure taken by the Department is that the quality assessment of Chinese-speaking tour guides across the city has already been conducted. In the coming time, such a task will continue to be deployed to evaluate the performances of those who give the guidance to Vietnamese, South Korean and British visitors.
Beside, heed will be paid to conducting multiple surprise inspections and checks at attractions, international airport and ports in the city to handle any violations of the national regulations on tourist guide activities.
.