Da Nang and WWF sign up to reduce plastic pollution in Lien Chieu District
June 21, 2020, 14:35 [GMT+7]
Da Nang has inked an agreement with World Wide Fund for Nature (WWF) to carry out a 'Plastic Pollution Reduction Urban Area' project in the city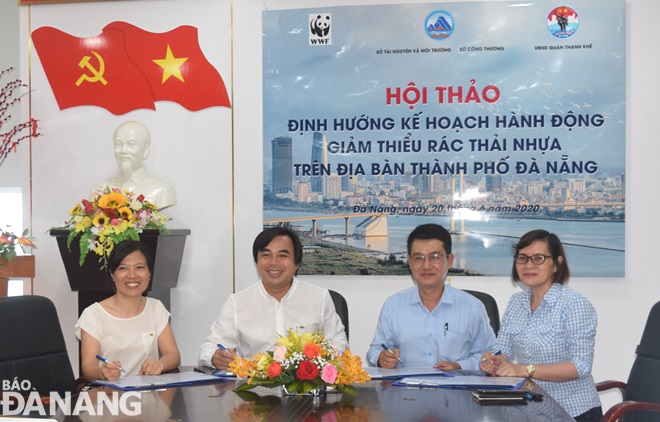 The signing ceremony in progress
The document was signed on Saturday by leaders of the Da Nang Department of Natural Resource and the Environment, the municipal Department of Industry and Trade, and the Thanh Khe District authorities, along with WWF representatives.
Under the agreement, the project will kick off in early July in Thanh Khe District with the aim of tackling plastic pollution in the district in an effort to reduce plastic waste production by 30% in 2020, and achieve zero plastic waste by 2030.
As part of the project, the 'Markets Say No With Hard-Decomposed Nylon Bags' campaign will be launched in some of the city's major traditional markets during the 2020 -2023 period.
Director of the municipal Department of Natural Resources and the Environment To Van Hung said his agency and local relevant agencies will conduct a feasibility study on the construction of an eco-friendly plastic bag manufacturing facility in the city in a bid to reduce the use of disposable plastic shopping bags in the coming time.
By HOANG HIEP - Translated by MAI DUNG
.