Local businesses increase foothold in domestic market
June 23, 2020, 10:57 [GMT+7]
The Covid-19 pandemic has been producing a bitter economic setback for the production and trade activities of many Vietnamese businesses, including those in Da Nang, especially exporters. However, this unexpected incident, in turn, is driving businesses to find timely effective ways to further penetrate into the domestic market.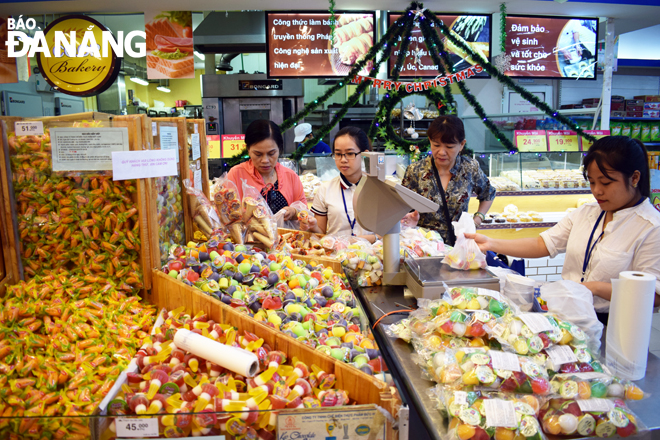 Shoppers are pictured inside the Big C Mall
In fact, in the past few months, the investment diversion into the domestic market has been considered to be a reasonable solution for many local businesses to overcome pandemic-triggered difficulties, increase their foothold of 'made in Viet Nam' goods in home market with a population of nearly 100 million.
As the COVID-19 pandemic is under control in Viet Nam, the domestic market, in deed, is much more stable and resilient at the moment than foreign markets. Meanwhile, many local manufacturing enterprises highlighted the domestic market's advantages of 'fertile land' that has not been fully tapped.
Consumer habits have changed greatly during the Covid-19 pandemic, thereby opening up opportunities for businesses that can capitalise on the switches, hereby promoting their deeper penetration into the domestic market. After a long time of accumulating enough internal strengths, the quality of goods produced by Vietnamese enterprises have increasingly enhanced, accompanied by more professional advertising and customer care services.
"On the positive side, Covid-19 motivated us to be more bold in restructuring our business market share in the domestic market.", said Mr Nguyen Xuan Son, the Director of the Huong Que Production-Processing-Import Export Trading Company in Lien Chieu District, a supplier of cinnamon products.
Mr Phan Hai, the Director of the city-based BQ Shoe Company, highlighted the importance of encouraging more active engagement by domestic consumers for the 'Vietnamese People Give Priority to Using Vietnamese Goods' campaign to help Vietnamese goods to gain a stronger foothold in the domestic market.
BQ Shoe Company is also proactively enhancing the quality of products and its services, as well as actively launching market stimulus programmes to bring its wide ranges of products closer to consumers nationwide.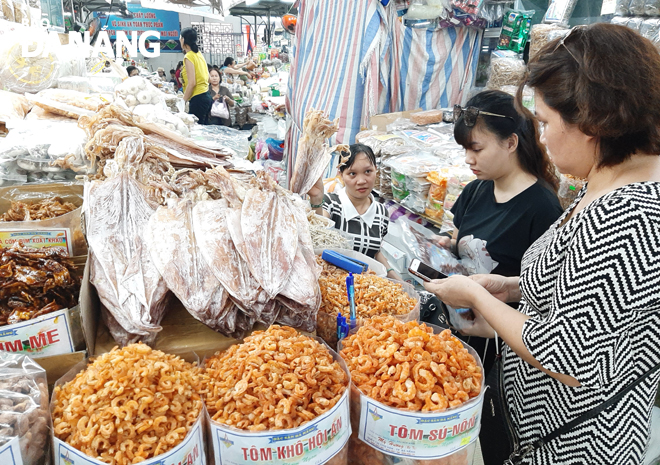 Residents and tourists are seen purchasing dried seafood at the downtown Han Market
According to the Authority of Da Nang's Hi-Tech Park and Industrial Parks, the city has put in place support measures for businesses operating here in a bid to help them quickly resume their operations in the post Covid-19 period. Encouragingly, the operations of businesses in Da Nang's industrial parks have almost returned to normal till date.
In an attempt to facilitate consumers to gain an easier access to Vietnamese goods, especially high quality ones, for the time being, the municipal Centre of Industrial and Trade Promotion under the city's Department of Industry and Trades is implementing a series of trade promotion activities, with the intention of bringing locally produced goods to neighbouring localities through organising large-scale fairs there.
Meanwhile, Mr Nguyen Thanh Ha, the Director of the municipal Centre of Industry and Trade Promotion, effective plans have been mapped out to carry out trade promotion programmes which are scheduled to run until late this year, with the participation of dozens of enterprises involving in manufacturing and processing such products as coffee, handicrafts, agricultural products and fashion garments. The intention is to promote post-COVID-19 recovery in production and business activities in Da Nang to effectively exploit the domestic market.
By KHANH HOA- Translated by A.T
.