The city takes actions to increase domestic visitor numbers
June 23, 2020, 19:28 [GMT+7]
Over recent years, the majority of domestic visitors to Da Nang have been from big cities, including Ha Noi and Ho Chi Minh City, and the city has yet to full tap sources of visitors from other localities nationwide. Therefore, it is a high time for Da Nang's tourism industry to map out appropriate plans and develop attractive products in an attempt to increase domestic visitor numbers in the city.
Domestic visitors enjoying their trip to the Museum of Da Nang
In fact, the domestic market is now regarded as the primary driver for the recovery of Viet Nam's tourism industry from the crushing impacts of the coronavirus pandemic.
Preliminary statistics released by local travel agencies show that two-thirds of people buying air tickets to Da Nang are from Ha Noi, whilst the remainder are from Ho Chi Minh City and Da Nang's neighbouring localities after the city launched its 2020 tourism stimulus programme themed 'Da Nang Thank You 2020' on 23 May.
Mr Le Thai Bao Long, the Director of the Truong Sa Tourism Trading Co., Ltd said, "Not only do we attract domestic tourists from big cities, but we should also attract visits from other localities nationwide, especially such regions as the Northwest, Northeast, Central Highlands and Southeast regions".
Mr Le Tan Thanh Tung, Deputy General Director of the Vitours, remarked, after the national government eased its social distancing mandate to prevent COVID-19 spread on 23 April, many domestic travellers, especially the young, have opted for tours to Da Nang and such its nearby localities as Thua Thien Hue, Quang Binh and Quang Ngai. Such trips must be more budget-friendly and come with a flexible itinerary.
By mid-July, as the school year comes to an end, the demand for travelling in tour groups will be on rise.
In reality, domestic tourists now only want to know which tours are being offered at cheap prices or which destinations are welcoming them with many incentives.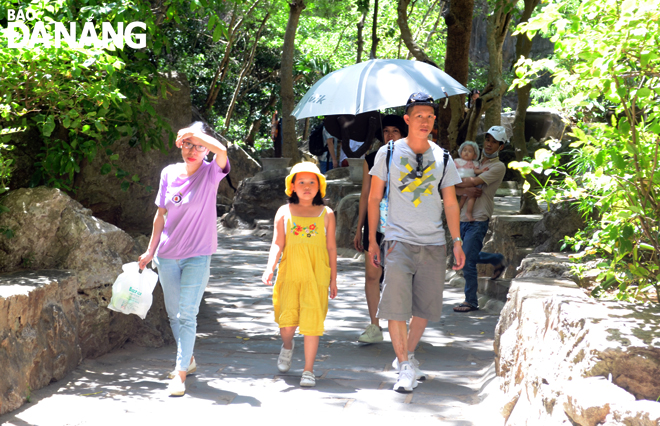 Domestic vacationers visiting the Marble Mountains Tourist Area
Mr Nguyen Van Tai, Chairman of the Board of Director of the city-based New Connection Events and Tourism JSC (Necotour) highlighted the launch of attractive packages of travel ticket, accommodations and shuttle services with their affordable prices accompanied with stable services to lure domestic visits to Da Nang
The Da Nang Department of Tourism recently issued an action plan to fully tap sources of domestic visitors for this year with the priority being given to localities in the North, the South, the central and Central Highlands the Northeast and the Southwest regions.
Deputy Director of the municipal Department of Tourism Nguyen Xuan Binh revealed, at the present time, the focus is on effectively promoting smart travel applications and social networks to attract domestic visitors. In addition, how to develop preferentially priced tours and diverse products will be taken into account so as to create favourable conditions for vacationers during the post-pandemic period.
In regard to long-term solutions, Da Nang's tourism industry will conduct research into the diversified tastes of domestic tourists whereby effective measures are put in place to increase domestic visits to the city in the 2021 – 2025 period.
Also, heed will be paid to conducting tourist market segmentation in terms of different regions, building specific tourism products associated with the segments of domestic tourist market.
By SONG KHUE- Translated by A.T
.