Developments in infrastructure in Da Nang
October 16, 2020, 17:18 [GMT+7]
Da Nang has taken actions in a bid to speed up transport infrastructure projects and programmes over recent years, hereby bringing up an impressive urban facelift to the city and considerably making it stand stronger on its feet during the journey of industrialisation and modernization.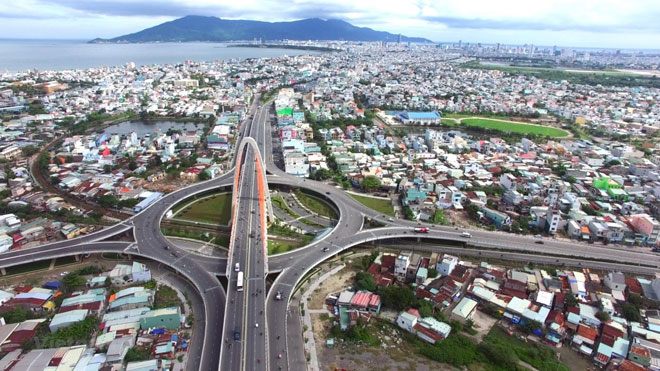 Overview of the Hue T-junction overpass
Public transport networks within Da Nang have developed strongly in both quality and quantity, meeting the growing travel demand of locals and tourists.
As of late December, 2019, the city had housed 2,440 streets with a combined total length of 1,436.63 k, an increase of 265.59 km as compared to early 2015, along with 74 bridges totalling 14,961.50 m and 7 inland waterway routes stretching a sum of 63.2km.
Over 2015-2020 period, the volume of transported freight and passengers climbed by 8.3% and 6.3% year-on-year, respectively. The total revenue generated from all transport services recorded an annual hike of 6.6%. Likewise, the total amount of cargo through local ports stood at 43.1 million tonnes, up 9.3% on a yearly basis.
Such important traffic works as Hue T-junction overpass, Da Nang - Quang Ngai Expressway, the La Son - Tuy Loan section of Ho Chi Minh Highway, the Hoa Phuoc - Hoa Khuong southern belt road and extended Nguyen Tat Thanh Street have been put into use, considerably driving the city's socio-economic progress.
Likewise, many projects show off a high amount of capital, complex structure, and the application of many highly advanced construction materials and technologies.
For instance, the first automated modern multi-storey parking garage in Da Nang, located at 255 Phan Chau Trinh in Hai Chau District, uses modern technologies and equipment imported from developed foreign countries.
The Da Nang International Airport now comprised of two passenger terminals T1 and T2, plus a cargo one. In detail, the domestic passenger terminal T1 has annual capacity of handling between 4 and 6 million passengers. Meanwhile, the international passenger terminal T2 handles between 4 - 4.5 million passengers per year. The 2,320m2 cargo terminal has annual capacity of handling about 18,000 tonnes of cargo.
In 2019 alone, the airport welcomed over 15.5 million passengers and handled 40,660 tonnes of cargo. These figures exceeded the target set for by 2020 by over 2.5 million passengers and 22,600 tonnes of cargo.
The Airports Corporation of Viet Nam (ACV) is planning to build 5,000 billion VND passenger terminal T3 which will be able to handle between 10 and 15 million passengers per year, and a 300 billion VND cargo terminal which will be able to handle up to 100,000 tonnes of cargo per year.
At present, all resources are mobilised to start work as soon as possible on the deep-sea Lien Chieu mega-port, which will become the largest maritime traffic hub in south-central Viet Nam, and serve as a gateway into ASEAN and the Asia-Pacific logistics service supply chain.
This large-scaled much-awaited is highly expected to play the key role as the drivers of the city's economic growth, especially helps set up large-scale logistics and urban areas in the northern part of Da Nang.
Over recent years, a handful of highly practical traffic enhancement steps have been taken to mitigate traffic congestions during rush hours, keep accident numbers remained on downward trend, and put a break on the rise of traffic violations.
Encouragingly, the city has seen a decline in the numbers of traffic crashes, deaths and injuries over recent years.
In the coming years, focus will be enhancing transport service quality, expanding the linkage of modes of transport, and developing an environmentally friendly public transport means under the reasonable adjustments to the strategic master plan for major developments in Da Nang to 2030, with a vision to 2045.
By PHUONG AN – Translated by A.T
.