Best things to do in Da Nang at Christmas and New Year Holidays
December 24, 2020, 22:35 [GMT+7]
In addition to travel stimulus campaigns launched by Da Nang tourism industry, many tourism service providers in Da Nang, especially owners of tourist attractions, have been in a full swing for boosting their own internal strengths to organise a wide range of highly enticing activities in a bid to tempt tourists back.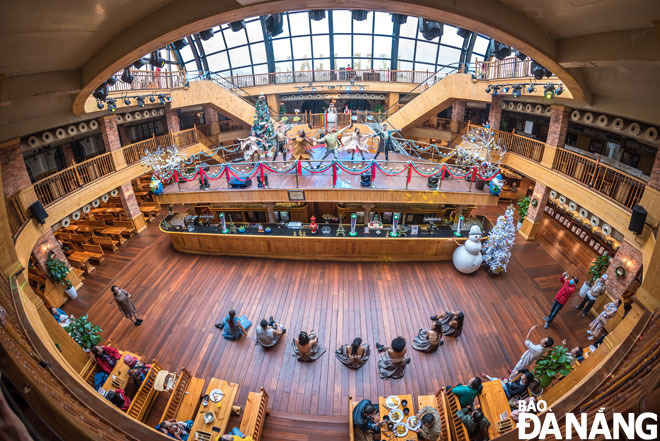 A wide rage of entertainment activities getting underway at the Sun World Ba Na Hills to serve its visitors at Christmas and New Year festivals
Such domestically renowned hotels in Da Nang as Grand Mercure, Crowne Plaza, Furama Resort, Novotel and Premier Village are busing organising fun and interesting Christmas and New Year celebrations to promise their guests engaging and memorable moments.
Visitors to the ongoing Winter Festival themed 'Magic Bells' at the Vietnamese realty giant Sun Group-developed Sun World Ba Na Hills are now impressed by Christmas-themed decorations, and have the opportunity to experience the best food deeply rooted in the European culinary culture in Da Nang.
Also, a unique New Year's atmosphere can also be enjoyed during New Year's Eve Party to be held at this venue on 31 December.
Director of Sun World Ba Na Hills Nguyen Lam An highlighted these annual activities in affirming this tourist attraction's desire to renew itself to deserve its accolades at the recent World Travel Awards (WTA), namely Viet Nam's Leading Theme Park 2020 and Asia's Leading Theme Park 2020 titles.
Likewise, the Grand Mercure Da Nang is offering special year-end party celebration of silver, gold, and diamond packages with extremely attractive prices from 350,000 VND ($15.20) per person. With its world-class accommodations, state-of-the-art meeting facilities and colourful attractions, the hotel offers its guests an extravagant package for an unforgettable celebration whether it's for a year-end corporate party, gala dinner, or Vietnamese Tet gathering.
Early this month, the Furama Resort Da Nang officially started celebrating Christmas season by lighting up the giant Christmas tree. This is the norm at a top-notch resort in Viet Nam within the last 12 years, marking the beginning of the month-long vibrant holiday season. Visitors to the resort will immerse themselves in the melodious Christmas carols, while enjoying an inviting pre-dinner canapé reception.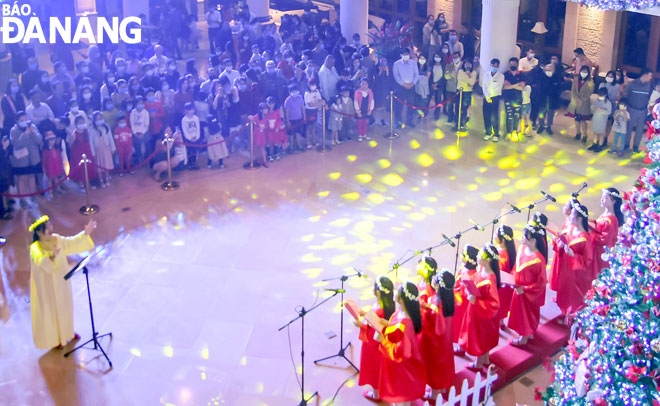 Events celebrating the Christmas season and welcoming in New Year 2021 progressing at the Furama Resort Da Nang
According to Director of the municipal Department of Tourism Truong Thi Hong Hanh, a specific roadmap for carrying out tourism stimulus programmes has been built up to tempt tourists back to Da Nang.
Here's what's on offer if you're planning to travel in Da Nang.
In detail, from November 2020 to January 2021, focus is placed on implementing the 'Three Localities - One Destination' tourism stimulus programme jointly held by Da Nang and its neighbours namely Thua Thien -Hue and Quang Nam, and exciting activities to welcome in New Year 2021 from 25 December, 2020 to 3 January, 2021.
Also, the shows of fire breathing and water squirting at the eastern end of the Rong (Dragon) Bridge, and the opening of the Han River Swing Bridge, and the vertical lifting of the middle span of the Nguyen Van Troi pedestrian bridge will take place to attract tourists' attention.
Between 15 and 28 February, 2021, such major events as the Vietnamese New Year Festival, and relaxation and entertainment stimulus packages will take their shape to entertain the public across Da Nang in a new attractive fashion.
The April – August 2021 period will see a wide range of activities within the framework of the 'Exciting Da Nang Summer' showing off attractive deals on beach leisure services, nighttime discovery tours to the Sun World Ba Na Hills and the Marble Mountains Tourist Area.
In parallel with this landmark programme, locals and tourists will be treated to a chain of such other cultural and sports events which have lifted the city's reputation over recent years as the Fantastic Da Nang Festival, Viet Nam International Travel Mart (VITM), IRONMAN 70.3 Viet Nam triathlon, Da Nang International Fireworks Festival, the Da Nang International Marathon (DNIM), and the first-ever Miss Tourism Da Nang 2021 beauty pageant.
Through recent Da Nang-conducted online survey on domestic travellers, it can be clearly seen that, at present, safe tourism environment becomes the most important criterion for travellers' destination options. Once ensured, this invisible tourism product, in fact, may help Da Nang attract domestic tourists in the face of the global coronavirus crisis, and ensure that fears over another coronavirus insurgence will not discourage them to make Da Nang visits.
By HA KHUE – Translated by A.T
.