Asia Pacific's elite startups invited to Visa Accelerator Programme for unlocking their global scale
January 13, 2021, 12:04 [GMT+7]
Visa, one of the world's leaders in digital payments, is widely publicising its accelerator programme for startups across Asia Pacific, including Viet Nam, that are looking to expand their businesses into new markets. Visa will select an elite group of up to six startups to be part of the first programme cohort.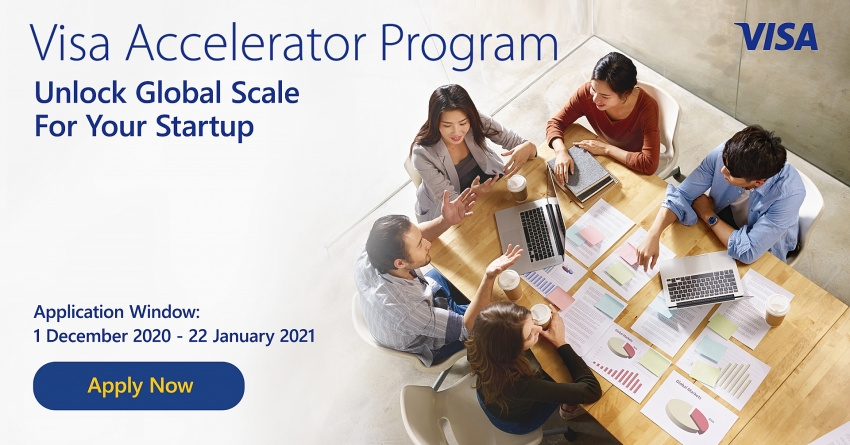 Visa is receiving applications for its Visa Accelerator Program (Photo courtesy of Visa)
With regard to the programme timeline, applications are being accepted from 1 December 2020 to 22 January 2021, and the list of selected startups is slated to be announced in February. The Accelerator Programme will run from March to August, and the Demo Day will take place later within August.
By joining the event, regional startups will grab defined commercial opportunities to collaborate with Visa and its extensive network of bank and merchant partners in the large region.
"In Visa's ongoing work with the startup community, we often see companies face challenges when taking their business from a local success story to becoming a player in multiple markets," said Chris Clark, regional president, Asia Pacific, Visa. More simply put, with its global expertise, Visa can effectively help startups take their expansion plans off the white board and into the real world.
Visa is looking for startups that coming up with ideal solutions in such aspects as expanding access to the digital economy to underserved or cash-dependent individual consumers/businesses; supporting small businesses as they grapple with changing technology demands and the ongoing impacts of the Covid-19 crisis; leveraging the growing open data environment in the region to develop more personalised banking and shopping experiences; and building up innovations in moving money that are not dependent on traditional credit and debit cards.
For more information, including how to apply and join a cohort of up to six elite startups, please visit https://www.visa.com.sg/apaccelerator.
The Visa Accelerator Programme is a rapid way for visionary startups to unlock global scale by partnering with the world's leader in digital payments. This programme is designed for entrepreneurs to quickly test and validate partnership opportunities through an accelerated Proof of Concept (POC) over the course of four - six months.
With its dedication to supporting international expansion, the programme is the right fit for startups that are Series A and above, have a long-term commitment to Asia-Pacific growth and existing operations in the region, and have a market-validated, proven solution.
Visa Inc. (NYSE: V),an American multinational financial services corporation headquartered in Foster City, California, the United States, is pursuing a mission of connecting the world through the most innovative, reliable and secure payment network - enabling individuals, businesses and economies to thrive.
Its advanced global processing network, VisaNet, provides secure and reliable payments around the world, and is capable of handling more than 65,000 transaction messages a second.
By PHONG LAN- Translated by A.T
.