Da Nang Airport's efforts to ensure safety of its passengers amid Covid-19 fears
January 09, 2021, 11:10 [GMT+7]
The Da Nang International Airport, along with its counterparts in Ha Noi, HCM City and Khanh Hoa, has already received a certification from the Airports Council International (ACI) Airport Health Accreditation (AHA) programme for maintaining safety and prevention measures against the Covid-19 pandemic. This milestone marked an important step to assert the fact that the Da Nang airport is really a 'safe venue', hereby building passengers' high confidence in travelling by air.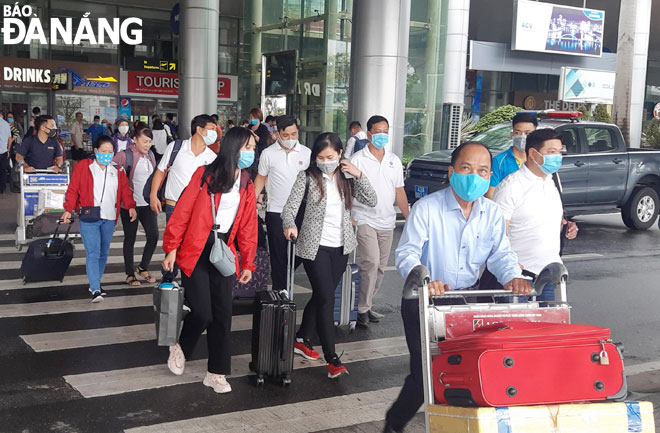 Domestic tourists arriving at the Da Nang airport
Da Nang Airport was awarded after the careful assessment of how well its health measures align with worldwide standards and industry best practices amidst the globally complicated Covid-19 pandemic.
Da Nang Airport Director Le Xuan Tung said, over recent times, the airport has strived to affirm its stature as a safe air gateway in Central Viet Nam.
To be eligible for the AHA certification, Da Nang Airport had to undergo a very rigorous evaluation processes required by both ICAO and ACI, in terms of major criteria, namely cleaning and disinfection, physical distancing (where feasible and practical), staff protection, physical layout, passenger communications and passenger facilities.
In particular, the aviation health safety protocol and the safety operation procedures for passengers amidst the globally complicated Covid-19 pandemic have applied effectively at the airport.
Pham Thi Kieu Chinh, a tourist from HCM City, said, whether it's with enthusiasm or hesitation, there's no denying that a growing number of passengers is taking to the skies again. But, for the foreseeable future, catching a flight is likely to be a very different experience compared to pre-Covid-19 times. However, since Da Nang Airport won the AHA certification, she and others have felt very secure and stay safe in travelling by air.
The prestigious certification clearly proved Da Nang Airport's strong commitment towards meeting strict health and hygiene requirements which are consistent with global recognised standards, ACI World's Director General, Luis Felipe de Oliveira said.
Director General of ACI Asia-Pacific Stefano Baronci said 2020 showed itself as very difficult year for Asia, and Viet Nam is no exception. In the current context of deeper global economic integration, despite being significantly affected by Covid-19, the Vietnamese economy has shown its impressive resilience. Da Nang Airport's efforts to turn into a safe and friendly air gateway has helped rebuild the confidence of passengers in air travel.
In hopefully, Da Nang Airport staff will continue to strengthen their works and conduct ongoing self-assessment according to the evolving situation of the pandemic, with a view to maintaining the safe and healthy aviation environment.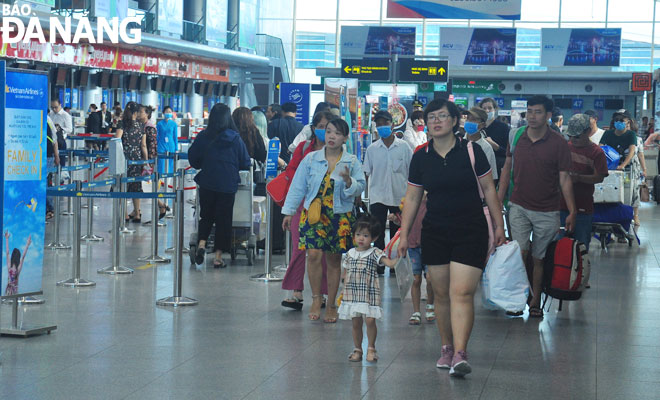 Many domestic tourists like traveling by air
More recently, the Da Nang Department of Tourism, the Da Nang International Airport and the Da Nang International Terminal Investment and Operation JSC (AHT) have together signed an agreement on leveraging Da Nang tourism over the 2021 -2025 period.
The signing of the agreement aimed at promoting collaboration between tourism and aviation, thereby driving the growth of Da Nang, and Central Viet Nam at large.
In the next five years, tourism marketing campaigns will be conducted at both home and overseas in a bid to promote Da Nang as a dynamic, friendly and safe destination for domestic and international travellers.
The focus will be on opening new non-stop flights from Da Nang to destinations across Viet Nam and the world at large in tandem with ensuring Da Nang's strict compliance with Viet Nam's national regulations and guidelines on the pandemic prevention.
Director of Da Nang Department of Health Ngo Thi Kim Yen highly lauded the Da Nang airport for making joint efforts with functional local bodies to synchronously implement drastic coronavirus prevention and control measures. The international medical quarantine force on duty at the airport has promoted their sense of work responsibilities. This is a positive signal, serving as a legal basis for the resumption of international air services connecting Da Nang and other destinations all over the world in the coming time.
By THANH LAN – Translated by A.T
.