Da Nang beefs up strategies for its tourism recovery in 2021
January 12, 2021, 16:40 [GMT+7]
After a year of bearing the brunt of the complicated Covid-19 pandemic, tourism, a key driver of Da Nang's economic growth, has embarked upon restructuring itself, by leaps and bounds, for sustainable revival and effective adaptation to the new normal status.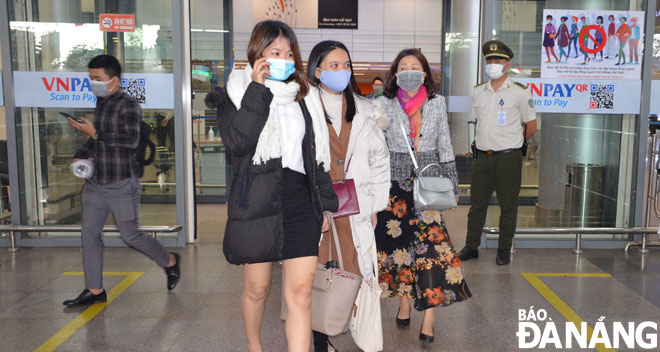 Domestic tourists arriving in Da Nang by air
In 2020, visitor numbers in Da Nang dropped by 68.6% compared with 2019 to stand at only 2.7 million. Revenues generated from accommodation, dining and travel services hit only more than 15,000 billion VND, down by 40.7% against 2019.
Worse still, 93% of the total tourism providers, equivalent to 1,746 businesses, suspended their operations due to the pandemic.
Since the deadly virus was successfully contained in Da Nang last year, the hospitality industry, in a heartbeat, has made recovery steps to bounce back from the adverse impacts of the coronavirus crisis, with a sight set on tempting domestic visitors back.
Till date, more than 1,000 out of the total 1,531 Da Nang-based tourism businesses consisting of travel agencies, transport service providers, serviced accommodation establishments, and tourist sites, have resumed their normal operations.
Da Nang's landmark tourism stimulus programme themed 'Da Nang Thank You 2020' running from 23 May to 31 June 2020, marked a first landmark step in the city's journey to welcome domestic travellers back after the first coronavirus wave had been put under control in the first half of 2020.
Once again, given the noticeable containment of the second wave of the deadly virus in the second half of last year, the 'Three Localities - One Destination' tourism stimulus programme jointly launched by Da Nang and its neighbours namely Thua Thien -Hue and Quang Nam from 2020 November to January 2021 has been proving its high efficiency in making Da Nang more inviting in the eyes of domestic visitors.
With regard to a scenario under which the Covid-19 pandemic may still complicatedly rage all over the world, Da Nang will stay stronger in securing its position as a safe destination by strictly and rigorously practicing the compulsory measures against the pandemic.
The priority will be given to boosting the domestic tourist market and launching the 'Da Nang people travel to Da Nang destinations' campaign, and also importantly ensuring the preparedness to receive high-end travellers on golf and beach leisure trips from other countries where Covid-19 are contained well, provided that Viet Nam resumes international commercial international air services in the near future as hopefully.
The coming time is highly expected to see the launch of many large-scale cultural and tourism events such as the Da Nang International Fireworks Festival 2021, Da Nang Fantasticity Festival 2021 and the finale of the first-ever Miss Tourism Da Nang beauty pageant.
Based on the adjustments to the strategic master plan for major developments in Da Nang to 2030, with a vision to 2045 and tourism development orientations matching the master plan for the 2021 - 2030 period, with a vision to 2050, Da Nang tourism industry will quickly adopt radical solutions to enter a new stage of revival with the aim of turning more sustainable.
In particular, as for the structuring of the sources of international tourists, focus will be on increasing the proportion of visitors from ASEAN region to 25%, and such physically distant markets as North America, Europe and Oceania to 30%, reducing the amount of the Chinese and South Korean nationals to only 40%, and ensuring 5% for those from such potential emerging markets with Viet Nam tourism has just established ties as India and Israel.
Besides, the next months will see attractive new tourism products to be developed in Da Nang such as the Bach Dang - Nguyen Van Troi - Tran Hung Dao pedestrian promenade project, and the 'new coat' for the An Thuong tourist quarter, nighttime entertainment services along Ngu Hanh Son District-based My An Beach, and 'Da Nang by Night'-themed entertainment activities across the city.
By KHANH HOA-Translated by A.T
.