Da Nang shifts focus to attracting domestic tourists in 2021 amid globally complicated Covid-19
January 13, 2021, 12:04 [GMT+7]
The globally complicated Covid-19 pandemic has forced Viet Nam to remain shut to foreign tourists. As a result, Da Nang is doubling down on its efforts in attracting domestic tourists the more the better throughout this year.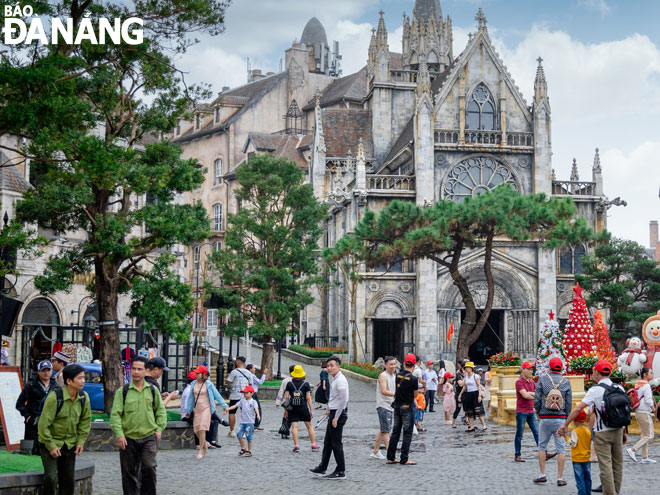 Visitors are seen enjoying relaxing times at the Sun World Ba Na Hills in this illustration.
In active response to the Politburo-adopted Resolution No 43-NQ/TW regarding Da Nang's major developments to 2030 with a vision to 2045 dated 24 January, 2019, Da Nang will, by leaps and bounds, make tourism the key driver of the local socio-economic development in the direction of boosting tourism, high-quality services associated with resort real estates, in tandem with fully tap the great potential and advantages of the hospitality industry.
Besides, tourism development strategies matching Da Nang's master plan by 2030, with a vision to 2045 will be mapped out in the coming time.
The coming time is highly expected to see the launch of many large-scale cultural and tourism events such as the Da Nang International Fireworks Festival 2021, Da Nang Fantasticity Festival 2021 and the finale of the first-ever Miss Tourism Da Nang beauty pageant.
Here's what's on offer if you're planning to travel in Da Nang this year.
Between 15 and 28 February, 2021, such major events as the Vietnamese New Year Festival, and relaxation and entertainment stimulus packages will take their shape to entertain the public across Da Nang in a new attractive fashion.
The April – August 2021 period will see a wide range of activities within the framework of the 'Exciting Da Nang Summer' showing off attractive deals on beach leisure services, nighttime discovery tours to the Sun World Ba Na Hills and the Marble Mountains Tourist Area.
In parallel with this landmark programme, locals and tourists will be treated to a chain of such other cultural and sports events which have lifted the city's reputation over recent years as the Da Nang Fantasticity Festival, Da Nang International Fireworks Festival, Viet Nam International Travel Mart (VITM), IRONMAN 70.3 Viet Nam triathlon and Da Nang International Marathon (DNIM).
Interestingly, newcomers, the finale of the first-ever Miss Tourism Da Nang beauty pageant for instance, is expected to enrich the locally-developed tourism products.
In 2020, visitor numbers in Da Nang dropped by 68.6% compared with 2019 to stand at only 2.7 million. Revenues generated from accommodation, dining and travel services hit only more than 15,000 billion VND, down by 40.7% against 2019.
By THU HA- Translated by A.T
.