Da Nang traditional craft villages get busy for Tet
January 12, 2021, 17:27 [GMT+7]
In the run up to the Tet Festival 2021 which will fall on 12 February, many traditional craft villages across Da Nang are hastily producing the festive delicacy to meet the surge in demand from customers for the upcoming much-awaited occasion.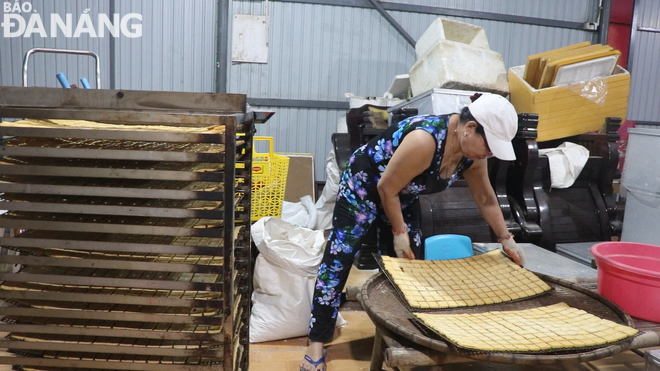 The making of dried sesame seed cakes in progress at the 'Ba Lieu Me' facility on Ong Ich Duong Street
Since 3am every day, the 'Ba Lieu Me' 'banh kho me' (dried sesame seed cakes) facility on Ong Ich Duong Street in Cam Le District and rice paper-making families in Tuy Loan Village, Hoa Phong Commune, Hoa Vang District, have started to operate in a bid to complete their several thousand orders for Tet.
The 'kho me' cakes are made from glutinous flour, rice flour, granulated sugar, ginger, and sesame seeds. The rice flour is mixed with the glutinous flour, then poured into a mould to be steamed and then dried.
Next, the cakes are coated in sugar or sesame. The ones that are coated in sugar are called 'kho no', whilst those coated in sesame are called 'kho me'. The delicious cakes are soft with well-dried sesame, and when they are broken the sugar must be like thin yellow silk cords.
Families in Da Nang usually put these cakes on their altars on the death anniversaries of their relatives or at Tet.
Mr Huynh Duc Sol, the manager of the 'Ba Lieu Me' manufacturing establishment, said, his facility makes between 3,000 and 4,000 boxes of sesame cakes every day.
"This year, our facility will develop two new products: brown rice cakes with black and white sesame seeds in order to meet the diverse needs of our customers. These cakes can be offered as gifts to their relatives and friends on the occasion of Tet" Mr Sol added.
Busy working atmosphere has also seen at rice paper-making families in Tuy Loan Village.
Dang Thi Tuy Phong, 82, from the Tuy Loan Dong 2 Village, said, over recent weeks, she has waked up at 2.30am to make rice papers. Then, she produces the rice papers continuously until 6.00pm or even 9.00pm every day in order to ensure delivery on time. Around 170 rice papers measuring 38cm in diameter each are produced for the Tet market every day. Her present orders are scheduled to be completed no later than the 20th day of the 12th lunar month.
Mrs Phong said the rice paper made in Tuy Loan village is very different from similar products made in other parts of Viet Nam. It is dried on charcoal fires instead of being dried in the sun, which prevents any mould formation.
Below are some amazing photos captured by our reporters to reflect busy working atmosphere at some traditional craft villages in Da Nang in preparation for Tet orders.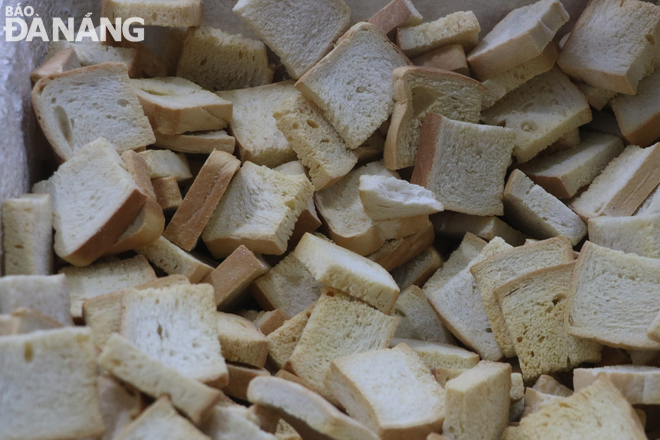 As part of the process of making dried sesame seed cakes, bread cakes are cut into small cubes after baking,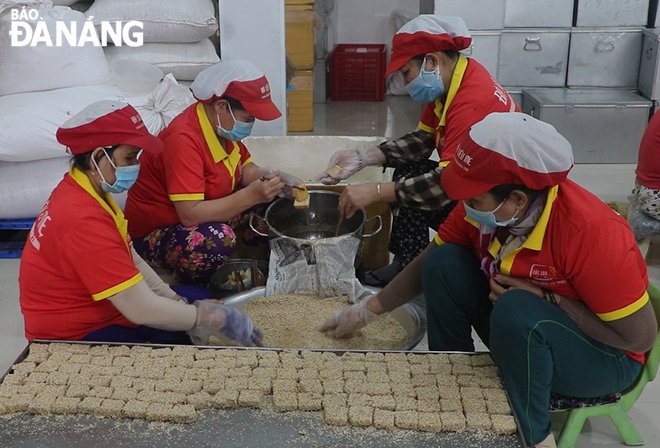 Next, the dried cakes are coated in sugar and toasted sesame seeds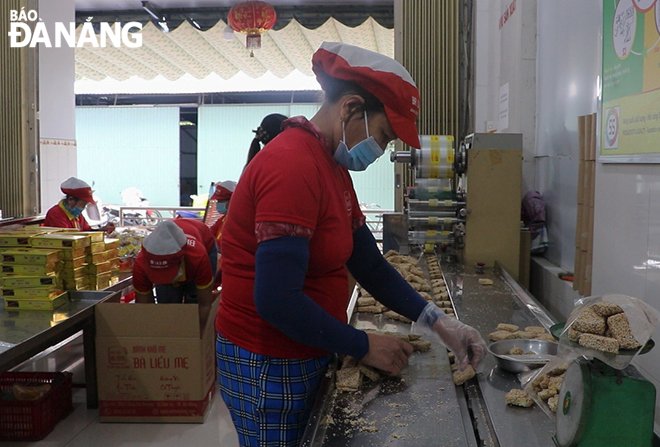 The automatic packing line for cakes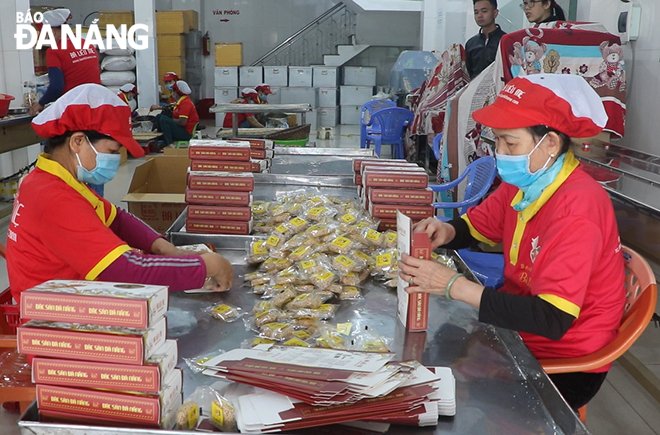 Workers are seen busy at the 'Ba Lieu Me' manufacturing establishment in Cam Le District's Hoa Tho Dong Ward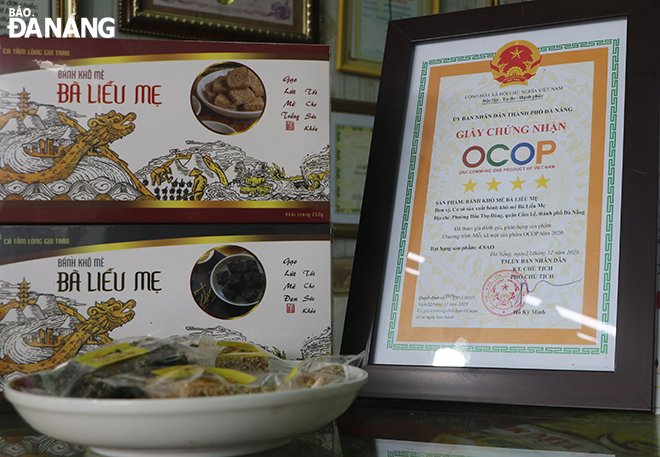 'banh kho me' (dried sesame seed cakes) made by 'Ba Lieu Me' facility have been recognised by Da Nang government for meeting 4-star standards under the so-called OCOP model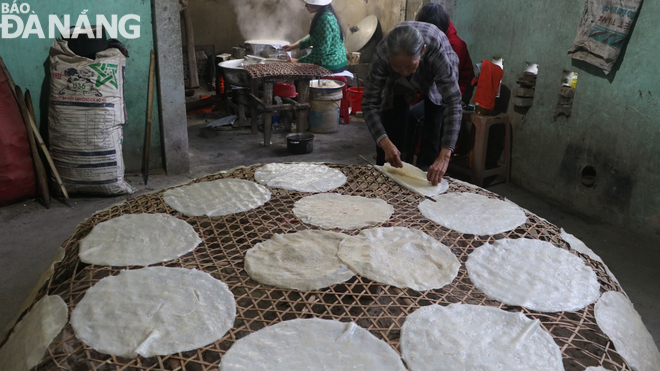 Freshly-made rice papers are being dried on charcoal fires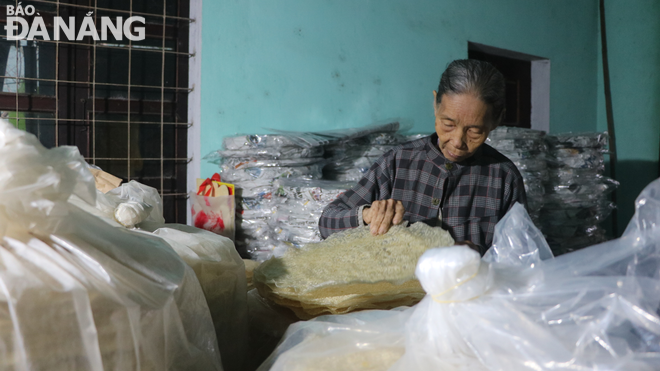 Finished rice papers are wrapped in paper and plastic to preserve
By VAN HOANG, MAI QUE - Translated by M.D
.