Da Nang beefs up incubation for high-tech startups
April 28, 2021, 17:22 [GMT+7]
Despite facing some challenges in terms of qualified human resources and operating capital, the Authority of the Da Nang Hi-Tech Park and Industrial Zones (DHPIZA) has always made great efforts to incubate high-tech businesses. This is considered a hinge for the sustainable development of the Da Nang Hi-Tech Park, and the city as a whole.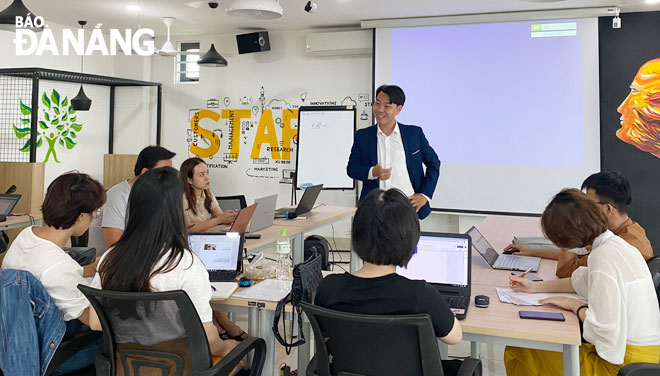 A representative of the Da Nang Hi-Tech Park and Industrial Zones (DHPIZA) introducing the municipal administration-adopted support policies for startups
In mid-2019, the Centre of the General Services of the Hi-Tech Park under DHPIZA was assigned by the Da Nang government to take the charge of incubating high-tech businesses and training hi-tech human resources.
The move is to promote scientific and technical development, thereby creating a driving force for sustainable economic growth for Da Nang, and Central Viet Nam and Central Highlands at large.
Mr Pham Truong Son, Head of the DHPIZA, affirmed that his agency has focused on making field trips for gaining experience to business incubators based in HCM City, Binh Duong, and Ha Noi.
Besides, DHPIZA has entered into cooperation agreements with Da Nang-based universities such as the universities of Science and Technology, Education and Technology, and Duy Tan, along with other science and technology incubators across Viet Nam.
In particular, DHPIZA has expanded its network of relationships with domestic and foreign experts in key technology areas under Industry 4.0, which served as an important interactive channel to attract human resources and form an innovative startup ecosystem.
In 2020, DHPIZA signed memoranda of understanding with domestic and foreign universities and enterprises such as the University of Da Nang (UD), South Korea-based Hanbat National University and France-locaed University of Nice Sophia Antipolis, and Ai20X, a premier business network focused on accelerating innovation to the global market, promoting global innovation startups in Silicon Valley and launching products in the USA.
The Da Nang Hi-tech Park is now one of the members of the Asian Science Park Association (ASPA) which is an international non-governmental organisation. Established in Japan in 1997, ASPA aims to accomplish the joint development in the fields of scientific technology, industry and economy in the Asian region.
According to Mr Tran Van Ty, Deputy Head of DHPIZA, till date, the development of a 2-storey business incubation building, covering a total internal floor area of more than 2,000m2 has reached completion. Also, a 2,000m2 workshop area is fully equipped with modern facilities and servives for incubation activities.
Till date, the Da Nang Hi-tech Park has attracted three innovative start-up projects for incubation, namely Micas smart vehicle inspection device, the development of high-tech production models, and creating value-added products from spirulina algal biomass in Da Nang, and Smart Agriculture.
In order to take firm steps for progress in the future, the Da Nang Hi-Tech Park will complete incubation processes and framework on a daily basis, and offer professional training for project incubation managers and enterprises.
At the same time, another task is to seek and diversify capital mobilisation channels for startups, with heed paid to attracting angel investment networks and venture capital funds for supporting early-stage hi-tech enterprises in the early stage of development in Viet Nam.
Reporting by PHONG LAN – Translating by A.T
.