Da Nang ensures safe and attractive tourism environment during public holidays
April 30, 2021, 11:19 [GMT+7]
Coming to Da Nang during the ongoing four-day break for the National Reunification Day (April 30) and Labour Day (May 1), visitors have the chance to experience new tourism services and products, in addition to tours to popular local tourist attractions and entertainment venues.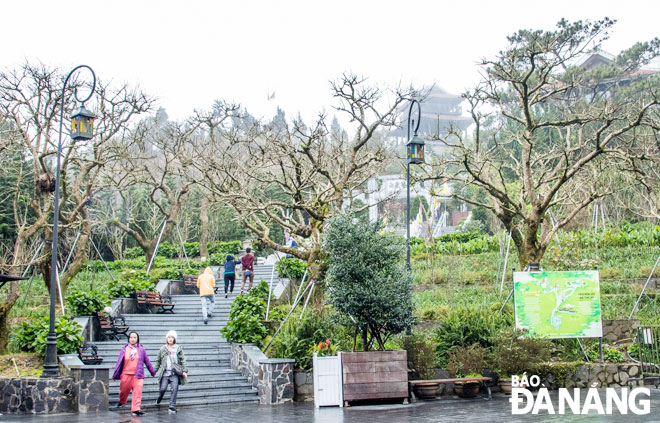 Tourists visit the Sun World Ba Na Hills Tourist Area. Photo: DINH VAN NAM
Free 'City tour' programme
From 1 January to August 28, tourists to Da Nang are totally eligible for joining the Danasea Tourism Joint Stock Company-launched 'City tour' programme for free to explore the most popular attractions in Da Nang.
By taking the free city tours, tourists have the chance to admire the charm of such top attractions in Da Nang as Linh Ung Pagoda, Son Tra Peninsula, Rong (Dragon) Bridge, the Bridge of Love Locks, the 'Carp Turns into a Dragon' statue, and the Marble Mountains Tourist Area.
Like other tour programmes, upon arrival, the tour guide briefs visitors on the highlights and characteristics of these venues.
Booking in advance for the tour must be made before 5:00pm daily to get free pickups with departure from 7:30am to 8:30am the next day, via calls to 0899206999, 0931937111, 0867408779 and 0904953972.
Up to now, Danasea has served more than 1,000 guests. Although being a free programme, 'City tour' offers carefully prepared transportation services, highly experienced, reliable tour guides, in a bid to leave an deep impression of the beautiful and hospitable city on visitors.
As planned, the Furama Danang Resort is now in collaboration with Sunbox, a community group that carries out projects targeting disadvantaged people in society, especially children, to introduce the Water Puppet show.
Notably, the European Night programme is taking place at the Sun World Ba Ba Hills complex during 3:00pm - 10:00pm from April 30 to May 31 and 4:00pm - 10:00pm from June 1 to December 31, with a ticket price of VND 650,000 / adult and 470,000 VND / child.
This much-awaited event treats visitors with a wide array of relaxing activities such as taking photos on the top of Ba Na, visiting famous check-in spot Golden Bridge, taking a panoramic view of Da Nang at night, playing more than 100 free games at the Fantasy Park until 7:00pm, and watching realistic show at the Beer Plaza waterfall.
Upward trend of trekking, camping tours
The V.E.I Co., Ltd. is one of the city's reputable pioneers in launching trekking tours in the forest. The company's director, Le Thien Tu, assessed that, in the future, the trend of trekking and camping tourism will thrive significantly in Da Nang. In many countries around the world, this type of tourism is designed for travellers who love to go out and rest on weekends.
Adventurous trekking through the forest is a form of tourism that many tourists choose. Tourists are seen trekking through the forests of Hoa Bac Commune, Hoa Vang District.
For those who like to travel or picnic during the day, trekking through the woods and going camping will bright about new and exciting travel experiences. For the time being, the V.E.I Co., Ltd. is offering its guests such tours as bathing in the Hoa Bac stream, exploring Co Tu ethnic minority group's distinctive culture, and trekking in Hoa Bac woods.
The special highlight of these tours is that their products are deeply attached to the local culture. Visitors can go trekking with indigenous people, sleep at a homestay in Hoa Bac mountainous areas, and enjoy rustic yet yummy Co Tu dishes such as grilled fish and chicken, 'com lam' (rice cooked in bamboo tubes), 'banh sung trau' (buffalo horn-shaped cakes), and 'ech xong khoi' (smoked frogs), 'ruou can' (rice wine drunk out of a jar through pipes), wild vegetables.
Currently, apart from to travel agencies exploiting trekking tours in the forest, some tourist spots provide camping sleeping such as An Nhien Farm and Yen Retreat in Hoa Vang district. Meanwhile, many people who love camping tourism spontaneously can set up tents at some vacant land areas along Cu De River and Son Tra Peninsula-located Green Lake area.
Reporting by NHAT HA – Translating by A.T
.