Da Nang travel firms see hike in domestic tour bookings for Reunification Day and Labour Day holidays
April 24, 2021, 12:01 [GMT+7]
This year, employees of government agencies, students and pupils nationwide will enjoy four day off from work and study for Reunification Day (April 30) and Labour Day (May 1) holidays. The upcoming break, which will start from April 30, is considered a good opportunity for travel firms in Da Nang to join a fair competition in offering great deals and diversified tourism products meeting the expectations and tastes of tourists.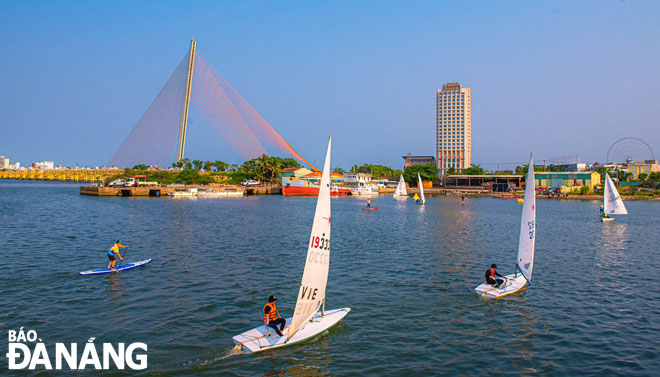 Da Nang has organised an array of exciting eventsto tempt visitors back on the upcoming holidays. Here is a scene of the 2021 'Da Nang SUP Race 2021, which was held to celebrate Da Nang's Liberation Day (March 29), attracting lots of locals and visitors. Photo: KIM LIEN
The domestic market is, for the time being, regarded as the primary driver for the recovery of Da Nang tourism industry from the crushing impacts of the globally complicated COVID-19 pandemic. With its great efforts, the city's fervent call for travellers near and far has apparently received a warm response.
Bustling signs of tour bookings
Da Nang tourism sector has, over recent days, reported a positive growth in the number of domestic tour bookings, according to travel agencies. The Da Nang branch of Vietravel Company has received with about 4,000 tour bookers, whilst Vitours with about 1,000 and Vietnam Travelmart with about 1,000 visitors.
Ms Phan Thi Thu Suong, General Manager of Danase Travel Joint Stock Company expressed her delight at seeing a rise in tour booking numbers through her travel firm over recent days. In the past time, tour sellers in Da Nang, and those from other parts of Viet Nam, struggled to lure customers.
Danase plans to serve about 1,000 tourists on the upcoming holidays, Suong said.
Likewise, Adventure Vietnam Co., Ltd. has till date received 600 tour bookers, including (Meetings-Incentives-Conferences-Exhibitions) M.I.C.E. delegations and independent travellers.
Preferential deals in Da Nang's travel stimulus programme such as 4-day/ 3-night package priced from VND 4,090,000 and 3-day/ 2-night package set at VND 3,490,000 and above have quickly been sold out.
Meanwhile, Vietnam Travelmart is launching a combo priced at only VND1,990,000 and above consisting of a flight ticket from Ha Noi/ Ho Chi Minh City to Da Nang and staying 4-5 star hotel rooms, plus a free city tour and night-time boat trip on the Han River. Also, there is a 3 day/2 night tour package to Da Nang set at VND 3,590,000 and more, including round-trip air tickets, transport and guiding services, admission fees to tourist attractions and meals.
In a similar vein, Vitours Vietnam Tourism JSC has built up a number of key tours such as 'Central Heritage Journey' and 'Central Heaven'.
Encouragingly, the number of tour booking for the upcoming holiday break through this travel firm has increased by 5 - 6 times as compared to the same period last year, equivalent to the tourism peak in 2019.
Sharp increase in hotel room occupancy rates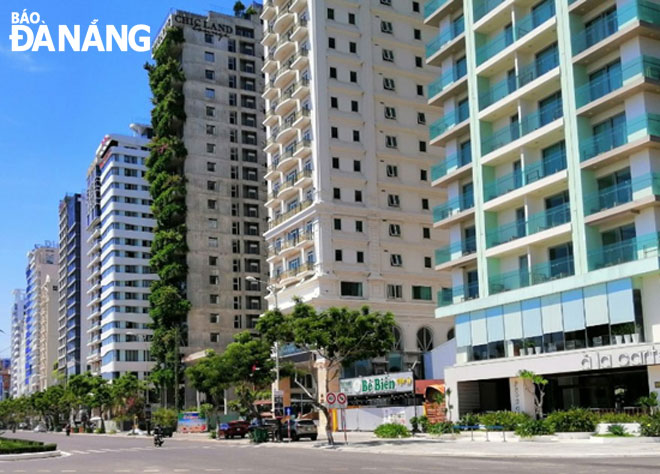 The room occupancy rate of many coastal hotels is expected to increase during the upcoming holidays. A chain of hotels along Vo Nguyen Giap coastal route, Son Tra District. Photo: THU HA
According to Mr Nguyen Bao Vinh, Deputy General Manager of Naman Retreat resort, instead of keeping the same price as before, the resort has researched and built a new price bracket suitable for the budget of domestic guests and those in family groups.
In addition to participating in the city-launched stimulus programmes, Naman Retreat has launched its own incentive deals in a bid to promote bulk purchases by tour operators.
Naman also develops new tourism packages combining relaxation and health care, culinary products associated with entertainment, night-time film projections on beach, seafood barbecues on Saturday nights, beach sports, swimming classes for children, folk games associated with physical training for family groups.
The room occupancy rate has always fluctuated at 20 - 30% for weekdays and increases sharply by 70-80% for weekends.
Especially, during the peak time, the resort has welcomed more than 500 guests (a maximum capacity of 750 guests), and it has also enjoyed a 200-300% growth as compared to the previous months.
Other accommodation establishments such as Golden Bay and Muong Thanh Luxury have filled up 45 - 60% of their total room capacity, and more than 70% at weekends.
Meanwhile, a number of renowned high-end accommodation establishments such as Nalod Hotel, Furama Resort Danang, Salmalia Hotel and Naman are expected to see all rooms fully occupied for the upcoming break.
Besides, some 3-star hotels in coastal areas have seen a rise in the number of guests. Representatives of some hotels said, the room occupancy rate during holidays is 2 - 3 times higher than normal days.
Do Thanh Ly, the Director of Flower Hotel, set on Do Ba Street, My An Ward, said, on average, since the beginning of April, the hotel has filled up about 60% of its total room capacity, and 65% projected for the coming holidays. Its room prices fluctuate around 550,000 VND / room / night.
With the current growth of tourist arrivals, the representative of Da Nang Tourism Association said that this year's summer will be the peak domestic travel season.
Keeping this growth pace, the number of visitors will reach about 80 - 90% of the total figure recorded in the peak period of 2019, and the growth in the number of domestic tourists is expected to be on the rise in the coming time if COVID-19 is well controlled in the country.
Reporting by THU HA – Translating by A.T
.