Opportunities and challenges for Da Nang to develop Co Tu culture –themed tourism products
April 22, 2021, 16:53 [GMT+7]
Da Nang is mulling over how to promote Co Tu culture among domestic and foreign tourists. However, this issue is not 'a piece of cake' because it needs love and deep understanding to preserve and promote the fine traditional cultural values of the Co Tu ethnic people, thereby driving to the city's growth and enhancing the local culture.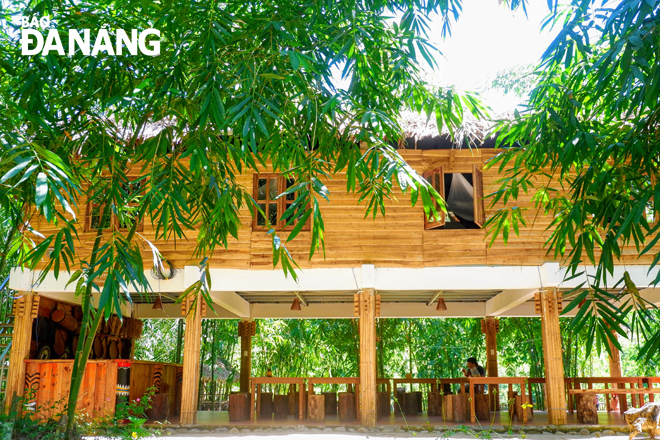 Alang Nhu homestay
First steps toward the building up of Co Tu culture-based tourism products
Since its official operation in October 2019, Alang Nhu homestay, owned by Mr Dinh Van Nhu, a Co tu ethnic man in Hoa Bac Commune, Hoa Vang District, about 35km from the Da Nang centre, has gradually attracted large numbers of visitors who want to stay and immerse themselves in the beauty of the nature, and explore the culture of the Co Tu ethnic minority group.
The 2-storey homestay is designed to help you explore the culture of the Co Tu ethnic people, to provide a resting place for visitors in the ground floor, and offer rooms for nearly 20 guests in the first floor.
Alang Nhu features environmentally-friendly interior and exterior decoration with locally available materials, including bamboo, wood, stones, and some daily items of the Co Tu group.
During their stay here, visitors are highly recommended to take tours exploring the history and culture of the Co Tu minority group, experience brocade weaving and participate in gong arts, 'tung tung da da' dance, stream trekking, shooting crossbows, and make traditional handicrafts.
Also, they can try the Co Tu specialties such as 'com lam' (rice cooked in bamboo tubes), 'banh sung trau' (buffalo horn-shaped cakes), and 'ech xong khoi' (smoked frogs), and enjoy 'ruou can' (rice wine drunk out of a jar through pipes).
Despite not being an indigenous resident, Huynh Tan Phap, the developer of the tourism model in Toom Sara village, Suoi Hoa tourist site, Phu Tuc Village, Hoa Phu Commune, Hoa Vang District, is quite devoted to preserving the time-honoured Co Tu culture.
Phap and other Co Tu residents made joint efforts to organise Toom Sara Fest – Love Season programme in joyful and bustling ambiance at the Toom Sara traditional village with the target of introducing the time-honoured traditional customs of the Co Tu ethnic minority people to tourists.
Visitors to the event had the opportunity to experience the Co Tu distinctive culture through their participation in 'tung tung da da' dance, ceremonies to celebrate new rice and a bumper crop, plus a traditional wedding ceremony.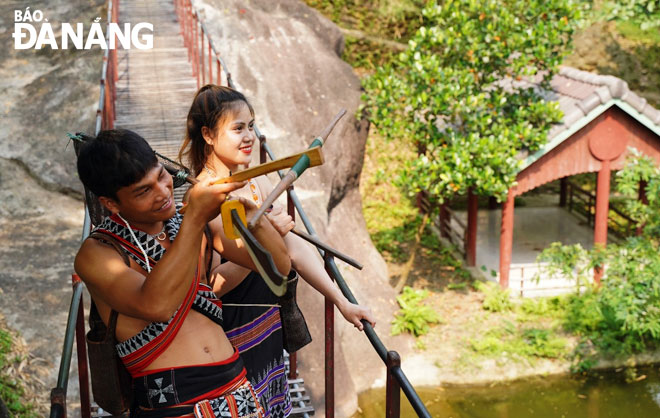 Toom Sara Fest – Love Season programme introduces the time-honoured traditional customs of the Co Tu ethnic minority people to tourists. (Photo: NGOC HA)
In particular, they were interested in watching Co Tu ethnic senior people reenact the ceremony of raising the Lunar New Year pole ('Cay Neu' in Vietnamese).
'Cay Neu' is of great significance in the spiritual life and the daily activities of the Co Tu ethnic people. It is raised in traditional festivals such as celebrating new crops and praying for rain. The pole is usually decorated quite elaborately with many details and patterns with four main colours: black, white, red, and yellow, thus expressing traditional culture and spiritual elements in the beliefs of the Co Tu people.
Promoting community-based tourism model
In a bid to promote Co Tu cultural values, the Hoa Vang District authorities will continue to implement the community- based tourism model in association with preserving traditional Co Tu culture.
The municipal Department of Culture and Sports is scheduled to issue a new roadmap to develop ethnic minority culture in the city for the 2021 - 2030 period.
In detail, importance will be attached to restoring traditional cultural values which are on the brink of oblivion during the currently burgeoning urbanisation such as ethnic dialect, traditional profession, folk performances and customs.
At the same time, support will be given to the restoration of typical traditional Co Tu festivals such as the celebration of new rice and bumper crops, in tandem with eliminating backward customs.
Reporting by NGOC HA – Translating by A.T
.