Promoting cultural tourism in Da Nang
April 22, 2021, 17:39 [GMT+7]
Cultural tourism is a form of tourism development that not only exploits the cultural assets of a destination and therefore, projects its image worldwide, but also, under the appropriate management, can lead to sustainable development.
Cultural tourism development aims to conserve local built and living cultural heritage and traditional values, contributing to the economic growth and cultural enhancement of local communities.
The 'Toom Sara Fest - Re-finding Yourself with Love and Music' which took place in Hoa Vang District in late March made visitors excited and inspired. (Photo: Quynh Trang)
Preserving cultural heritage and traditional values of the city
In 2020, Da Nang travel and tourism industry suffered unprecedented challenges and heavy losses caused by the COVID-19 pandemic. Tour operations were suddenly interrupted during lockdown restrictions. However, Hanh Huong Viet Company (Viet Pilgrim Travel, headquartered in Hai Chau District) still developed and sold 9 tours to tourist attractions located right within Da Nang in the new normal.
Ms. Tran My Quyen, Deputy Director of Hanh Huong Viet Company said: "The most important thing that we aim for is how to organise day trips from Da Nang for local people in order to perform two tasks in parallel of ensuring good practice of COVID-19 preventive measures and helping tour participants fully experience their hometown in Da Nang.
Da Nang emerges as an attractive destination for interntional travellers but Da Nang people want to make international travel to destinations around the world and miss the opportunity to discover the beauty of their hometown.
For example, Lien Chieu district is known by many Da Nang people for a northwestern part of the city with industrial clusters and many universities. Few people know that Lien Chieu district is blessed with an abundance of outstanding and breathtaking natural landscapes. Most notably, a song composed by musician Van Tu Quy is dedicated to the beauty of this district.
Ms. Tran My Quyen said the idea of new tours named "Legend of Da Nang" came to me when COVID-19 swept Da Nang last year.
"When my company suspended operations during COVID-19 outbreak, I took a motorbike taxi to visit such cultural sites as Da Nang Railway Station, Hai Chau Village Communal House, the 2 September Park, and the Dien Hai Citadel. After taking me to these sites, the motorbike taxi driver refused to take any money from me for the fare. The reason why the kind-hearted motorbike taxi driver gave me a free trip was the opportunity offered by my trip making him realise that there are many places worth seeing in Da Nang. He has lived in Da Nang for sixty years but he missed the opportunty to explore amazing places located right in his hometown. As a result, I decided to develop tours of Da Nang for the people of Da Nang", Ms. Quyen remarked.
Late March, 2021, Hoa Vang District made great efforts to organise the 'Toom Sara Fest - Re-finding Yourself with Love and Music' at the Toom Sara traditional village, nestled in Hoa Phu mountainous commune. Visitors to the event had the opportunity to learn about the distinctive culture of the Co Tu ethnic group. Included were the 'tung tung da da' dance, ceremonies to celebrate new rice and a bumper crop, and a traditional wedding ceremony.
After Nam O fish sauce traditional craft village, set in Hoa Hiep Nam Ward, Lien Chieu District, was recognised as part of Viet Nam's national intangible cultural heritage in 2019, Da Nang created a plan to develop community-based tourism and preserve this time-honoured traditional craft.
In addition to the possession of Nam O fish sauce traditional craft village, Lien Chieu District has a great potential for tourism with stunning natural features and many fantastic places to visit such as the temple dedicated to Mother Goddess Lieu Hanh who represents Vietnamese women's burning desire for freedom, independence and happiness, the mysterious Ba Temple dedicated to princess Huyen Tran (1287-1340) who has been honoured as the founder of the land by local residents, ancient tombs, and Cham relic sites.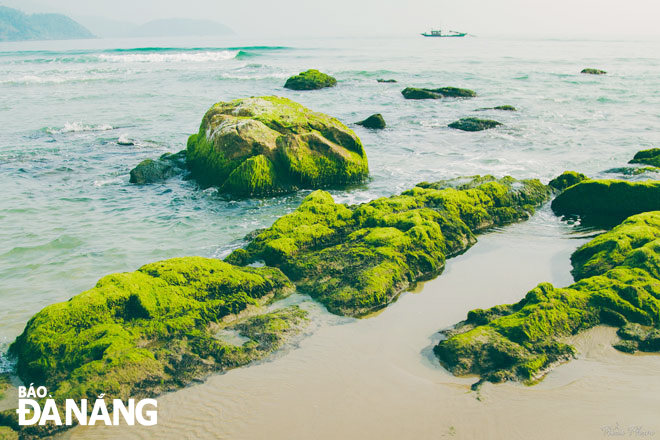 The Nam O rocks impressively coated with the most eye-catching green moss emerge as a new 'check-in point' for both locals and tourists. (Photo: Pham Doan Trieu)
Some tour operators in Da Nang have quickly grasped the opportunity to bring tourists to the Nam O Village. The highlights of the tour to this village are Nam O villagers acting as "tour guides" to introduce their local specialties, and a bottle of Nam O fish sauce with sweet words from the local people offered as a gift to each visitor.
Future travel trends
In the past, the main purposes for motivating the tourist to travel are sightseeing and relaxation. For the time being, the travel trend among tourists is changing significantly with a focus on exploring the culture and daily life of local residents of the places they visit.
According to statistics of the Da Nang Department of Tourism, the city is now home to 85 cultural resources with enomous potential for tourism development. In particular, Hoa Vang District boasts the city's highest numbers with 41 resources, including Tuy Loan, Bo Ban, and Thai Lai village communal houses, Tuy Loan Rice Paper Village, Cam Ne sedge mat-making village, Tuy Loan Village Communal House Festival, and Co Tu Ethnic Village.
It can be said that culture and tourism have a symbiotic relationship, and culture is an integral part of travel and tourism. It can be affirmed that cultural heritage is used for the creation of new tourism products for sustainability in Da Nang tourism.
Reporting by QUYNH TRANG – Translating by H.L
.