Da Nang retail market eyes brighter outlook for rest of 2021
September 28, 2021, 18:28 [GMT+7]
The current COVID-19 outbreak which has raged since early May has made local residents' life tougher and resulted in a 20 - 30% reduction in retail sales. However, Da Nang, like many other provinces and cities nationwide, is still on full swings to implement many support solutions, increase the vaccination coverage, and stir up consumers' confidence for the rest of this year.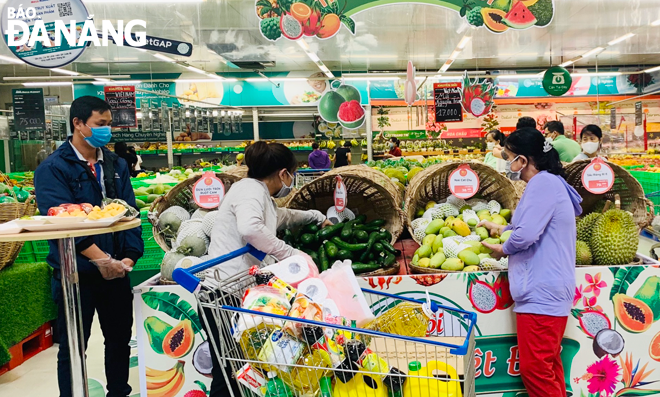 People now have many shopping choices as goods at supermarkets, traditional markets and convenience stores are plentiful and of good quality. Shoppers are seen visiting the Da Nang MM Mega Market. Photo: QUYNH TRANG
Retail sales heavily affected by the COVID-19 wave
Over the past times, many wet markets across the city have temporarily closed down, which prompted an increase in the number of shoppers flocking to supermarkets. However, many supermarkets are financially struggling whilst bearing negative profits.
Phan Thong, the Director of Co.opmart Da Nang, said that, amid the complicated developments of COVID-19, more than 75% of the shoppers bought fresh food, while this was a commodity industry with the lowest profit rate amongst all categories. Moreover, with this fresh food industry, this supermarket managed to cover the cost of sourcing, transportation, quarantine, preservation and preliminary processing.
Besides, the pandemic has put great financial pressure on supermarkets in terms of the cost of continuous and intensive COVID-19 testing for the staff as per request by the local authorities.
In a similar vein, Director of MM Mega Market Nguyen Tien Duong blamed the current COVID-19 resurgence which has lasted for more than 4 months for a sharp decline in its sales. In reality, the halted operation of its partners, hotels and restaurants, have has resulted in a huge loss for the city, adversely affecting the trade activities of many supermarkets.
On the other hand, increased transportation costs and heavily- affected supply chains have also imposed a strong impact on product prices.
Last, but not least, there are other costs incurred such as COVID-19 testing costs for staff, equipment in service for ensuring the safety of both employees and shoppers.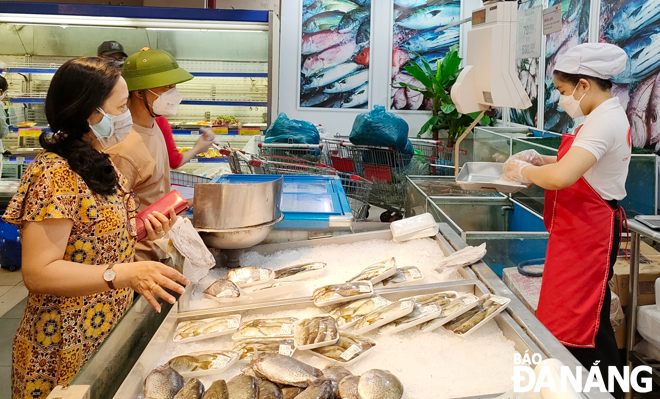 Customers select favourite items at the Co.opmart Da Nang. Photo: QUYNH TRANG
Brighter outlook for the rest of the year
Amid COVID-19, most people have resorted to the "austerity" option because their incomes significantly dropped.
In order to quickly adapt to the current situation, the Co.opmart system has promoted online sales through channels such as Facebook, Zalo, Cooponline.vn and App SGC so as to promptly meet the needs of customers.
The supermarket chain has also actively stocked up on essential goods to serve the growing public demand.
As observed in some supermarket systems citywide, a series of promotions and discounts on many products has been launched from the first month of the fourth quarter of 2021.
Along with mass discounts on products, supermarkets are operating a variety of consumer demand stimulation programmes such as product discounts, gift presentations, the accumulation of points for shoppers, and the increase in product warranty period with attractive after-sales policies.
Through recent research, this year, to match the consumer demand during the post-pandemic period, many supermarkets have adjusted their supply structure in the direction of limiting high-priced items high as imported wine and cakes, in tandem with increasing the proportion of domestically- produced products with diverse designs and reasonable prices so that consumers have more choices.
For the retail store system, many solutions to stimulate consumer demand have also been applied effectively by store owners.
For the time being, MM Mega Market is strongly committed to bringing good-quality products to consumers at the most affordable prices.
In addition, the supermarket will launch a wide range of promotions and discounts as well as continue programmes for putting agricultural products sourced from other provinces and cities onto its shelves for sale.
Meanwhile, with the motto of taking customers as the centre and the goal of serving customers better, Big CM Mall system has repositioned the brand GO!
"Da Nang has basically controlled the current coronavirus resurgence, which has opened up a lot of hope for retail sales in the rest of this year. In the near future, we will deploy more promotions to stimulate consumer demand to catch up with the trend of gradually increasing consumption at the year-end period", said Vo Thi Thu Thuy, Director of Big C Mall Da Nang.
Reporting by QUYNH TRANG – Translating by A.T
.