Vietnamese carmaker aims to conquer European high-end electric car market
September 28, 2021, 15:52 [GMT+7]
The Le Monde newspaper of France has recently posted an article reporting that VinFast automaker of Viet Nam's conglomerate Vingroup has entered the high-end electric car market in Europe, as it is expected to launch two models in France and Germany by late 2022.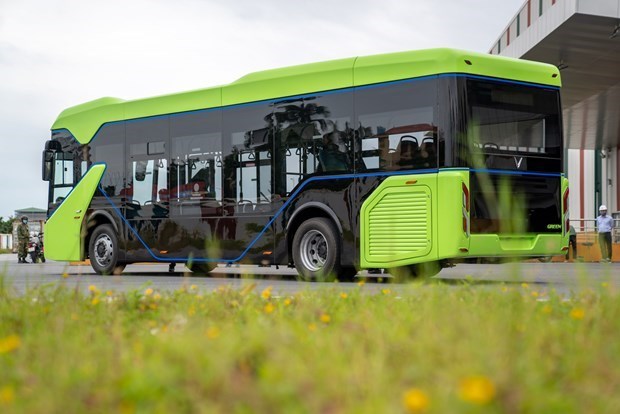 An electric bus of VinFast (Photo: VinFast)
"Not so long ago, an unknown Vietnamese automaker with ambition to gain a foothold in the premium market would hardly have been taken seriously. Today, the arrival of the VinFast brand is not entirely surprising.
"The electric car has become the horizon of the automobile industry, and technological barriers such as income from the situation inherited from the reign of thermal engines are cracking," wrote the article.
Since its presence in 2018 at the Paris Motor Show, VinFast has worked hard to build a factory capable of producing 250,000 vehicles per year in the northern port city of Hai Phong, with an investment of 4.4 billion USD, the article continued.
It added that after having produced 30,000 units of thermal models in 2020 based on BMW and General Motors technologies, the Vietnamese manufacturer on September 23 presented two full-size electric vehicles in Italy, which will be marketed at the end of 2022 in the US, Canada, Germany, France and the Netherlands. The range will expand in the following years.
"VinFast will be top-of-the-range cars with top-notch equipment, but at the right price," assured Thomas Chrétien, the company's marketing director for Europe.
VinFast posts an annual revenue of 16 billion USD, making up over 2 percent of Viet Nam's gross domestic
Source: VNA
.