Da Nang asks for PM's permission to welcome back international tourists
October 17, 2021, 15:33 [GMT+7]
The Da Nang government is asking for permission from the Vietnamese Prime Minister (PM) to welcome back foreign visitors.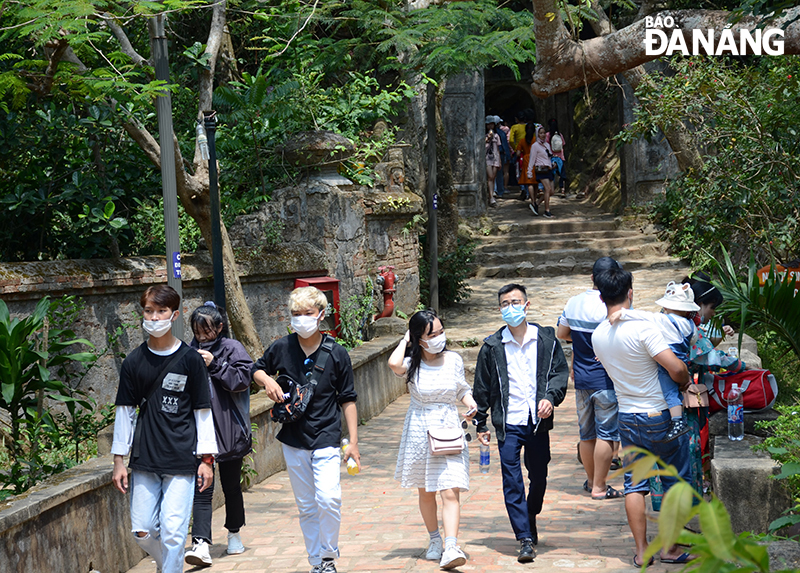 Da Nang hopes to welcome international guests from key markets as soon as possible. In the photo: Tourists visited the Marble Mountains in April 2021. Photo: THU HA
Da Nang has responded well to the coronavirus pandemic, and the outbreak has been brought under control. The city has been ranked eighth in in Viet Nam for the highest COVID-19 vaccination rates.
Latest figures from the health agency show that 95% of the city's over-18s have received at least one dose of the vaccine while 15% have had both, giving them maximum protection against the deadly virus. The city has done everything possible to ensure high quality of service and safety for overseas visitors over recent years.
Da Nang is a top travel destination in Central Viet Nam and Central Highlands. Due to COVID-19, Da Nang's tourism has become the most adversely affected sector in the past 2 years, causing 90% of tourism businesses to suspend their operations, about 42,000 people who were in direct employment (equivalent to 80% of the sector's staff) and thousands of people who were in indirect employment to lose their jobs. The tourism sector which accounts for 64.3% of the city's economic structure, has experienced significant negative growth due to COVID-19.
In its efforts to restore tourism activities safely and gradually, as well as ensure successful implementation of the national government's goals of effectively controlling COVID-19 while driving socio-economic recovery, Da Nang is seeking approval from the PM to welcome back international guests from November in a bid to increase the city's budget revenue, create job opportunities for local residents, and avoid missed opportunities from international tourist markets amid the worldwide countries' reopening.
The two-phase approach to welcome back international tourists has been also created. In phase 1, the city will begin to encourage safe return of two groups of foreign visitors from November 2021. First group consists of foreign nationals and overseas Vietnamese who visit Da Nang for the purposes of a business, visiting friends or relatives, or travelling. Seven-day home quarantine will be applied to these visitors under the close monitor of local health officials and local authorities at their places of residence in line with the Ministry of Health's guidance.
The second group will target Korean and Russian nationals with the adoption of vaccine passports for entry into Da Nang.
International tourists can take a Da Nang tour package to explore attractions in Da Nang and Hoi An City. The city is expected to host 15,000-20,000 foreign visitors a month.
Phase 2 will begin when the national government gives green light to resume international flights. Da Nang will work with national government's agencies and local relevant units to develop plans in a flexible and adaptable way in an effort to ensure the safety of tourists, the community and hospitality staff.
Reporting by THU HA – translating by H.L
.