Da Nang grasps investment attraction opportunities from international trade agreements
October 02, 2021, 12:02 [GMT+7]
For the time being, Da Nang is still stay firm on promoting links with international markets that are the members of free trade agreements (FTAs) to which Viet Nam is a signatory, thereby making good use of opportunities these pacts have brought about so as to attract more investment inflows in the coming time.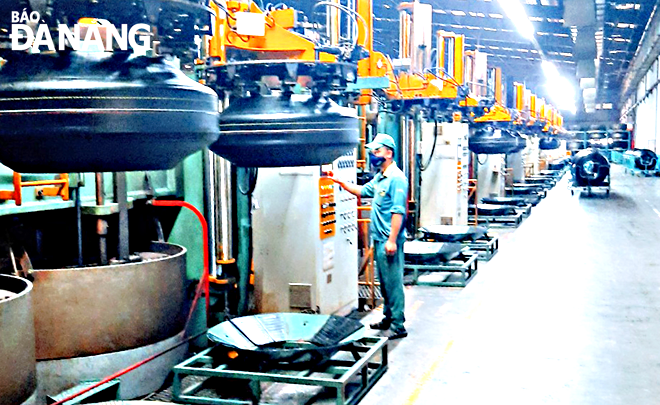 Enterprises and business associations underline a need to quickly restart production activities so as to effectively seize investment opportunities from FTAs. Scene of manufacture is observed at the Da Nang Rubber Joint Stock Company. Photo: KHANH HOA
Market expansion efforts
According to Mr. Pham Truong Son, the Head of the Authority of the Da Nang Hi-tech Park and Industrial Zones (DHPIZA), boosting linkages with new potential markets is an important orientation in attracting investment into the Hi-tech Park, the concentrated Information Technology Park and industrial zones in the coming time.
In preparation for investment promotion in the time ahead, in addition to maintaining the existing traditional markets, DHPIZA is targeting new partners from international countries with which Viet Nam has entered into multilateral or bilateral trade packs.
At the same time, heed has been paid to linking with large corporations wishing to expand investment into the South Eastern region.
Since the beginning of 2021, the city's industrial parks (IPs) have received 4 foreign direct investment (FDI) projects with a total registered capital of US$ 145.33, and 13 domestically invested projects worth VND 544.4 billion.
Till date, Da Nang's IPs has attracted 130 new FDI projects with a total registered capital of US$1.854 billion and 373 domestically invested projects worth nearly VND 27,563 billion in total.
According to recent assessment from the Da Nang Investment Promotion Agency, so far, Viet Nam has signed many important free trade agreements such as the Viet Nam - Japan Economic Partnership Agreement (JVEPA), the EU-Viet Nam Free Trade Agreement (EVFTA) and the Comprehensive and Progressive Agreement for Trans-Pacific Partnership (CPTTP).
All of them have opened up many opportunities for Vietnamese localities to receive investment capital flows from abroad, and amongst them, Da Nang is considered to be a destination of great interest to the remaining signatories.
As for investment attraction orientation in the next time, in addition to focusing on such time-honoured traditional markets as the U.S., Japan, South Korea, Taiwan (China) and Singapore, the city will accelerate appeals for more investment from such CPTPP members as Peru, Chile and Malaysia, and many EVFTA members, including Belgium, The Netherlands, France and Portugal.
Mr. Jose Sanchez Barroso Gonzalez, a representative of the European Chamber of Commerce in Viet Nam (EuroCham), said that, in the coming time, Da Nang will still be a destination of great interest to European businesses and investors in the fields of ICT (information and communication technology) tourism and education. This is really a good opportunity for the city to exploit this potential market well, including many countries holding the EVFTA memberships.
According to statistics from DHPIZA, there are currently 118 FDI projects in local IPs, many of which come from countries which are signatories to trade packs. In particular, Japan now takes the lead with 48 projects, followed by South Korea with 15, the U.S., Singapore and Malaysia with 6 each, France with 3 and Australia with one.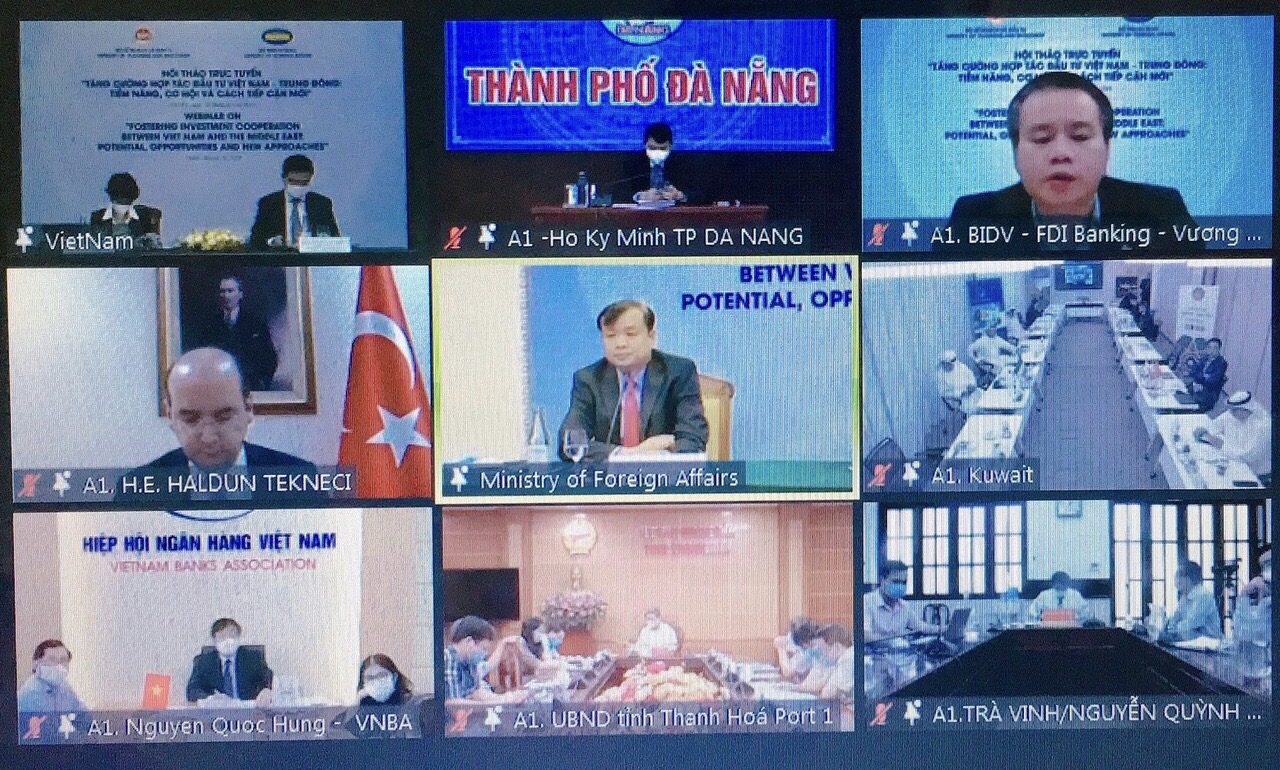 The city plans to flexibly organize many programmes on attracting investment from FTA's member countries in the coming time. Here is a scene of a recent webinar entitled 'Fostering investment cooperation between Viet Nam and the Middle East: potential, opportunities and new approaches', jointly held by the Ministry of Foreign Affairs has coordinated with the Ministry of Planning and Investment. Photo courtesy of the event's organisers
Flexible investment attraction strategies in the new situation
It is expected that, much depending on the developments of COVID-19 domestically and internationally, DHPIZA will organize a series of new programmes, in the form of online or offline with a variety of in-depth content.
Included will be the production of promotional films about the Da Nang Hi-Tech Park and IPs, investment promotion in Europe, especially EVFTA's member countries, the Da Nang participation in the 24th ASPA Annual Conference in Malaysia and transaction delegations in the Netherlands, Belgium, along with an investment attraction programme in France and in the Silicon Valley, the U.S.
The Da Nang Investment Promotion Agency, in the coming time, will research into market potentials, investment trends and partners so as to map out a reasonable investment attraction approach.
The Agency also plans to strengthen the provision of information on the Da Nang investment environment to the Ministry of Foreign Affairs, Vietnamese diplomatic missions abroad, and foreign diplomatic missions in Viet Nam, thus calling for more large enterprises to seek investment chances in this central Vietnamese city. These plans are highly expected to help Da Nang catch the investment 'wave' and promote post-pandemic economic recovery.
Many enterprises and business associations based in the city has urged the municipal administration to quickly mull over and deploy plans to establish the goal of " flexibly coexit safely with the COVID-19 pandemic" to help completely restart production and business activities as well as avoid missing out on great investment opportunities offered by partners at home and abroad.
According to the Da Nang Software Businesses' Association, it is high time for the city needs to come up with investment attraction policies to increase the advantages and competitiveness of Da Nang as compared to other localities nationwide.
FTAs have come into effect till date. Besides opportunities available, there are also many challenges in the "race" to welcome investment flows from member countries, especially in the light of still complicated COVID-19 in some countries, as many investors have become more picky in order to maintain the global supply chain.
Reporting by KHANH HOA – Translating by A.THU
.