Da Nang makes outstanding strides in developing IT infrastructure for sake of businesses
October 25, 2021, 09:33 [GMT+7]
The Da Nang Department of Information and Communications has been continuously supported businesses to register to use digital platforms to serve production and business activities with the target of recovering and fostering the economy in the new normal.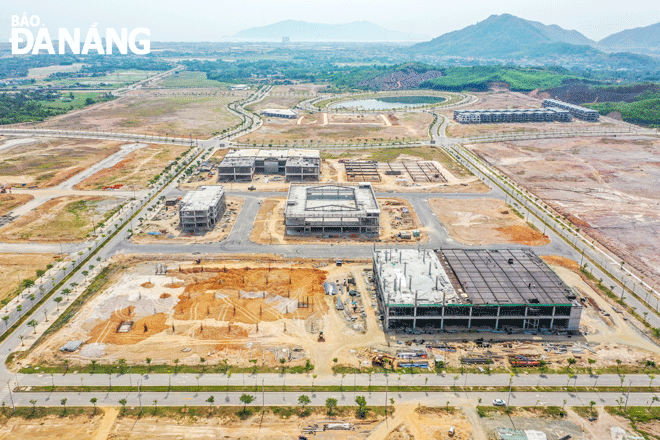 The infrastructure of the Da Nang Centralized Information Technology Park is under construction in Hoa Lien Commune, Hoa Vang District. Photo: PHAM DANG KHIEM
More investment poured into developing infrastructure
In the process of building e-government and the smart-city model, infrastructure is always the first factor to which Da Nang pays special heed.
According to the municipal Department of Information and Communications, up to now, Da Nang has recorded a number of outstanding results in developing information and communication technology (ICT) infrastructure systems.
Notable amongst them are the building of a private telecommunications network (MAN network) with a total length of 350km of underground fiber optic cables, connecting 145 agencies and units, including administrative agencies, medical centres and the police forces at all levels.
The public wifi system consists of 430 dedicated transceiver stations operated by the municipal administration and about 1,000 others run by businesses, excluding wifi at restaurants and cafes, offering Internet connection to all departments, the headquarters of the all-leveled governments, tourist sites and public areas.
The Da Nang Data Centre has a storage capacity of up to 170TB, designed and operated according to TIER III standards, using virtualization technology, ensuring computing capacity and storage capacity in service for e-government construction, and being under upgrade to deploy smart- city apps.
The centre is equipped with specialised information security assurance systems, operating management according to international standards ISO 27001: 2013, deploying the '4-layer' model of information security in line with Directive No. 14/CT - TTg dated June 7, 2019 approved by the Prime Minister on strengthening assurance of network safety and security in order to improve Viet Nam's ranking index.
Along with that, the city boasts the Public Service Switchboard on which organizations and citizens find it easy and convenient to carry out administrative procedures and use e-government services, access regulations and policies adopted by the municipal administration, and make comments on issues of deep concern .
Also, the city has piloted the installation of 8 radio transmission stations, LoRa (Long Range) is a proprietary low-power wide-area network modulation technique at Mobifone building, the Da Nang Software Park and the Da Nang University of Science and Technology, and supported IoT terminal connection with a low cost and wide coverage, instead of using 3G, 4G technology.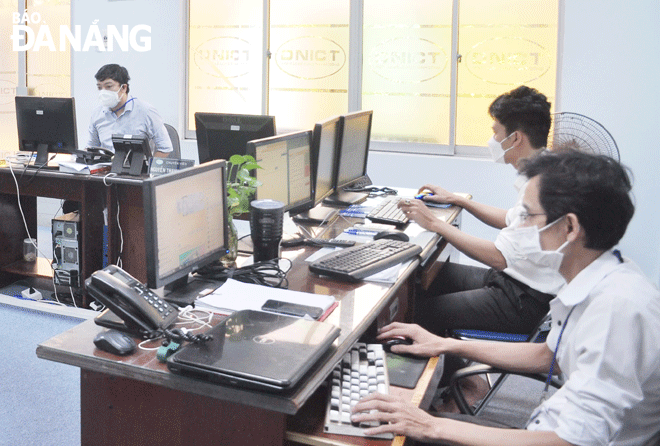 A corner of the Da Nang E-Government Information System Operating Office. Photo: THU HA
Supporting businesses to boost digital transformation and technology application in COVID-19 prevention and control
Mr. Nguyen Quang Thanh, the Director of the Department of Information and Communications, said that, the Da Nang information and communication industry earned VND 30,383 billion in revenue in 2020, reaching 93% of the plan, up 1.2% from the same period in 2019.
Since the start of this tough year, despites the negative impacts of the COVID-19 surge, the information and communication industry has exerted great efforts to implement the already-assigned socio-economic development targets.
As of September 2021, the total revenue had reached VND20,214 billion , reaching 59% of the target, up 2.5% year- on-year.
In particular, the software export turnover hit US$ 65.5 million, fulfilling 60% of this year's target, a year- on-year increase of 8.6%.
Under the Da Nang government-approved plan on digital transformation in the city until 2025, with a vision toward 2030, the municipal Department of Information and Communications has actively supported small and medium enterprises to register to use the digital platforms at http://smedx.mic.gov.vn.
The city has participated in the International Telecommunication Union (ITU) Digital World 2021 and helped connect businesses wishing to use free online accounting services with MISA Joint Stock Company.
At the same time, a plan has been deployed to support agricultural producers to make their products' presence on the e-commerce platform, thereby contributing to promoting the development of the digital agricultural economy.
Along with well-invested infrastructure, the application of technology in pandemic prevention and control in the past 2 years is considered a bright spot in the city's information and communication industry.
The city has actively implemented technological solutions for pandemic prevention and control such as boosting the use of apps for medical declaration management, travel management, entry and exit control, COVID-19 contact tracing, the management of COVID-19 tests, vaccination and isolation activities.
As accumulated until October 6, 2021, the city's medical declaration system had generated 6.13 million medical declarations.
Director Thanh said that, in the next phase, the municipal Department of Information and Communications will continue to coordinate with other local agencies to implement existing solutions, and actively cooperate with digital technology businesses to ensure digital platforms, infrastructure, data and smart applications suitable for the new situation.
In particular, heed will be paid to upgrading and integrating the city's health declaration system with the PC-Covid app, the national unified COVID-19 prevention and control app to ensure that each citizen has a unique QR code, convenient for their travel declarations.
Furthermore, more measures will be taken to deploy intelligent virtual assistant applications to better serve citizens and applications to support assessment and management of "green" businesses for safe production, and analise socio-economic indicators to proactively cope with the pandemic.
Reporting by THU HA – Translating by A. THU
.