Da Nang ready to welcome back international tourists from November
October 15, 2021, 07:55 [GMT+7]
In her remarks on the "Municipal People's Council with Voters" program on Wednesday, Da Nang Department of Tourism Director Truong Thi Hong Hanh said that Da Nang has developed action plan for economic recovery in the wake of COVID-19, including tourism recovery.
The tourism recovery plan has been created in a flexible and adaptable way while ensuring the safety of tourists, the community and hospitality staff.
The Department of Tourism has created a roadmap which sets out three-phase approach to welcome back domestic visitors. Phase 1 starting from October 20 will focus on restoring confidence among local residents in travel locally in the new normal in order to motivate local residents to explore tourism attractions across the city by offering attractive tours. Phase 2 starting from November will introduce a bio-bubble model for vacationers to revive the tourism sector while ensuring a protective layer from coronavirus to the tourists in Da Nang and some localities. Phase 3 will be rolled out when the Viet Nam's national government allows full reopening of all activities across country.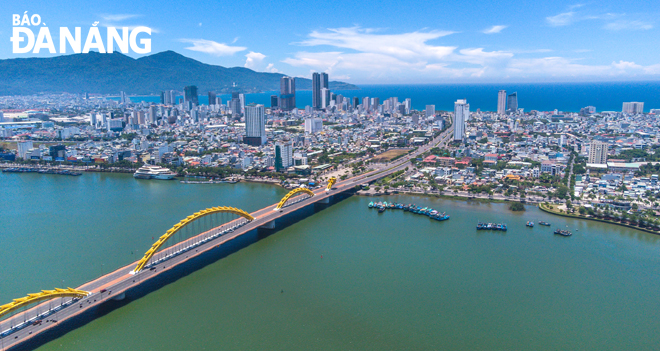 A corner of Da Nang viewed from above. Photo: XUAN SON
The two-phase approach to welcome back international tourists has been also created. Accordingly, the city will begin to encourage safe return of two groups of foreign visitors from November 2021. First group consists of commercial visitors and overseas Vietnamese. Seven-day home quarantine will be applied to these visitors under the close monitor of local health officials and local authorities at their places of residence in line with the Ministry of Health's guidance.
The second group will target Korean and Russian nationals with the adoption of vaccine passports for entry into Da Nang.
Director Hanh said if the national and municipal governments give green light to resume tour activities, local travel agencies will welcome back foreign nationals twice a week with around 200 Korean nationals and a large number of tourists from other countries wishing to visit Da Nang. In addition, Da Nang can host 2,000 to 4,000 Russian visitors every month.
Reporting by TRONG HUY – Translating by H.L
.