Da Nang takes precautious steps to tempt international tourists back in safe manner
October 26, 2021, 12:07 [GMT+7]
The Da Nang government is asking for official permission from the Vietnamese Prime Minister (PM) to welcome back foreign visitors in November. In a proactive manner, the city's tourism industry has also built up a specific roadmap to welcome international visitors back on the basis of ensuring safety measures against COVID-19 under the direction of the national government for the sake of tourism revival after a long hiatus triggered by the pandemic.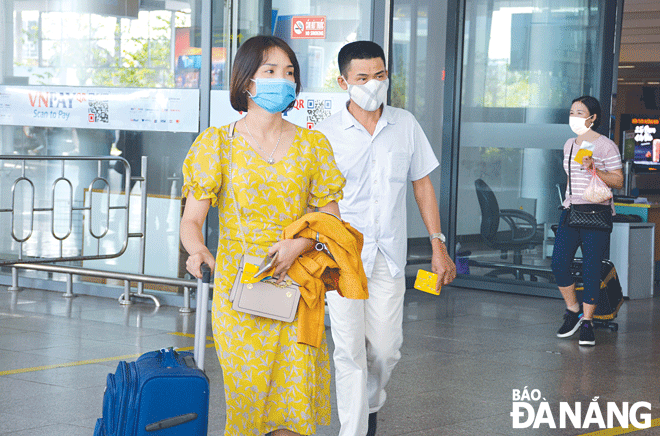 The Da Nang tourism industry has developed a roadmap to welcome international visitors with safety ensured. Visitors are seen at the Da Nang International Airport in March 2021. Photo: NHAT HA
Two-phase approach to welcome back international tourists revealed
The pilot organisation to welcome back international guests in the new normal state helps the locality to assess the level of disease risk when tourism reopens, serving as a basis for the national government's long-term decision on the tourism revival.
Director of the Department of Tourism Truong Thi Hong Hanh revealed that the two-phase approach to welcome back international tourists has been also created.
Phase 1 is slated to run from November 2021 whilst Phase 2 will begin when the national government gives green light to the resumption of international flights connecting Da Nang with other parts of the world, provided that the strict pandemic prevention and control measures must be put in place as prescribed by the national and municipal governments.
In particular, in Phase 1, Da Nang will mainly welcome foreign nationals and overseas Vietnamese for commercial purposes, official duties, repatriation and visiting relatives.
Upon their arrival in Da Nang, the group of visitors shall stay the paid quarantine stay at hotels which serve as temporary centralised quarantine facilities as permission the municipal administration for 7 days according to regulations of the Ministry of Health and then self-quarantine at home for another 7 days.
These visitors enter Da Nang according to current immigration regulations and are guaranteed and managed by businesses, including international travel agencies.
It is expected that about 10,000 - 20,000 visitors of this group will come to Da Nang from aboard.
Besides, the city will tempt back a flow of international tourists on tour/combo packages with the aim of exploring the beauty of Da Nang and neighbouring Hoi An (if any).
These travel packages, running 7 days or more, offer visits to resorts, golf courses, entertainment venues, and such tourist attractions as the Nui Than Tai Hot Spring Park, the Marble Mountains Tourist Area and Hoi An.
Tourist service establishments participating in the tour/combo packages must ensure the strict practice of safety measures against the COVID-19 surge.
About 15,000 - 20,000 visitors on these days-long tour packages are expected to make presence in Da Nang.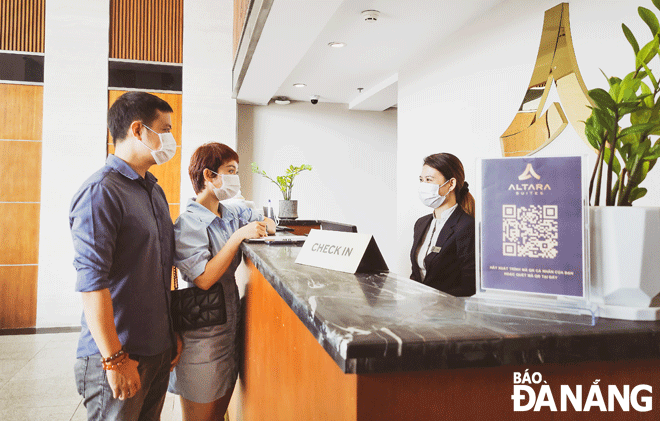 The Da Nang tourism industry is actively preparing conditions to welcome tourists back. Guests check-in at Altara Suites Danang in Phuoc My Ward, Son Tra District). (Photo taken in April 2021). Photo: Q.H
Need to meet necessary and sufficient conditions to welcome guests
The plan developed by the Department of Tourism to welcome international visitors back to the city features necessary and sufficient conditions to realise this target.
In particular, the Vietnamese government must reach an agreement on vaccine passports with some guest markets and allowed Da Nang to coordinate with neighbouring Quang Nam Province to pilot the plan to serve international guest.
There should be a limited area within the locale which comprises of tourist-oriented attractions and facilities and is separated from its surrounding environment by spatially or psychologically created boundaries. Accordingly, visitors only have contact with tourism workers serving at licensed tourist attractions.
All staff serving at the selected tourist establishment to must receive a full 2-dose course of COVID-19 vaccine.
For international visitors coming to Da Nang during the pilot phase, they must be fully vaccinated from the virus provided that the last dose has been given at least 14 days and not more than 12 months compared to the arrival time, along with holding certificates of vaccination.
For guests with valid vaccine passports to enter Viet Nam, they must have negative test results for SARS-CoV-2 within 72 hours before departure certified by the competent authority of the country conducting the test and must declare their health status through Da Nang's apps.
Le Tan Thanh Tung, Deputy Director of Viet Nam Tourism Joint Stock Company (Vitours), said that the current issue of deep concern to tourism businesses is that their staff have yet to receive full vaccination against COVID-19.
If the labour factor is not prepared in advance, there will not be enough human resources to serve tourist arrivals.
According to Mr. Van Thai Ngoc Long, Marketing and Communications Manager of the Altara Suites Danang Hotel in Phuoc My Ward, Son Tra District, underlined an urgent need to ensure vaccine coverage for employees serving for the local tourism industry and related industries such as transportation, catering and shopping services.
Many tourist attractions are now open to visitors
Till date, tourist areas and attractions managed by the municipal administration have just reopened to welcome visitors back. Included are the Marble Mountains Tourist Area, the museums of Da Nang, Fine Arts and Cham Sculpture.
Meanwhile, the Hoang Sa Exhibition House is slated to resume in November.
With regard to private tourist attractions, the Mikazuki Water Park 365 has restored the Onsen, which is a term for hot springs in the Japanese language, highlighting the virtues of 'naked communion' for breaking down barriers, and getting to know people in a relaxing atmosphere.
The Nui Than Tai Hot Spring Resort and Suoi Luong site are expected to open in early November.
The Sun World Ba Na Hills, Asia Park and Hoa Phu Thanh tourist areas are promised to open on the occasion of the Lunar New Year in February 2022.
About 50% of accommodation establishments are expected to have opened by the end of October, whilst 40% are slated to sesume in November and December 2021 depending on the real situation and the remaining 10% are highly likely to open in 2022.
Only 200 out of the total 1,200 units across the city have reopened to welcome guests from September 30, accounting for about 16%, mainly small accommodation establishments with less than 20 rooms.
The number of 3 - 5 star hotels resuming their operations has till date reached 30 hotels, most of which served long-term guests before the COVID-19 surge and guests on business or official trips.
The Da Nang tourism industry has developed a tourism communication plan under the new normal, consisting of two phases. Phase 1, from now until December 31, 2021 features the media message 'Da Nang Now Open' with a focus focuses on publising the reopening of activities in Da Nang, including tourism programmes.
Phase 2, expected from January, 2022 with the message 'Enjoy Da Nang', will promote the presence of Da Nang tourism on media channels and organize attractive new and preferential product packages.
Reporting by THU HA – Translating by ANH THU
.