Da Nang transport services still log quite modest passenger numbers
October 19, 2021, 11:48 [GMT+7]
Following recent approval made by the Da Nang administration, intra-city passenger transport services have resumed their operations after a long hiatus triggered by COVID-19. Many taxis and tech apps-based ride-hailing vehicles have, however, recorded a disappointingly low number of passengers.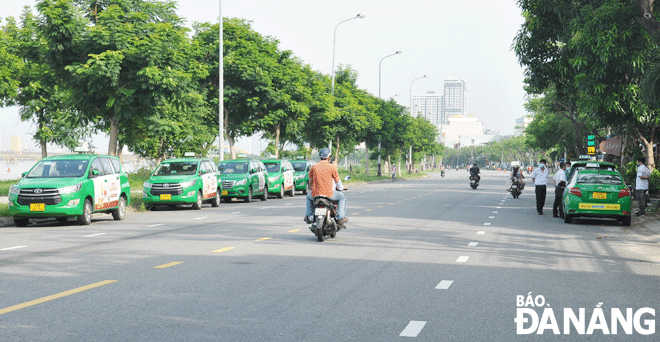 Many taxis are lined up to wait for passengers on Chuong Duong route, Ngu Hanh Son District. (Photo taken on October 18 by THANH LAN
As observed at the gate of the Da Nang Eye Hospital located at 68 Phan Dang Luu, Hoa Cuong Bac Ward, Hai Chau District on the morning of October 14, 4-5 taxis were lined up in readiness to serve potential customers. However, there were only few customers reported every 30 minutes who wanted to take home rides.
Along with that, places frequented by visitors in the past such as the gate of the Furama hotel in Khue My Ward, Ngu Hanh Son District, along Truong Sa - Vo Nguyen Giap - Hoang Sa route and Pham Van Dong Street and the entrance to the Da Nang Museum of Cham Sculpture saw almost no taxis travelling or being parked.
Likewise, in the city centre, a few taxis are seen operating on downtown streets.
Mr. Nguyen Huu Duc, a driver employed by the highly popular Mai Linh taxi company said that, since the resumption of intra-city passenger transport services, he has driven to the gate of the Da Nang General
Hospital on a daily basic to pick up potential guests but his effort were not paid off with no rides booked by passengers. For the whole week, he usually serves more than a dozen trips with a small mount of money generated.
Getting stuck in the same difficult circumstance as Duc, Pham Van Tu, another taxi driver complained about a quite low number of passengers over recent days.
" We hope that the city would reopen to tourists so trading activities would turn bustling and taxis services would regain high passenger numbers as previously", said Tu.
Mr. Pham The Vy, the Director of the Da Nang Taxi Company, acknowledged that passenger transport activities in the current period are operating at a modest capacity because tourism and services have not completely returned to normal with the absence of domestic and foreign tourists.
Only more than 10% of the company's drivers have come back to work. Meanwhile, the costs of vehicle maintenance, registration, road fees, social insurance and other charges still have to be paid evenly, which has driven so many drivers to quit their jobs.
According to Mr. Tran Thanh Tam, the Chairman of the Da Nang Taxi Association, intra-city passenger transport services resumed operations from September 30. However, that the public demand for transport services is now not higher than expected.
As reported that only about 20-30% of the existing cabs have been put into operation so far.
According to the Da Nang Centre for Operation of Traffic Signals and Public Transport, it is expected that when pupil citywide return to school, intra-city public bus services will resume their operations.
The Da Nang administration has just given a nod to the operation of 3 fixed inter-provincial coach routes connecting the city with 3 other localities, namely Quang Tri, Dak Nong and Kon Tum, as part of a recent plan to resume passenger transport made by the Vietnamese Ministry of Transport.
Coaches must travel on the 3 fixed routes connecting Da Nang Inter-provincial Coach Station with its counterparts in Quang Tri Province's Dong Gia, Dak Nong Province's Gia Nghia and Kon Tum Province, respectively.
As clearly stipulated in the new regulations coming into force in Da Nang, all drivers, service staffers and passengers must receive at least one dose of COVID-19 vaccines, comply with the '5K Message' recommended by the Health Ministry and make medical declarations as prescribed.
In addition, to be eligible to run on roads, vehicles cannot carry more than half of their designed capacity,
Reporting by THANH LAN – Translating by A. THU
.