Slight increase in flower prices, weak purchasing power
October 20, 2021, 15:39 [GMT+7]
Since early this morning, October 20, many flower shops, located along such major streets as Pham Phu Thu, Ong Ich Khiem, Dong Da and Tran Phu, have been packed with male buyers who came to buy flowers for their beloved women on the occasion of the Vietnamese Women's Day (October 20).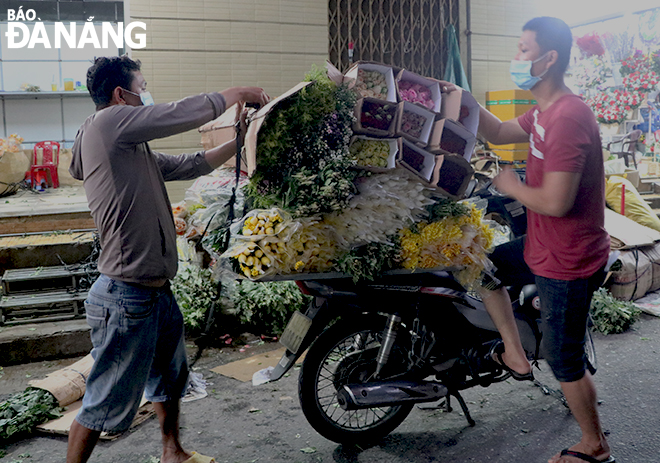 Shoppers have imported a lower number of flowers than previous years due to limited supply
At about 4 am on October 20, flower shops on Pham Phu Thu Street opened their doors to visitors.
As reported that the prices of flowers on sale in the local market on this special occasion have increased by 20% - 40% compared with normal days. Meanwhile, the prices of such types of flowers as orchids, hydrangeas, and baby's breath, remain unchanged or slightly go up. Particularly, red roses remain the bestsellers.
As noted, a bundle of 50 Ha Noi red roses is priced at between VND300,000 and VND400,000, up 40% against normal days, while a bundle of 50 white roses is being sold at the price of VND 200,000 VND, an increase of 25%. The retail price of a bundle of 10-12 carnations now is VND 50,000 VND, and a bundle of baby's breath flowers is being offered at VND30,000 VND.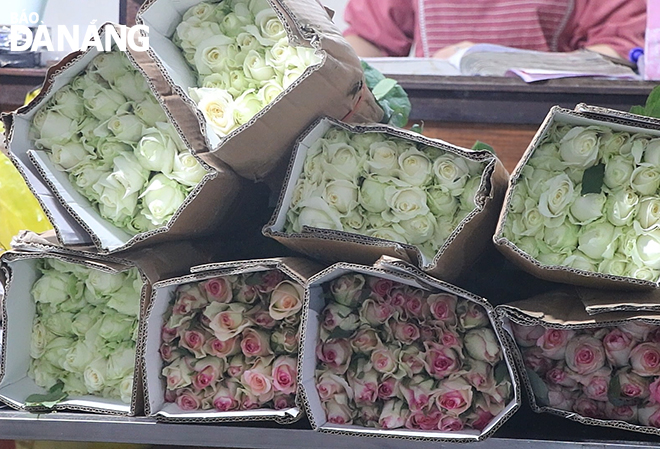 Roses are pre-ordered by many individuals and organisations
Ms Phan Thi Lien, the owner of Huong Lien flower shop on Pham Phu Thu Street, explained the main reason for the hike in flower prices is that the COVID-19 pandemic has disrupted flower supply chains from Lam Dong Province's Da Lat City. In addition, school closures have resulted in a decline in buyer numbers.
"We have already predicted the purchasing power, so the amount of flowers imported was moderate, only slightly higher than usual. Besides, the prices of flowers have not increased much compared to weekdays, so we find it easier to sell" Ms Lien said.
Coming to buy flowers to serve retail needs, Ms Le Thi Tuyet Nhung, residing in An Hai Bac Ward, Son Tra District, said that, this year, roses have been sold out quite early because flower traders did not import too much. However, the retail prices of other flowers on the special occasion fluctuated slightly in comparison with weekdays.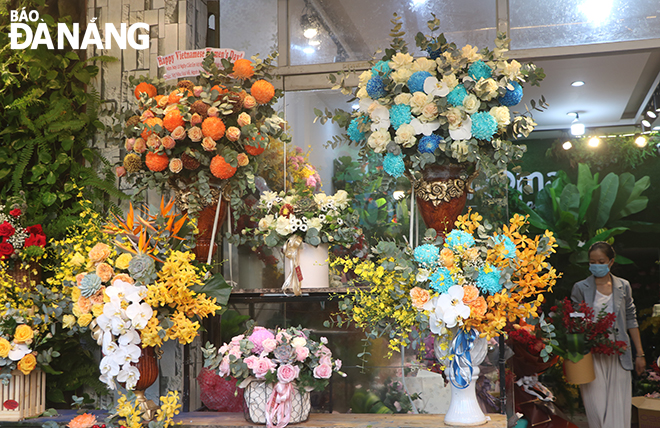 Flower shops saw a low number of retail buyers
Meanwhile, as reported at the Ngoc Lien flower shop in the Han Market, many baskets of different kinds of flowers fluctuating between VND100,000 and VND1 million are made available, depending on size and intricacy, an increase of about 20% compared to weekdays.
Ms Ho Xuan Thuy, the owner of the Roma flower shop, positioned at 163 Ong Ich Khiem Street, Thach Thang Ward, Hai Chau District, remarked her shop has already imported many kinds of popular flowers, including peonies, London roses and double lilies, in a bid to meet the increasing demand of locals on occasion of October 20. However, consumers' purchasing power only focused on October 19 and 20, and the previous days saw a low number of buyers.
Reporting by MAI HOANG, MAI QUE - Translating by MAI DUNG
.