A young couple starts a startup business with coffee
November 25, 2021, 11:40 [GMT+7]
We went to the Da Nang Roastery & Specialty Village, located at 51 Nguyen Chi Thanh Street in Hai Chau District, on a cold rainy day, ordered a cup of hot coffee, asked for the wifi password, and the shop owner clearly read "Caphetute" (kind coffee).
The coffee shop's owner Nguyen Van Tin explained "In order to have a quality cup of coffee for our customers, we have to take care of the coffee plants "kindly" so that they can bloom and bear fruit. After that, we carefully harvest the best coffee beans in order to make delicious drinks to serve our customers"".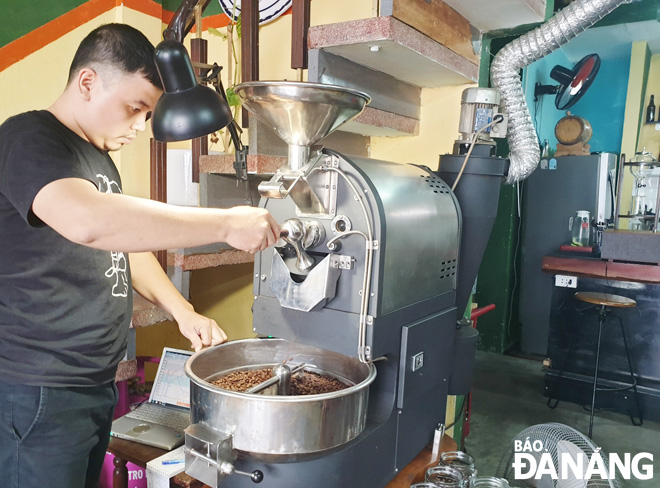 Mr. Nguyen Van Tin, the Owner of the Da Nang Roastery & Specialty Village, is roasting Arabica coffee at his shop. Photo: THANH TINH
Coffee - a bridge for strangers
Tin was born and grew up in Hoa Cuong Nam Ward, Hai Chau District. Tin met Thao in Ho Chi Minh City as they both studied universities here. Then, they returned to Thao's hometown in Gia Lai Province to work.
In 2019, the couple returned to Da Nang to open a coffee shop with the sole desire to bring quality coffee beans grown at their own large coffee farm in Gia Lai Province closer to people.
In the journey of making "kind coffee", they have made great efforts in choosing the best quality coffee beans, roasting and preparing coffee by themselves to serve customers.
Only just at the Da Nang Roastery & Specialty Village, you can enjoy a cup of qualify coffee that all coffee making processes from growing coffee plants to selective harvesting, roasting and mixing coffee beans are done by the shop's owners.
After nearly 3 years of running a business with coffee, Tin wrote on his Facebook page "What have the years of making "kind coffee" brought to the Village? So much money? There is none! But those years give the Village the opportunity to meet wonderful guests nationwide, some of whom have become regular customers, whilst some have become friends, brothers and soulmates". Coffee becomes a great bridge for everyone, and that is also the desire that Tin and Thao choose to start a business with "kind coffee".
"Although her business has faced many difficulties due to the impact of the pandemic, we are satisfied with our current life because we find joy in our work, especially we receive active support from our customers" confided Thao.
Enough sweet, sour, salty, bitter, and savory tastes
According to Tin and Thao, all types of coffee drinks at the Da Nang Roastery & Specialty Village are made from Arabica coffee taken from Cau Dat District, Da Lat City, Lam Dong Province, which is the world's most popular coffee type.
Arabica has a sour taste mixed with mild bitterness, so at first, guests find it slightly sour, then a little bitter and a sweet aftertaste.
In addition to different types of coffee, coffee beans or ground coffee are also made available at the shop for guests.
"There are many types of coffee on the market, but my wife and I chose the difficult path to bring customers high-quality coffee. We believe that when customers understand our coffee making process, they will become our regular customers for a long time" said Tin.
He noted, visitors to his coffee shop will have a chance to not only enjoy delicious and quality coffee, but also see with their own eyes how coffee is roasted and prepared.
"Not only a refreshing drink, coffee also helps people stay awake and relax. A good cup of coffee must have all the elements: bitter enough to think about, strong enough to float, sour enough to think about failure, salty enough to remember home, and sweet enough to make you feel loved. That's also what my wife and I want to send to our customers in every cup of coffee we make" said Tin and his wife.
Reporting by THANH TINH - Translating by M.DUNG
.