Enhancing natural landscape values of ponds and lakes in Da Nang
November 23, 2021, 11:53 [GMT+7]
Da Nang is naturally bestowed with a large number of ponds, lakes and drainage canals, all of which together create a natural landscape in the urban area, and at the same time, wit h their high landscape refurbishment values, turn themselves into places highly attractive to tourists in the future.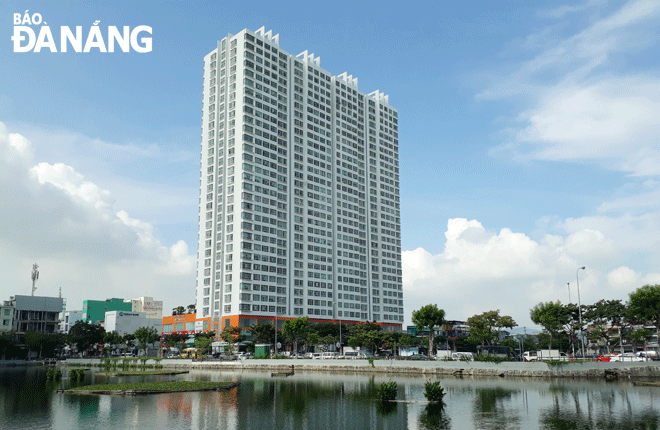 Exploiting landscape values to create a place for community activities will increase the value of the city's urban infrastructure in the coming time. A corner of Thac Gian- Vinh Trung Lake, Thanh Khe District is seen. Photo: TRIEU TUNG
Provoking the idea of 'the city of a thousand lakes'
According to the Da Nang Department of Natural Resources and the Environment, through preliminary statistics, the whole city has about 50 lakes and ponds and pools located in seven districts, 19 of which are in Hoa Vang, three in Hai Chau, eight each in Thanh Khe and Lien Chieu, one in Son Tra, four in Ngu Hanh Son and seven in Cam Le.
Till date, many ponds and lakes have yet to be listed with statistical data by local authorities such as Bo Lake and the pools of Cau, Tram, Le Son and Lanh, and another one in the Military Information Brigade 575 in Hoa Hiep Nam Ward, Lien Chieu District.
According to Deputy Director of the Department of Natural Resources and the Environment Nguyen Quang Vinh, his unit will soon complete the list of lakes, ponds, lagoons and other types of water bodies that cannot be leveled in the city so as to protect the landscape and the environment.
The levelling of the existing lakes and ponds for urban construction works may result in a higher risk of water quality and surrounding environment pollution and reduce efficiency in water drainage in the rainy season and adversely affect water supplies especially in times of drought.
During the process of making adjustments to the Da Nang Master Plan for its major developments by 2030, with a vision towards 2045, many specialised experts and State management units proposed an idea to fully tap natural conditions to develop Da Nang into an eco-city and 'the city of a thousand lakes'.
In order to bring this idea to fruition, the design consultancy units of the Master Plan have made three proposals.
The first is the creation of new reservoirs in mountainous areas west of the city.
The second is the preservation of the existing public lakes and creation of new ones based on existing watercourses and rivers on flat areas. The lakes will then be integrated with public parks in services for people.
The third is the implementation of a special regulation requiring that all socio-economic development projects with each covering 5 hectares or more will set aside 10% of the land area for water conservation purposes will be established throughout the city.
However, the implementation of 'the city of a thousand lakes' idea may pose many challenges.
Opening up a new approach to landscape exploitation of ponds and lakes
As a locality with many ponds and lakes right in the city centre, Thanh Khe District has been opening up a new approach to management and exploitation of landscape values.
In order to promote the value of landscape architecture and urban infrastructure development, on Saturday, the Thanh Khe District People's Committee launched a contest to seek the best design ideas for the landscape architecture upgrade of the Thac Gian -Vinh Trung Lake and the Phan Lang canal route.
There are criteria in the selection process such as optimal solutions, creativity, appropriate architectural planning, and harmonious synchronous connection with the surrounding urban space and technical infrastructure systems and distinctive images.
Entries are highly recommended to feature a community space for daily activities in service for both local inhabitants and tourists in accordance with the district's planning with a combination of architectural and landscape elements such as water surface works, green-covered landscape, and amusement and entertainment areas.
These features mentioned above are expected to ensure the long-term feasibility, the functional structure, and simultaneously, effectively promoting socio-economic development in tandem with resolving the matter of inundation in planning areas.
Also importantly, architectural designs must ensure the integration into the planning of functional zoning in Thanh Khe District and Da Nang at large.
The selection of architectural designs for a facelift to small ponds and lakes such as Thac Gian - Vinh Trung is being actively implemented by Thanh Khe District on the basis of optimal planning ideas, with creativity and feasibility, ensuring appropriate architectural planning criteria, creating a harmonious connection with the surrounding urban space, thereby creating a unique image, synchronously connecting with the infrastructure system in the region. This helps ensure long-term feasibility and functional structure zoning, simultaneously promote socio-economic development as well as resolve waterlogging and environmental pollution.
According to Architect Bui Huy Tri from the Da Nang Association of Architects said that such a multi-purpose design contest in Thanh Khe District needs to be expanded into other local districts so as to enhance the spatial values of the landscape.
Reporting by TRIEU TUNG – Translating by A. THU
.