Infracrowd Capital to build US$100 million Data Centre in Da Nang
November 24, 2021, 11:29 [GMT+7]
The Da Nang IT Park Development JSC - DITP under the Trung Nam Investment JSC - Trung Nam Group) and Infracrowd Capital on Tuesday entered into a memorandum of understanding on strategic partnership in green data centre development in Viet Nam, with a focus on developing a data centre worth US$ 100 million meeting Tier 3 Plus standards in the centralised Da Nang IT Park, Hoa Lien Commune, Hoa Vang District.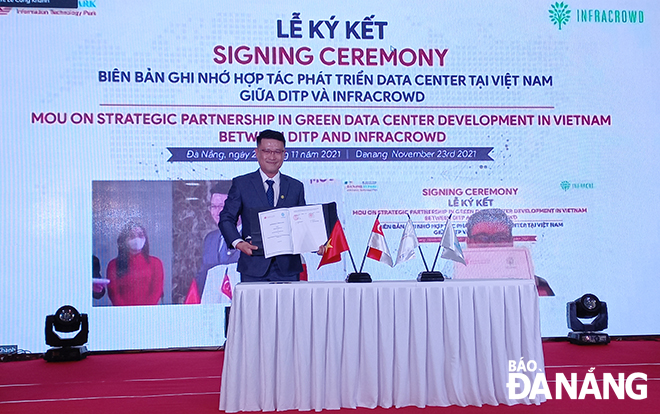 Mr Nguyen Anh Huy, the Director of the Da Nang IT Park Development JSC at the signing of a MoU with a Singaporean partner. Photo: TRIEU TUNG
A data center is a physical facility that enterprises use to house their business-critical applications and information.
The bilateral cooperative move marks a new remarkable step in the process of attracting even more investment into the Da Nang IT Park, heading towards building itself into a key IT hub in Viet Nam in the coming time.
Till date, the Da Nang IT Park, invested by the Trung Nam Group, is witnessing the on-track development of build five large-scale factories from 4000 - 6000m2/floor which are slated to be put into operation in the first quarter of 2022.
Besides, ancillary items and projects such as the expert housing area with 64 villas, 33 'hillside' villas, sports areas, club houses and the central park are nearing completion.
Also on Tuesday, the SMT high-tech electronics manufacturing and assembly factory (Trung Nam EMS) under the Trung Nam Group and the Xelex Technology Joint Stock Company under the Worldsoft Company signed a strategic cooperation contract to deploy the 'Internet and computers for students' national programme launched by the Vietnamese Ministry of Information and Communications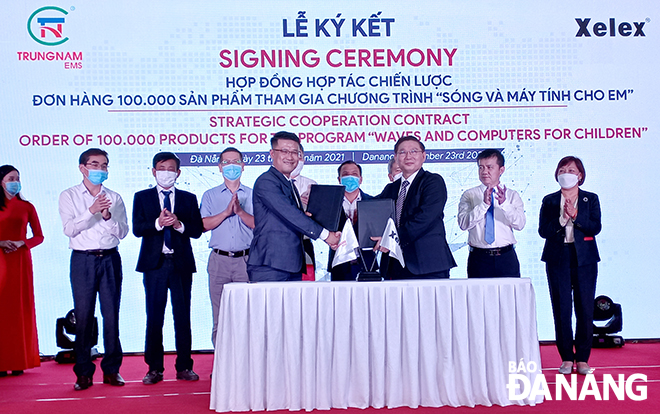 100,000 Xelex-branded tablets will be produced at Trung Nam EMS. Photo: TRIEU TUNG
Under the highly practical agreement, 100,000 Xelex-branded tablet products manufactured at Trung Nam EMS will be provided for needy students so that that can maintain online learning amid a halt to in-person education due to fears over COVID-19 outbreaks.
It is known that the 341ha centralised Da Nang IT Park, designed as the 'Silicon Valley' in Central Viet Nam, is expected to create revenue of US$1.5 billion each year, with 25,000 jobs and an urban area for 100,000 people from 2030.
The Park development is now on track in two phases. Phase 1, covering an area of 131ha with a total investment of US$47 million whilst Phase 2 with an area of 210ha is planned to cost US$74 million.
Reporting by TRIEU TUNG – Translating by A. THU
.