National online meeting discusses ways to facilitate EuroCham members to invest in Viet Nam
November 25, 2021, 16:39 [GMT+7]
Da Nang People's Committee Vice Chairman Ho Ky Minh on Thursday morning joined a national online meeting which carried its theme of "Meet Europe 2021: EU-Vietnam Partnership Post-COVID-19".
To mark this occasion, EuroCham launched the 2021 edition of its annual Whitebook of Trade and Investment Issues and Recommendations. The publication was presented at the virtual event.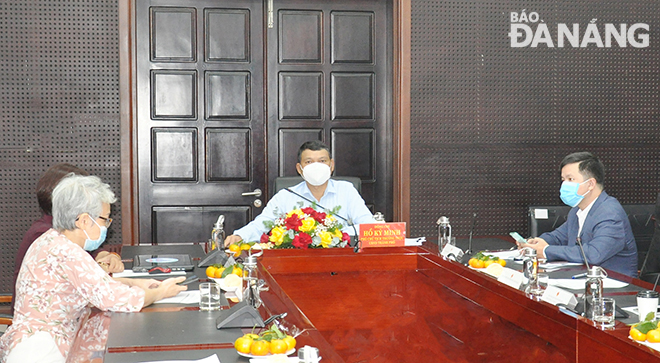 Vice Chairman Ho Ky Minh (middle) attending the online meeting. Photo: THANH LAN
Co-organised by the European Chamber of Commerce (EuroCham) in Viet Nam and the Ministry of Foreign Affairs, the event took place both in Ha Noi and online. "Meet Europe 2021: EU-Vietnam Partnership Post-COVID-19" was a major business-to-government event which was attended by business leaders, government representatives, the diplomatic corps, and media. In two thematic sessions, attendees discussed the challenges and opportunities for business in the post COVID-19 era, and how best to leverage the EU-Vietnam Free Trade Agreement (EVFTA) to unlock the full potential of EU-Vietnam trade.
In her opening remarks at the event, Mrs Nguyen Thi Hong, the Governor of the State Bank of Viet Nam said that the EU is currently Viet Nam's fifth largest trade partner, third biggest importer, a major investor and leading non-refundable aid provider.
An important milestone for economic cooperation between Viet Nam and the EU is EVFTA which came into effect from August 1, 2020 and opened up huge opportunities for local exporters.
The Government of Viet Nam will continue to create the most favourable conditions for EuroCham members to pour their money into the country's priority investment areas such as high technology, information technology, supporting industries, smart agriculture, environmental protection, and renewable energy, infrastructure development and social welfare projects, training high-quality human resources, promoting research, development and innovation.
EuroCham Chairman Alain Cany emphasized that it is very important for the EU and Viet Nam to explore new opportunities to boost their trading and investment relationship.
Mr. Alain Cany hoped that EU – Viet Nam trade relations will recover quickly from COVID-19, looking forward to a brighter and more prosperous future on their cooperation.
Reporting by THANH LAN – Translating by H.L
.