Da Nang businesses speed up preparation for Tet goods
December 17, 2021, 16:31 [GMT+7]
With just over a month left to the Tet Festival 2022, businesses and production establishments in Da Nang are on track for increasing production capacity, stockpiling a variety of goods in rich designs and high-quality, and implementing many promotional programmes in a bid to satisfy the needs of customers.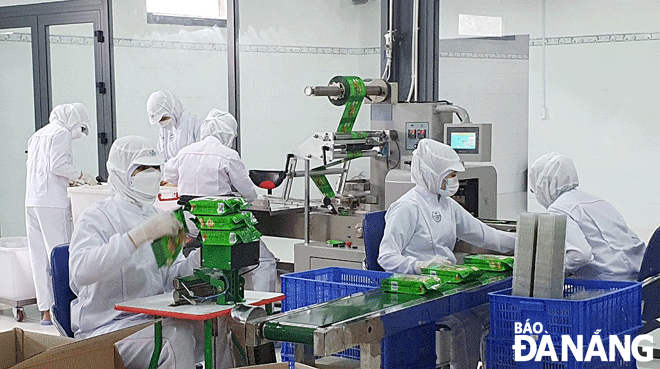 Currently, functional bodies are flexibly implementing many solutions to stimulate shopping demand at the end of the year. IN THE PHOTO: Employees at the My Phuong Foods establishment are seen producing baked peanut-coconut cakes. Photo: QUYNH TRANG
Ensuring adequate supply of goods
In recent time, production establishments involved in cakes, sweets, jams, fish sauce, and 'cu kieu' (pickled scallion heads) have been busy preparing raw materials, recruiting seasonal workers, connecting with distributors, and expanding consumption markets.
Mr. Nguyen Phi Sinh, the owner of Thao Sinh 'cha bo' (grilled beef roll) production establishment in Hoa Khe Ward, Thanh Khe District, said that his unit has already produced such long-lasting products as chili sauce, 'ruoc' or 'cha bong' (dried shredded pork/chicken), and 'bo kho' (dried beef). Meanwhile, 'cha bo' (grilled beef roll) and 'cha heo' (grilled pork roll) will be made only 10 days before the Lunar New Year 2022.
"Currently, the sources of raw materials are quite abundant, but there is a hike in the prices of some ingredients, spices, and packaging. However, we still try to keep the prices of our products unchanged to increase the competitiveness in the market" said Mr. Sinh.
Similarly, the bustling working atmosphere has been seen at the My Phuong Foods establishment in Hoa An Ward, Cam Le District.
Mai Thi Y Nhi, the owner of the My Phuong Foods, said her unit provided a monthly average of 80,000 packages of baked peanut-coconut cakes to the market. The figure is expected to increase significantly because of a high demand for consumption during the traditional Tet holiday.
She added, Vietnamese goods, especially specialty items, have won trust of local customers in recent years.
Aside from cakes, sweets and soft drinks, fish sauce is also a best-selling product during the traditional Tet holiday.
Mr Nguyen Viet Dung, Director of the Binh Minh Fish Sauce Making Cooperative, said since early November, he salted the fish to ensure the "ripeness" of the fish and preserve its rich flavour. Up to now, the company has already prepared a large source of goods to meet the needs of customers over the upcoming Tet holiday. The prices of fish sauce are fluctuating at between VND70,000 and VND100,000 per liter.
He noted fish sauce production process at the cooperative has been upgraded to a professional level, from production to labeling, packaging, marketing and product promotion so as to satisfy the needs of customers.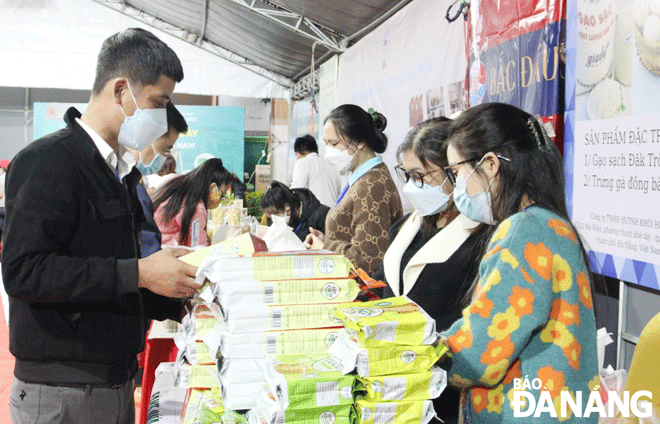 Currently, functional bodies are flexibly implementing many solutions to stimulate shopping demand at the end of the year. IN THE PHOTO: Shoppers at a fair to promote trade connections and boost consumption of Vietnamese goods in early December. Photo: QUYNH TRANG
A wide range of Tet goods
Since the beginning of December, supermarkets, production establishments and wet markets across the city have stockpiled a large volume of Tet goods in order to satisfy the growing shopping demand of its shoppers.
Some units have taken the initiative to launch special promotion programmes to stabilise the prices to better serve local residents.
Meanwhile, stallholders at wet markets of Con, Han, Dong Da and Hoa Cuong Wholesale have spent around VND250 billion on storing food and consumer goods ready to supply local residents over the Tet Festival. The products include 69 tons of glutinous rice, 30 tons of different types of meat, and 4,000 tons of vegetables and fruits.
Also, other large markets citywide have poured more than VND300 billion into stockpiling essential goods for Tet.
Director of MM Mega Market Nguyen Tien Duong said his unit was focusing on ensuring the efficient supply of essential items such as vegetables, tubers, fruits, meat, fish, food, confectionery, drinks, and some household goods so as to help consumers easily access and avoid the price escalation this year.
To diversify choices for customers, the supermarket is selling more regional specialties, imported goods and a variety of Tet specialties to bring a warm and homey Tet for customers, or those who cannot return to their hometowns to reunite with their families.
Reporting by QUYNH TRANG - Translating by M.DUNG
.