Da Nang flower growers gear up production for Tet 2022
December 16, 2021, 16:18 [GMT+7]
With just over one month to go to the Tet 2022 Festival which will begin on 1 February, many farmers in Da Nang are gearing up the production of a wide range of flowers and ornamental plants which will be indispensable for decorating homes for this much-awaited jubilant and joyful occasion.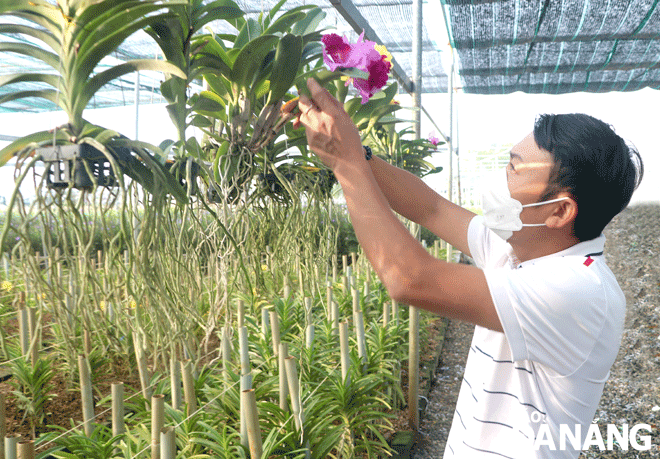 Many farmers in the city are busy taking care of flowers and ornamental plants for Tet 2022. Le Thanh Trung, the owner of a orchid garden located in Duong Son flower production area, Hoa Chau Commune, Hoa Vang District taking care of flowers. Photo: VAN HOANG
In the current wet and cold weather, farmers are striving to ensure that their flower crops will reach full bloom exactly during the forthcoming festival.
Over recent days, Le Thanh Trung, a male resident in Hoa Xuan Ward, Cam Le District has been busy taking care of his orchid garden which covers 4,000m2 in the Duong Son flower production area, Hoa Chau Commune, Hoa Vang District.
The garden shows off nearly 100,000 orchids of all kinds such as Mokara, Nghinh Xuan, Vanda, Catlleya and Dendro. Of this, about 20,000-25,000 plants are producing blooms. The retail price of Mokara orchids is set at VND12,000-15,000/branch.
Till date, orchids boasting 13 out of the total 31 colours of Mokara have been successfully planted in this garden, meeting the diversified tastes of customers.
Trung's flower garden usually supplies seeds mainly to the provinces and cities in the Central, Northern Viet Nam and the Central Highlands regions, and boost the year-round sales of fresh flowers to traders and customers in Da Nang and the neighbouring province of Quang Nam.
"On the occasion of Tet, the demand for using orchids for decorations and gifts tends to go up, I will increase the number of flowers in service for the 2022 Tet market", said Trung.
Given the current favourable weather conditions, flowers are on track to grow well. However, many flower growers throughout the city have worried the unpredictable developments of the ongoing COVID-19 wave will affect demand.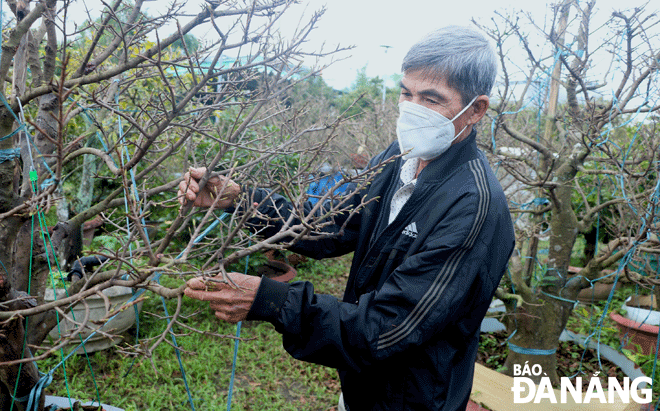 Tran Van Dan residing in Hoa An Ward, Cam Le District takes care of apricots in his garden. Photo: VAN HOANG
According to the Department of Agriculture and Rural Development of Hoa Vang District, flowers in service for the 2022 Tet market are quite diverse and abundant.
Recent statistics show that, by December 2021, this entire suburb district had had more than 18.3 hectares of growing Tet flowers expected to supply the local market with a combined total of 310,000 flower pots of all kinds such as daisies, lilies, marigolds and poinsettia.
As Tet ushers in, apricot tree growers have been rapidly preparing to provide the market with the most beautiful flowers. In Hoa An Ward, Cam Le District, dubbed as the "hub" of apricots, many gardeners have started plucking leaves to stimulate blossoms in preparation for upcoming Tet.
Besides apricot trees for sale, local growers also have the trees on offer to rent. It is a rising trend, expected to be a potential way of doing business for local growers.
Recent years have seen an upward trend in the number of people rent yellow apricot trees to save money. The rental price of a pot of yellow apricot trees is usually range from VND5million- VND 20 million at Tet, depending on its sizes and shapes.
"This year, the weather is favourable, so the quality of apricot blossoms will definitely be higher than every year. Hopefully, the COVID-19 situation will be controlled so that people can enjoy joyful Tet festival, and gardeners will also feel more secure about the stable consumption of flowers, an apricot grower said.
In light of the coronavirus surge, functional local authorities have also asked flower growers to comply with highly –recommended safety measures against COVId-19 at work, especially the face mask rule.
Reporting by VAN HOANG – Translating by A. THU
.