Da Nang Master Plan highlights solutions to climate change challenges
December 17, 2021, 17:33 [GMT+7]
The Prime Minister-approved adjustments to the Da Nang Master Plan for its major developments by 2030, with a vision towards 2045 features important orientations for ensuring Da Nang's effective adaptation to climate change. In fact, as a coastal city, Da Nang may be under the threat of climate change and sea level rise.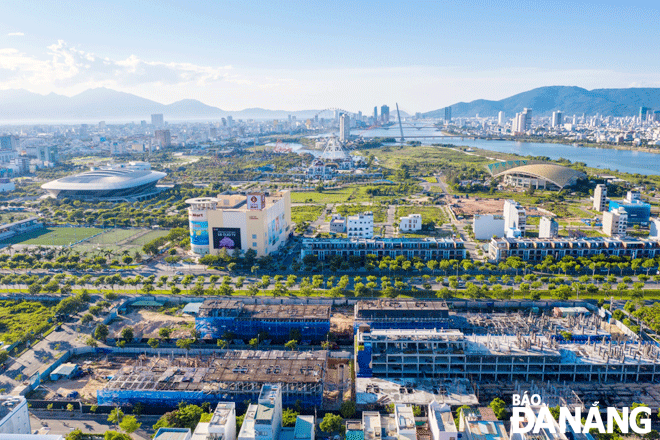 Green space along the Han River is protected to embellish the landscape for environmental protection. Photo: TRIEU TUNG
Increasing 'green development' indicators
Under the Master Plan, the city is always consistent with the goal of taking the natural element at the centre, along with putting forward technical solutions to connect nature and people. Man-made elements will be created for harmonious people -to- nature connection, without affecting the characteristic value of the city's natural landscape.
In the functional subdivisions, it is clear that the Han River is the 'core' component of the urban spatial structure, whilst Ba Na - Nui Chua, Son Tra peninsula or the Marble Mountains serve as a protection belt system boasting a very diverse natural ecosystem.
Next, the open spaces looking over rivers is one of the important technical solutions to help access natural energy sources, increase green areas and the ability to adapt to heavy rain and flood, while nourishing the underground ecosystem and regenerating groundwater sources.
During the planning process, the city has paid heed to promoting the 'green development indicators'.
Accordingly, action will be taken to increase riverside parks, groves of trees withstanding coastal winds and storms and isolated green areas for environmental protection with the function of both creating landscapes and improving microclimate conditions and more importantly, contributing to increase resilience and adaptability to climate change.
Besides, public electric vehicle projects will soon be implemented and a series of green transport solutions will contribute to reducing traffic congestion, meeting the goals of reducing emissions and environmental protection.
Developing natural landscape with the use of public investment
The Da Nang Master Plan has also highlights environmental protection zoning. In particular, new urban areas, commercial and service centre, concentrated residential areas and ecological zones will show off green landscape, water surface, wastewater collection and treatment systems along with centralized solid waste management facilities.
At the same time, the city will see the forming of new residential areas with low construction density and ecological parks.
At the Da Nang Hi-tech Park, industrial parks and logistics centres, the city will give green light to projects with clean industries that do not pollute the environment, and periodically monitor environmental quality according to overall and detailed environmental monitoring programmes, and build systems to collect and treat wastewater, exhaust gas, and solid waste respectively.
Heading towards sustainable development, Da Nang's goal is to become a safe city with the capacity of reducing the impact of climate change-triggered natural disasters, especially sea level rise.
Reporting by TRIEU TUNG – Translating by A. THU
.