Da Nang welcomes 500 M.I.C.E guests
December 11, 2021, 12:05 [GMT+7]
On Friday, the Da Nang Department of Tourism in collaboration with the Hoa Binh International Tourism & Trade Investment Co., Ltd welcomed the first M.I.C.E (Meetings-Incentives-Conferences-Exhibitions) delegation.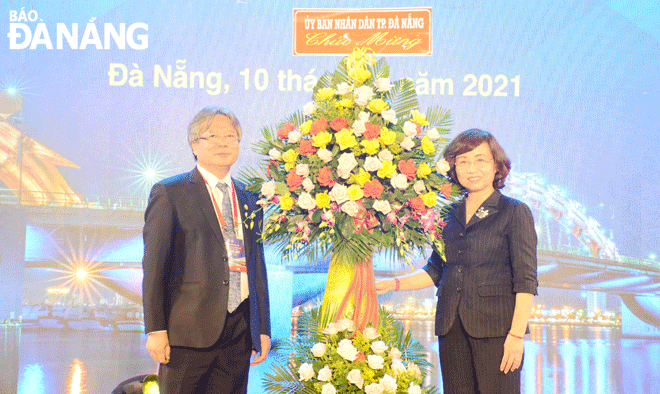 Vice Chairwoman of the Da Nang People's Committee Ngo Thi Kim Yen (right) presenting flowers to congratulate the conference. Photo: THU HA
The delegation comprised 500 guests who arrived in Da Nang to attend a national surgery and endoscopy conference.
This is the first large M.I.C.E delegation to Da Nang as the city has gradually controlled COVID-19 and revived the tourism industry in a state of safe, flexible adaptation and effective control of COVID-19.
The conference is being held in both online and offline formats on December 10 and 11 with the participation of more than 1,000 attendees nationwide, of which about 500 people were in Da Nang. At the opening ceremony of the event, a representative from the municipal Department of Tourism presented souvenirs to the organizers.
Delivering her welcome speech at the meet-up event on Friday evening, Vice Chairwoman of the municipal People's Committee Ngo Thi Kim Yen thanked the organizers for choosing Da Nang as the place to hold the conference. She affirmed that the conference gave an opportunity for medical workers in Da Nang to directly study, cultivate professional knowledge, and update new scientific thinking.
Vice Chairwoman Yen also took the opportunity to respectfully acknowledged and expressed her deep gratitude to the Ministry of Health, along with major hospitals nationwide, for their active and timely support for Da Nang in its battle against COVID-19 during the 2020-2021 period.
Ms. Nguyen Thi Hoai An, the Director of the Da Nang Tourism Promotion Center which is responsible for welcoming M.I.C.E delegations, said that the success of the event would be a typical example for organising tourism activities in the context of safe, flexible adaptation and effective control of COVID-19 in the city, thereby making customers more confident when choosing Da Nang as a destination for upcoming festive season in early 2022.
It is known that all event attendees and staff have been fully vaccinated against COVID-19, had safe contact histories, and strictly complied with 5K recommendations of the Ministry of Health.
Reporting by THU HA - Translating by M.DUNG
.