Da Nang's supermarkets and retailers busy preparing goods for Tet 2022
December 09, 2021, 16:43 [GMT+7]
As preparations for forthcoming New Year and Lunar New Year holidays, suppliers and distributors across Da Nang have started increasing their production and stockpiling food and essential goods so as to meet the growing demand of local habitants.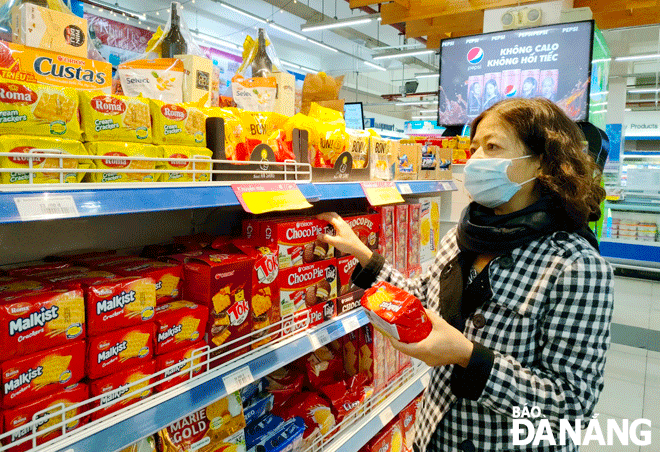 A shopper at the Co.opmart Da Nang supermarket in Thanh Khe District. Photo: QUYNH TRANG
Abundance of Tet goods
Although there is nearly 2 months left to the Tet Festival 2022, the Vinmart supermarket, located on the 2nd floor of the Vincom Plaza, has decorated its shelves with colorful and eye-catching backsplashes and decorative items, as well as displayed thousands of items for consumers to choose.
Director of the Vinmart Nguyen Van Loi said that the supermarket has already poured more than VND30 billion into storing over 1,000 tons of goods for forthcoming Tet Festival. Such fresh foods such as vegetables, fruits, meat, fish, confectionery, jam, beverage, beer, etc. are forecasted to reach the highest consumption level.
Similarly, the Co.opmart Da Nang supermarket in Thanh Khe District, since early December, has stockpiled nearly 4,000 tons of goods totalling more than VND90 billion, equivalent to the figures during the same period last year.
Mr. Phan Thong, Director of the Co.opmart Da Nang supermarket, said that, since mid-year, his supermarket has coordinated with manufacturers and suppliers nationwide to double the amount of essential goods, especially focusing on traditional products, in order to ensure adequate supply of goods for Tet.
A wide range of fashion products for Tet, including sweaters, vests, shirts, trousers and jeans, are now available at shops of the Hoa Tho Fashion Business Center.
According to Mr. Nguyen Duc Tri, Chairman of the Board of Directors of the Hoa Tho Textile and Garment JSC, the company has actively negotiated with partners and suppliers, as well as imported more goods, since early November in order to guarantee a stable source of Tet goods. Hoa Tho's fashion items this year are diverse in designs, but their prices generally remain unchanged as compared to a year earlier.
Director of the Da Nang branch of the Vissan Vietnam JSC Nguyen Thanh Nhuan noted that his company provided a monthly average of between 150-170 tons of ready-made products to the Da Nang market, including canned food, xuc xich (sausages), lap xuong (Chinese sausages), etc.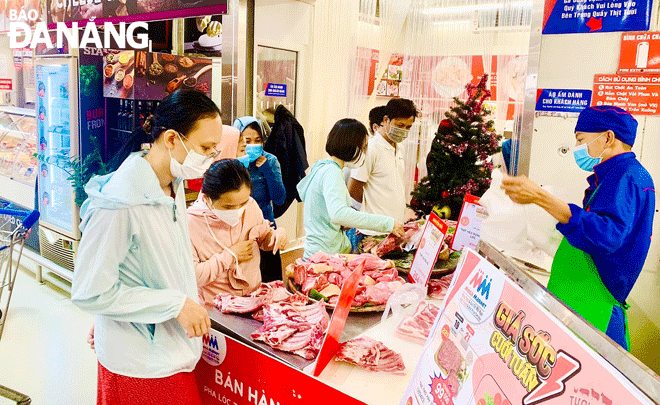 Shoppers are seen at the MM Mega Market supermarket in Cam Le District. Photo: QUYNH TRANG
Meanwhile, market stallholders at such major traditional markets as Con and Dong Da have not yet stockpiled Tet goods because of their great concerns over COVID-19. However, they have been active in cooperating with suppliers to keep prices stable for consumers.
The Hoa Cuong Wholesale Market is likely to receive an average of between 390 and 410 tonnes of fruits and vegetables per day. These figures are expected to rise significantly in the coming time.
Boosting sales through multiple channels
Recognizing that consumer habits have changed greatly during the COVID-19 pandemic, many companies have focused on promoting online sales during the upcoming Tet holiday.
Mr. Phan Hai, the Director of the BQ Shoes Co., Ltd, acknowledged the coronavirus pandemic has changed consumer habits, forcing businesses and retailers to adapt quickly. Consumers of all generations during the COVID-19 crisis were more likely to buy goods and services digitally. Therefore, this year, his company would promote online sales with a wide range of promotions, discounts, and home delivery policy.
According to Mr. Phan Hai, the purchasing power of Tet goods by year-end is expected to decrease compared to previous years because many families have had to tighten spending as a result of COVID-19.
In a similar vein, the Hoa Tho Fashion Business Center plans to diversify sales channels from increasing customers' experience at stores/agents to optimizing online shopping through websites, e-commerce, and social network platforms with the aim of quickly meeting the needs of customers while ensuring safety of customers.
Reporting by QUYNH TRANG - Translating by M.D
.