OCOP selling supermarket opens in Da Nang
December 10, 2021, 17:35 [GMT+7]
On Friday, a supermarket dedicated for 'One Commune-One Product' products was officially open at 7 Nguyen Thai Hoc Street in Hai Chau District, Da Nang.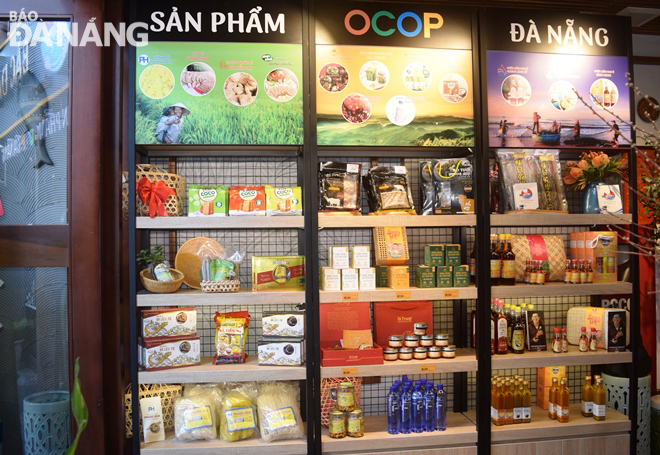 Da Nang-made OCOP products are on display at the supermarket at 7 Nguyen Thai Hoc Street. Photo: HOANG HIEP
The inauguration of the supermarket aims to promote the introduction and consumption of OCOP and typical agricultural products produced by businesses in Da Nang and other provinces and cities.
On display at the supermarket are about 100 OCOP and typical agricultural products, 26 of which are produced by Da Nang-based businesses. Included are fried mackerel cakes, squid cakes and spiced dried catfish produced by the Bac Dau Co., Ltd; 'cha bo' (grilled beef roll) by the Thao Sinh establishment; DR.Trung dried cordyceps by the Vinseed Biotechnology Co., Ltd; the baked peanut-coconut cake by the My Phuong pastry establishment; Tam Nguyen ginger tea; Binh Minh and Huong Lang Co fish sauce; 'banh kho me' (dried sesame seed cakes) made by 'Ba Lieu Me' manufacturing establishment; Ion-pro alkaline ionized drinking water; Dai Cuong soft rice paper; Phuoc Hoa dry rice vermicelli; Tuy Loan leafy green vegetables; Khang Minh Phuong spicy grilled beef, and others.
Till date, Da Nang has developed 26 OCOP products meeting the 3 and 4-star requirements. This figure is still very modest in comparison with other domestic localities'. However, these Da Nang-made products have great potential for expanding consumption markets and increasing production scale thanks to their high quality, eye-catching packaging, and active support from relevant units.
In the time to come, the municipal Department of Agriculture and Rural Development will continue to coordinate with government departments and agencies, localities and business organisations to promote the introduction and sale of the city's OCOP and typical agricultural products to other provinces and cities nationwide.
Reporting by HOANG HIEP - Translating by M.D
.