Vinatrans Da Nang logistics centre put into operation
December 16, 2021, 12:37 [GMT+7]
After nine months of construction, the Vinatrans Da Nang logistics centre has freshly been put into operation at the Hoa Cam Industrial Park (IP), Cam Le District, Da Nang.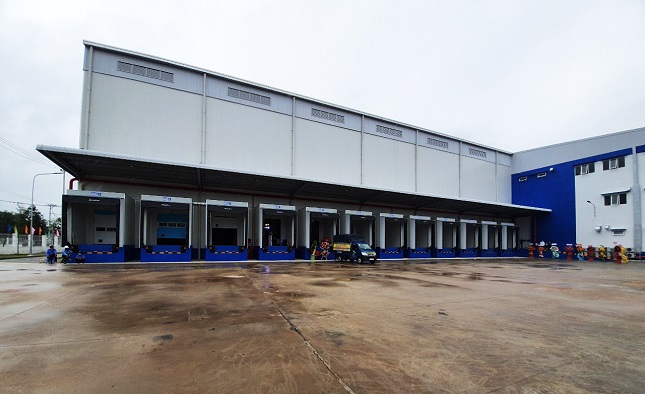 A scene of the Vinatrans Da Nang logistics centre
Developed by the Vinatrans Da Nang, an international freight forwarder, the 120 billion VND (5.2 million US$) international standard logistics centre, the largest of its kind in Central Viet Nam, covers an area of more than 10,000m2 in the IP.
The centre features all modern made-in- Europe machinery and equipment system installed by experienced, competent and reputable contractors and the warehouse system meeting the criteria of ISO, HACCP and other standards as prescribed.
With a capacity of 13,500 pallets (equivalent to 8,500 tonnes of goods), the centre boasts the function of storing and distributing seafood products, fast-moving consumer goods, fresh export items and imported fruits to importers and ixporters active in food industry in Da Nang and the Central Viet Nam - Central Highlands regions at large.
In particular, this logistics facility focuses on developing logistics services for goods that require storage from -25 degrees Celsius to temperatures from 0 degrees Celsius or above.
It's the second international cold storage project in the IP after it debuted the 16,200m2 logistic centre worth 2.4 million US$ in 2015.
Vinatrans Da Nang is one of the leading international forwarding companies in Central Viet Nam, operating on the basis of being a provider of freight forwarding services by sea, air, multimodal forwarding, chartering, express delivery, logistics and customs clearance.
Vinatrans Da Nang is certified by the International Air Transport Association (IATA) and the International Federation of Freight Forwarders Associations (FIATA). It is also a member of the Viet Nam Freight Forwarders Association – (VIFFAS).
Reporting by http://cadn.com.vn- Translating by A. THU
.