Adapting to new consumption trends
June 21, 2022, 17:45 [GMT+7]
Due to the impact of COVID-19, consumers in Da Nang have gradually gotten used to cashless payments when doing shopping online and offline. Meanwhile, Da Nang boasts a developed information technology industry. These are premises for the city to boost the development of financial and digital technology in the financial sector.
Along with the growing supermarket system, Da Nang has four first-class wet markets with about 5,000 stallholders, and many second- and third-class wet markets at local levels.
The non-cash payments in wet markets have significantly contributed to promoting the application of digital technology in the field of e-commerce.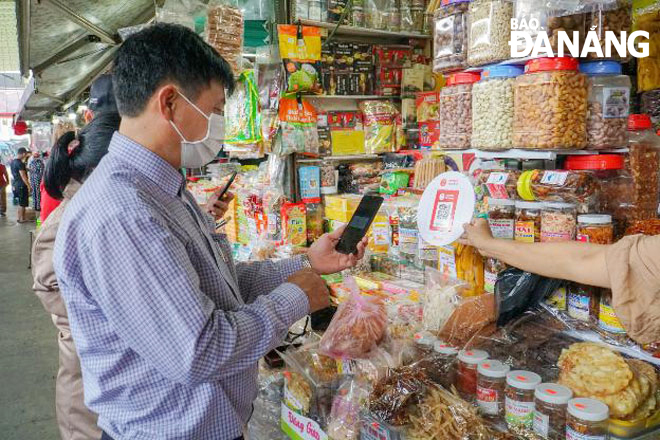 Consumers shopping patterns have changed since the pandemic, with more emphasis on e-commerce and contactless payments. Photo: L.H
Diversify sales forms
In an effort to help local dwellers access modern payment methods, Da Nang has promoted the implementation of the 4.0 wet market model at Con, Han and Dong Da markets.
With this model, market-goers only need to scan the VietQR code or transfer money via phone number on the Viettel Money app to pay for purchase. All they have to do are to simply open the QR code scan app, scan the VietQR code, enter the purchase amount, and confirm to process the payment.
Mr. Dam Van Tau, the Director of the Da Nang Market Development and Management Company, said that since the COVID-19 pandemic broke out in 2020, especially in 2021, the purchasing power at wet markets has dropped sharply. The majority of young consumers have been involved in doing shopping on social networking sites or e-commerce platforms.
He added, his company has coordinated with relevant agencies to develop the 4.0 wet market model in a bid to meet this actual demand, thereby encouraging business households to make non-cash payments and diversify sales forms, especially online sales, and join e-commerce platforms.
Mr. Nguyen Dac Hung, Head of the Management Board of the Con Market, said that his unit has encouraged small traders to promote online sales on e-commerce platforms and implement non-cash payments so as to develop the building of the Con Market into a 4.0 market.
However, he pointed out some shortcomings in the development of the 4.0 market model. Particularly, the technical infrastructure has not kept up with the model. Also, small traders cannot access free Wifi to make cashless payments.
"In order to deal with the problem, the management board is coordinating with Viettel 3 to install Wifi systems to serve both buyers and sellers" emphasised Mr. Hung.
Meanwhile, the Han Wet Market welcomes about 6,000 - 10,000 visitors every day, so the non-cash payment method is very convenient for both traders and tourists.
In an effort to effectively deploy the 4.0 Market Model, the Han Market Management Board has cooperated with Viettel to build a website to introduce the market's goods on the city's e-commerce sites and social networking sites.
Currently, Viettel Da Nang has built deposit/withdrawal points in and around wet markets.
Notably, owners of over 1,000 stalls at Da Nang's three major wet markets, namely Con, Han and Dong Da - have been provided with QR codes enabling users to make online payments through access with 37 banks and Viettel Money.
Da Nang targets at least 50% of population shopping online by 2025
Under a project on digital transformation in the city by 2025, with a vision towards 2030 in the fields of finance - banking, the rate of enterprises having their own e-commerce accounts and using non-cash payment in e-commerce will be 90% by 2025 and 100% by 2030.
The proportion of population participating in online shopping will be 50% by 2025 and 80% by 2030. Meanwhile, e-commerce sales between companies and consumers (B2C) are likely to account for 10% by 2025 and 30% by 2030 of the city's total retail sales of consumer goods and services.
Also, by 2025, 100% of people aged 15 and over will have transaction accounts at banks or other authorised organisations, and all enterprises will use e-invoices
The city's information technology infrastructure has been improved, creating favourable conditions for local residents to carry out the digital transformation process.
Especially, nearly 100% of households have internet connection. There are 2.15 million social network accounts and 200,000 electronic citizen accounts.
The coverage rate of 3G and 4G networks in the city reaches 100%, whilst the 5G network has been deployed in the locality since late 2021.
Digital technology enterprises reached 2.1 enterprises per 1,000 people (the national average of 0.5).
Reporting by DOAN HAO LUONG - Translating by M.DUNG
.