Da Nang attempts to enhance investment environment and remove difficulties for enterprises
June 24, 2022, 18:35 [GMT+7]
Determining that investment attraction is an important lever to drive its socio-economic development, Da Nang has been implementing a wealth of solutions with the aim of enhancing the investment environment and help city-based enterprises remove their current difficulties.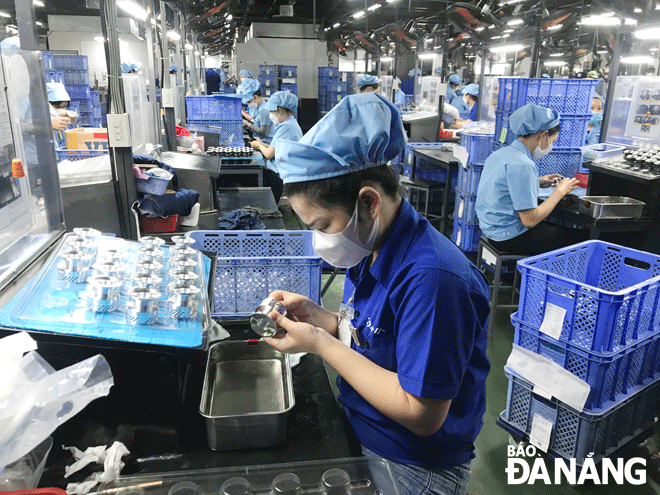 The city is developing an investment promotion programme with a focus on strategic markets. IN THE PHOTO: Production activities are observed at the Daiwa Vietnam Co., Ltd. based in the Hoa Khanh Industrial Park in Lien Chieu District. Photo: M.Q
Advantages and disadvantages
Mr. Truong Hoang Nguyen, CEO of the Universal Alloy Corporation Viet Nam Co., Ltd based in the Da Nang Hi-Tech Park in Hoa Vang District analysed that, thanks to its prime location near seaports and international airport, Da Nang can help businesses operating in the city connect and transport goods around the world quickly and easily.
Additionally, the city has issued many preferential policies for investors at the Hi-Tech Park, including land rent and infrastructure use fee exemption and reduction mechanisms, and corporate income tax and import and export tax incentives.
Besides, the city has professional and high-quality workforce graduated from universities and colleges in Da Nang and other neighbouring provinces and cities.
On that basis, the company is considering to expand the production scale of its factory located in the Da Nang Hi-Tech Park.
However, Mr. Nguyen pointed out some difficulties faced by the company and asked for a helping hand from the municipal government to help it handle the problems.
Specifically, he proposed the city to improve its road transport infrastructure, especially the La Son - Tuy Loan expressway as well as other routes connecting to the local Hi-Tech Park.
Special attention should be paid to building seaport logistics infrastructure system to facilitate firms located in the Da Nang Hi-Tech Park to carry out import and export activities in the future, as well as promoting the development of supporting industries to create supply chains for foreign-invested enterprises.
Sharing the same opinion, Mr. Ikeda Naoatsu, Chairman of the Da Nang chapter of the Japanese Business Association and General Director of the Daiwa Viet Nam Co., Ltd. remarked Da Nang has remained the preferred destination for Japanese investors over recent years thanks to its convenient traffic systems, good living environment, guaranteed security and order, and affordable prices, especially industrial parks are not too far from the city centre.
"Most of the Japanese experts and engineers are quite satisfied with the city's living and working environment because there are many services such as food and culture to relax after work. This gives Da Nang much more advantages over other provinces and cities" said Mr. Ikeda Naoatsu.
According to Mr. Ikeda Naoatsu, despite the aforementioned advantages, the shortages of land funds in local industrial parks and human resources have emerged as issues of deep concern for Japanese investors.
For example, it has found very difficult for the Daiwa Viet Nam company to recruit workers in service of its production expansion.
The reason may be that after a period of being affected by COVID-19, the service industry in the city is gradually showing sign of recovery, so the workforce is shifting to the service industry. Besides, labour force in such neighbourhoods as Quang Nam and Thua Thien Hue has more options when many industrial parks there are expanding production and recruiting more workers.
Flexible solutions in need
In an effort to help businesses to overcome difficulties, the city is maintaining the operation of interdisciplinary working groups such as interdisciplinary working groups to solve difficulties and obstacles for construction projects, land, planning, finance and other related issues.
Also, the city has planned to implement a project to promote investment attraction during the 2021 - 2025 period, with a vision toward 2030; deploy off-budget priority projects; organise the investment promotion programme 2022; set up an interdisciplinary working group on investment promotion and support; and proactively and flexibly connect with potential investors.
According to Mr. Pham Truong Son, Head of the Authority of Da Nang's Hi-Tech Park and Industrial Parks, the unit is developing an investment promotion programme with a focus on strategic markets for such key fields as high technology, information technology, and high quality service, aiming to build a highly competitive investment environment.
Importance will be attached to widely introducing both domestic and foreign investors to investment environment and incentives at the Da Nang Hi-Tech Park, the Concentrated Information Technology Park and other industrial parks.
A focus will be on organising training course on enhancing the capacity of investment promotion, and carrying out domestic and international cooperation activities.
Heed will be paid to expanding the Hi-Tech Park, Supporting Industrial Park project serving the Da Nang Hi-tech Park, and Concentrated Information Technology Park, as well as building the Hoa Cam Industrial Park at the 2nd stage, and Hoa Ninh and Hoa Nhon industrial clusters.
Special attention will be paid to proactively contacting with large corporations in a list of Forbes 500; enterprises in developed countries in G7, G8 and OECD; and business associations and big banks of countries having policies on responding to capital flows.
Reporting by MAI QUE, THANH LAN - Translating by M.DUNG
.