Promoting development of nightlife activities in Da Nang's rural areas
June 21, 2022, 17:46 [GMT+7]
Following the successful opening of Tuy Loan Night Street in 2020, Hoa Vang District will continue to launch a new specialised trading street and a night street in Hoa Tien and Hoa Chau communes. The development of nighttlife activities is considered an important step in driving the district's economic growth, contributing to giving a facelift to Da Nang's rural areas.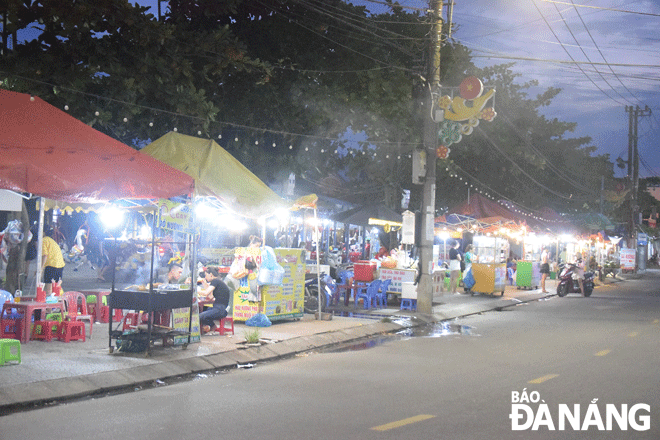 The development of commercial services contributes to boosting local economies in rural areas. IN THE PHOTO: Tuy Loan night street glows with lights. Photo: QUYNH TRANG
Discover Tuy Loan Night Street
Opened in December 2020, Tuy Loan Night Street has returned to normality despite COVID-19 disruptions, and it has become a familiar destination for local people in Hoa Phong Commune. In addition, this venue has made it to the list of sightseeing tours around the west side of Da Nang.
Tuy Loan 400m-long night street is established along Quang Xuong Street, including Tuy Loan Traditional Market area. The inviting venue features entertainment area, event stage, 53 stalls operating inside Tuy Loan Market and in the sidewalk of Quang Xuong Street, along with 68 stores along Quang Xuong Street. Here, you can find a wide selection of things with a wide range of prices. Items that are sold include processed foods, beverages, entertainment products, clothing, and souvenirs.
Tuy Loan Night Street is daily open to the public at 6:00pm. Every day, this venue sees families with young children and groups of young people chirping and laughing, thereby making the quiet rural area flutter. Stepping into the night market, the aroma of the rustic dishes easily captivates diners.
The opening of the night street aims to create a new attraction for local residents in Hoa Phong Commune and others from neighbouring communes namely Hoa Tien, Hoa Nhon, and Hoa Khuong, along with tourists from as far away as outside Da Nang.
Mr. Tran Dinh, a resident from Hoa Khuong Commune said that Tuy Loan Night Street has seen stores popping up around Quang Xuong Street, creating a busy area bustling with food and drink activities. This venue becomes a new attraction for seniors, children and young people to do shopping and enjoy delicious food instead of going to food courts in Cam Le or Hai Chau districts, Mr Linh added.
Traders operating in the night street have focussed on offering locally made goods and services while ensuring the quality of their products and services, food safety, environmental sanitation, security and social order.
New specialized trading street coming soon
Following the sucessfully launching of the first phase of Tuy Loan Night Street, Hoa Vang District has continued to carry out the second phase on the rest of Quang Xuong Route. Besides, the heed is paid to call for investment in various types of commercial services, including restaurants, bars, and supermarkets in an attempt to make this venue even more exciting with fascinating activities to attract more visitors.
Currently, the district's industry and trade sector is working with Hoa Tien Commune authorities to establish a civilized trading route and the DT605 Night Street.
DT605 road stretches across Hoa Chau and Hoa Tien communes while it boasts high traffic counts. The road runs from the intersection of National Highway 1A to Dien Tien Commune, Dien Ban Town, Quang Nam Province.
DT605 is the main road that will take local people in Hoa Tien Commune and a part of Hoa Chau Commune, Quang Nam Province's Dien Hoa and Dien Tien communes to Da Nang. Therefore, this route has high traffic volumes and serves as an arterial road. Diverse items that are sold at this route include foods, consumer goods, fashionable clothes, electrical appliances, electronics, household appliances, real estate and entertainment services.
Mrs Nguyen Thi Thanh Tam, the Chairwoman of Hoa Tien Commune People's Committee said that the commune will develop a nightlife attraction offering shopping and entertainment services in civilised, modern and excited manners . The new attraction will stretch from the Walk Garden Park to the end of the Hoa Tien 2 Primary School.
The new nightlife zone is expected to open daily from 5:00pm to 10:00pm, and it will house 10-20 mobile stalls that will sell such items as souvenirs, consumer goods, and handicrafts and foods in addition to organising music shows, Mrs Tam remarked.
Reporting by QUYNH TRANG – Translating by H.L
.