Viet Nam is one of the typical countries in IPv6 transition
June 22, 2022, 15:30 [GMT+7]
Viet Nam's Internet Protocol version 6 (IPv6) adoption rate reached 50% with more than 50 million users, ranking second in ASEAN, after Malaysia, and 13th globally, up two places from 2020. Viet Nam is one of the typical countries in IPv6 transition according to the Viet Nam Internet Network Information Centre (VNNIC).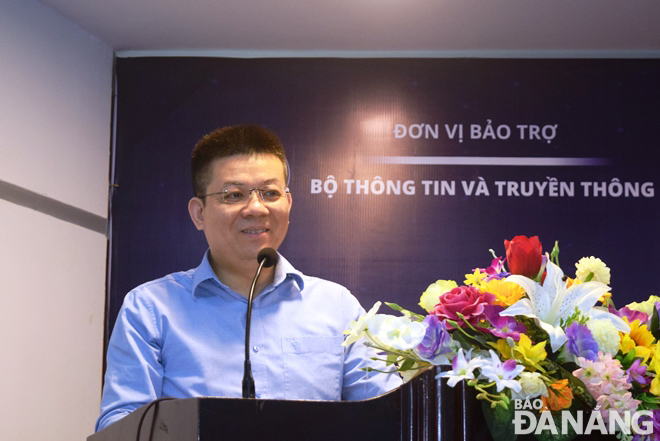 Director of the Viet Nam Internet Network Information Centre Nguyen Hong Thang addresses the training programme, emphasising the importance of converting internet addresses to IPv6. Photo: HOANG HIEP
The above-mentioned figures were announced at an advanced training programme held on Wednesday on IPv6 and the Domain Name System (DNS), the Internet's system for mapping alphabetic names to numeric Internet Protocol (IP) addresses public officials, the event
Jointly held by the municipal Department of Information and VNNIC, the 2-day training programme was within the framework of a series of events and seminars with the theme of 'The future of the internet' co-organised by the Ministry of Information and Communications and VNNIC in Da Nang from June 22 - 25.
Addressing the advanced training programme on IPv6 and DNS, VNNIC Director Nguyen Hong Thang said that, at present, the world is switching to a new generation of IPv6, instead of IPv4 which faces exhaustion with only 4.3 billion IPs, in a bid to a meet the needs of deploying new and high-quality services such as Internet of Things, Smart City, 4G, 5G, electricity cloud computing.
In the 2020 - 2025 period and a vision towards 2030, the Ministry of Information and Communications directs the comprehensive transformation of Viet Nam's internet to IPv6 according to the tasks set in the national digital transformation programme.
Currently, 14/22 ministries and sectors and 60/63 provinces and cities have issued plans to switch to IPv6, in which 7/22 ministries and branches and 30/63 provinces and cities nationwide have successfully converted to IPv6 for electronic portals and public service portals.
On April 26, 2022, the Prime Minister gave a nod to a directive on developing e-government towards digital government, promoting national digital transformation, in which, in 2022, ministries, branches and localities must operate IPv6 on electronic information and public service portals so as to better serve people and businesses.
The advanced training programme on IPv6 and DNS for IT officers at State agencies of more than 60 provinces and cities nationwide, taking place in Da Nang on June 22 and 23, will partly contribute to accelerating the implementation of converting internet addresses to IPv6 in all Vietnamese localities.
Deputy Director of the Department of Information and Communications Le Son Phong said that the training programme will help IT staff improve their ability to implement the switch to IPv6, thereby meeting the sustainable development needs of the internet with new services of the Smart City programme, digital government and proactively speeding up digital transformatio.
Reporting by HOANG HIEP – Translating by A.THU
.