Amazing virtual tour to explore Da Nang from home
September 16, 2022, 11:23 [GMT+7]
The Da Nang Tourism Promotion Centre on Thursday morning introduced an upgraded version of the 'One touch to Da Nang' application that enables visitors around the world to explore the city from home.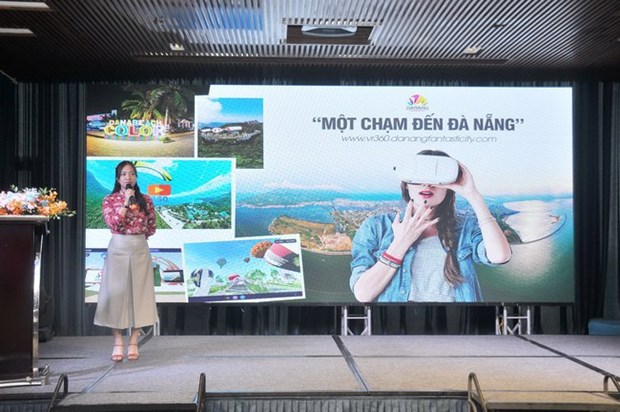 The launch event is designed to introduce 'A Virtual Vacation in Da Nang' (Photo: danangfantasticity.com)
You can enjoy this fantastic virtual tour experience called 'A Virtual Vacation in Da Nang' at https://vr360.danangfantasticity.com/#tongquan_danang_1 where you can explore such attractions as the Ba Na Hills Resort, Mikazuki, and Nui Than Tai Hot Springs Park, as well as discover the beauty of the city at night. In addition, it provides 360-degree videos of Da Nang's amazing tourism products such as paragliding in the Son Tra Peninsula and the Dragon Bridge fire and water show.
The updated version which uses virtual reality and 360-degree videos offers real-life accuracy and makes it easy for users around the world to access information about Da Nang's tourism as well as enjoy a comprehensive experience. The city hopes that this amazing virtual tour to explore Da Nang will inspire your future trips with these virtual experiences and tours of some of the city's best natural and cultural spots.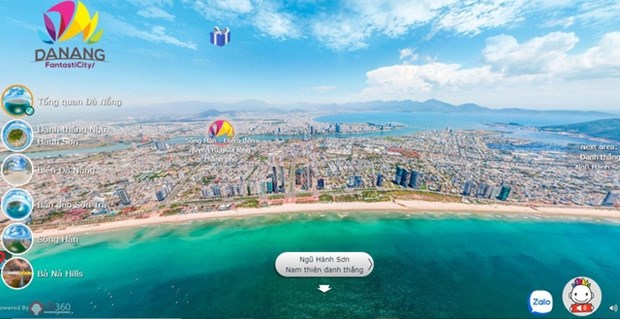 A screenshot of the application.
In its first phase that lasted a year, the application attracted more than 18,000 visits.
Bizverse Technology Joint Stock Company will continue to help Da Nang improve the virtual visitors' experiences by adding more attractions such as museums and beaches to this digital tour.
Also at this event, the Da Nang Tourism Promotion Centre signed cooperation agreements with the Bizverse Technology Joint Stock Company, the Vietnam Cable Television (VTVcab), and KKDay Vietnam Company Limited to promote the city's tourism on digital space and TV channels for the 2022-2024 period, targeting both domestic and foreign visitors.
Reporting by MAI QUE – translating by H.L
.