Investment scale of pedestrian overpass across Nguyen Tat Thanh street
March 03, 2023, 11:36 [GMT+7]
The Da Nang government has approved the investment scale of the pedestrian overpass across coastal Nguyen Tat Thanh Street.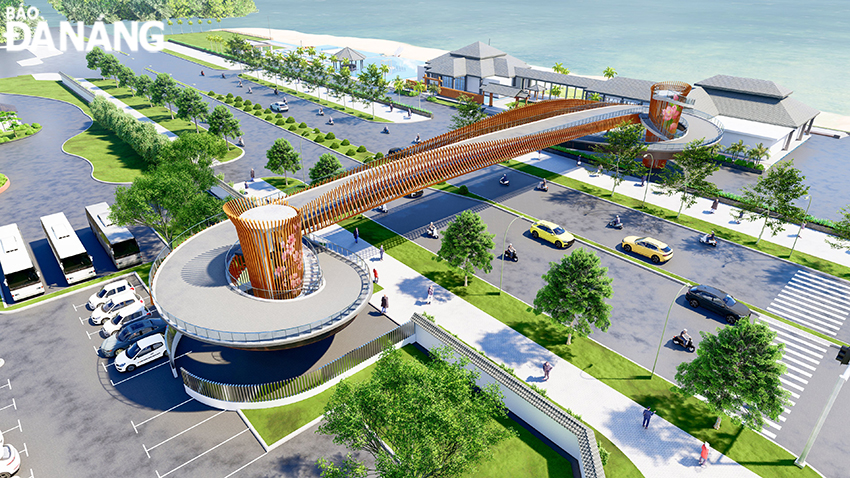 The overpass creates a highlight for tourism development in the Northwest region of Da Nang.
The investor of the project is Mikazuki Vietnam ODK Co., Ltd. that pays all investment costs according to the commitment content. The overpass is expected to be nearly 11 metres high and more than 140 metres long
The VND42 billion overpass is nearly 11 meters high and more than 140 meters long with a floor area of about 655 m2.
The paths leading to the Japanese-style overpass are shown as knots in the Japanese art of knitting strings, showing the strong bond in the two cultures of Viet Nam - Japan.
The shape is inspired by sea waves, creating lightness and relaxation and at the same time connecting with the landscape of the area.
The combination of curves made of wood and details from Japanese culture creates a modern yet traditional character. Outside the two observatories, a steel, spiral staircase is also arranged. Also, an elevator will be installed so that the disabled can easily access it.
Regarded as a symbol of the friendship between Japan and Da Nang, once operational, the overpass will connect two buildings of the Mikazuki Hotel, emerging as a beautiful and modern design overpass in Viet Nam.
The Da Nang administration asked relevant local agencies to review the order and procedures for project implementation according to the scope of functions and tasks, and promptly report on relevant contents, and at the same time, coordinating with the project investor to handle problems during the implementation process if any.
Reporting by PHUONG UYEN - Translating by A.THU
.