Urban restructuring, infrastructure planning for compact city model
March 05, 2023, 12:16 [GMT+7]
The Da Nang Union of Science and Technology Associations recently held a workshop to review a project on the urban zoning along the Han River and the eastern side of the city with a total area of 6,644 hectares and a total population size of more than 547,500.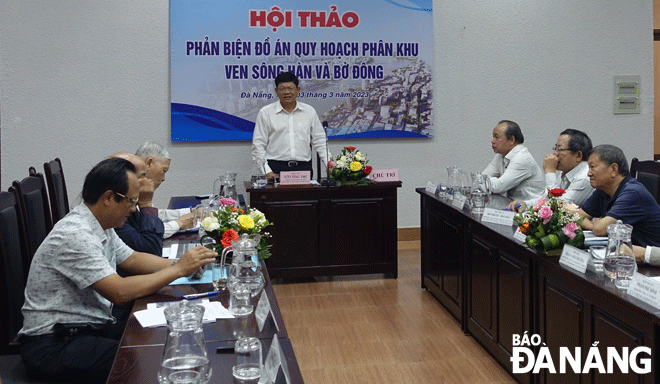 Chairman of the Da Nang Union of Science and Technology Associations Vo Cong Tri
The project involves a total of 32 wards across the city, including 7 wards in Son Tra District, 4 in Ngu Hanh Son District, 13 in Hai Chau District, 6 in Thanh Khe District, and 2 in Cam Le District.
As for the design idea, the subdivision will be planned as the urban center, the administrative - political center of the city, a riverside and coastal tourism gateway, a regional financial center, a national and international conference and seminar center, a high-quality education and training center in Central Viet Nam and Highlands regions, and a medical center.
The consulting unit also proposed to implement land use planning in the direction of forming a TOD transit center at the railway station, upgrade the March 29 Park into a central park serving the community, build a 6-lane bridge crossing the Han River, developing commercial - service tracks along September 2 Street, form a financial - commercial axis along Vo Van Kiet Street and a public park, and converting Tien Sa Port into a port serving tourism and Nuoc Man Airport into dual-use operations.
The consultants also proposed to widen Phan Thanh Street, connect Le Duan Street with Dong Da Street, extend Hoang Hoa Tham Street to Nguyen Tat Thanh Street, build a bridge from March 29 to Bui Ta Han streets, extend February 3 Street to the northwest side of the city, and navigate metro, overhead and light rail lines.
Proposals were made to rebuild urban areas east of March 29 Park, east of Le Do Street, Tan Chinh Market, alley No. 112 on Tran Cao Van Street, triangle area of Le Duan - Ly Thai To - Hoang Hoa Tham streets, Binh Hien Ward, a residential area behind the Da Nang University of Technology and Education under the University of Da Nang residential area which is surrounded by streets of Nguyen Van Linh, Hoang Dieu, Trung Nu Vuong, Nguyen Tri Phuong, Le Dinh Ly and Nguyen Hoang, and a residential area surrounded by the streets of An Don, Tran Hung Dao, Nguyen The Loc, Ngo Quyen, Tran Hung Dao, Nguyen Cong Tru, Ngo Quyen and Nguyen Thong.
Speaking at the workshop, Head of the Management Board of Da Nang Hi-Tech Park and Industrial Parks Vu Quang Hung highlighted the importance of the subdivision planning because of its largest area and its position in the most populated area in the city. Therefore, he stressed the need for consultants to study carefully about traffic, including waterways and roads, especially marinas to connect waterways to Quang Nam Province.
Former Deputy Director of the municipal Department of Construction Huynh Viet Thanh understood the necessity for consulting units to shape the target for the planning of this subdivision with a focus on urban restructuring, solving architectural ideas and landscapes on the banks of the Han River, and urban infrastructure planning.
Former Head of the Department of Architecture and Urban Development Planning under the municipal Department of Construction Bui Huy Tri remarked that urban reconstruction could solve many problems, especially in areas with poor infrastructure. He, therefore, underlined a must-do for the city to promote the value of Ngu Hanh Son Cultural and Historical Park, and the landscape value of the Han River and the sea surface.
Vice Chairman of the municipal Science and Technology Association Tran Dan suggested that the city should soon deploy a bridge from March 29 to Bui Ta Han Street.
Meanwhile, Chairman of the Da Nang Union of Science and Technology Associations Vo Cong Tri highly appreciated comments and suggestions made by experts and scientists. He pledged that his union will fully synthesise comments in order to send to the city.
Reporting by HOANG HIEP - Translating by M.DUNG
.