Investment promotion for Da Nang Dedicated IT Park
October 16, 2023, 18:41 [GMT+7]
The Trung Nam Electronics Manufacturing Services (Trung Nam EMS) and the Japan-based Kichietsu Bussan Co., Ltd. have signed a cooperation agreement in promoting investment and trade into the Da Nang Dedicated Information Technology Park.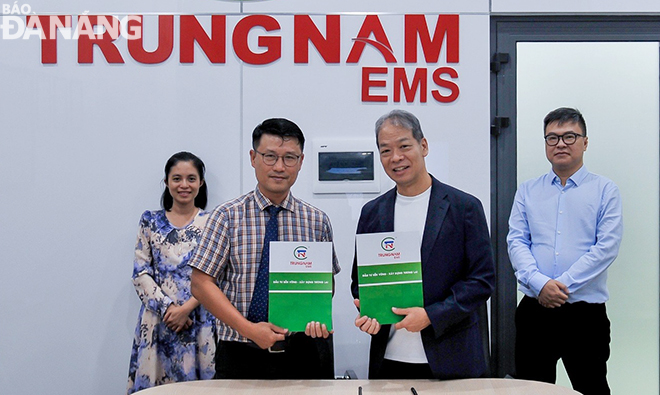 Representatives from Trung Nam EMS and the Kichietsu Bussan Co., Ltd. at the signing ceremony for a cooperation agreement
Under the deal, Trung Nam EMS and Kichietsu Bussan will together promote investment and trade for products and industries that are attracted to invest in the park.
According to Trung Nam EMS, this is an important cooperation agreement in expanding the market and taking advantage of opportunities in the field of information technology. The cooperation not only creates investment opportunities but also strengthens the trade relationship between Viet Nam and Japan.
Kichietsu Bussan is a prestigious and reputable company with more than 50 years of experience in the field of trade promotion. With its wide network throughout Asia, Kichietsu Bussan has proven its ability to build an effective trade bridge between Viet Nam and Japan.
Trung Nam EMS is a leading company in the field of designing, manufacturing, testing, distributing, and providing services for electronic components and assemblies for original equipment manufacturers in Central Viet Nam. It is an investor for key projects in the Da Nang Centralised IT Park. Its mission is to build and develop an information technology ecosystem, thereby creating favourable conditions and readiness in terms of infrastructure, human resources, legal and necessary conditions for domestic and foreign investors to invest effectively.
Reporting by GIA PHUC - Translating by M.DUNG
.