Clipper Race - killing time
Published: February 09, 2016
The route of the Clipper Round the World Race has had to be lengthened yet again to avoid the boats arriving at their next port of call, Da Nang, ahead of schedule.
As reported earlier, the race organisers had already required the 12 competing boats not to sail straight for Da Nang but instead complete a loop from north of the Philippines south to Con Dao before then heading up the Viet Nam coast to arrive in Da Nang on 17 February.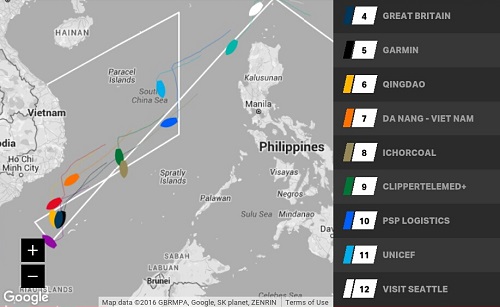 Latest positions - 07.00 8 February (source: Clipper Race website)
The boats are currently strung out across the East Vietnam Sea but the favourable winds have meant that the leading group are still ahead of schedule. Now they have been instructed to head back in a north-easterly direction before finally turning west into Da Nang. Hopefully this will delay them enough as they will be battling against the prevailing winds and making much slower progress.
The Da Nang-Viet Nam boat is presently lying in 6th place not too far behind the leader.
Follow the boats as they approach Da Nang at www.clipperroundtheworld.com.
(Written by Ian Lister)
.