Derry-Londonderry-Doire takes first win in race 7
Published: February 15, 2016
Following a challenging 28 day race in which crew faced a whole range of conditions, Derry-Londonderry-Doire has won the Da Nang New Discovery of Asia Race, taking its first race victory of the series. The team also won the Ocean Sprint and came second in the Scoring Gate so take home an overall 16 points.
After another very close dual, Garmin finished second and GREAT Britain is third but will also pick up an additional three points for winning the Scoring Gate early on in the race. Three hours and four minutes redress was applied to LMAX Exchange's overall finish and was based on average speed, after it assisted an abandoned yacht on Day 7, though this did not change its overall position and it retains its fourth place finish position.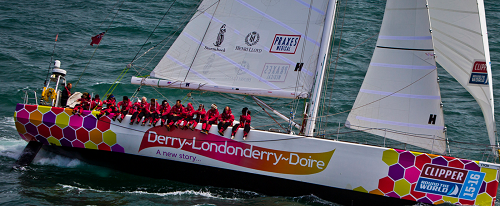 The Derry-Londonderry-Doire yacht (Photo: clipperroundtheworld.com)
From starting off with a fast downwind sprint in scorchng 40+ degree heat as teams headed north through the tropics and across the Equator line for the second and final time in the series, to winds that gusted over 50 knots in lumpy swells, plus upwind conditions in cooler conditions, and then dying winds in the final stages, this race really has thrown it all at the crew.
Teams are now making best speed to Da Nang where a colurful welcome cermony awaits each team. Da Nang, Viet Nam's third largest city and awarded Tripadvisor 2015 Top Destination on the Rise, boasts a stunning sandy coastline and as a first-time host port, the city is very excited to welcome the crew, along with friends, family and supporters.
The provisional race positions for the Da Nang New Discovery of Asia Race are as follows:
1st – Derry-Londonderry-Doire (+ 2 Ocean Sprint + 2 Scoring Gate points)
2nd – Garmin
3rd – GREAT Britain (+ 3 Scoring Gate points)
4th – LMAX Exchange
5th – Qingdao (+ 1 Scoring Gate point)
6th – Da Nang - Viet Nam
7th – ClipperTelemed+
8th – IchorCoal
9th – Psp Logistics
10th – Unicef
11th – Mission Performance
12th – Visit Seattle
(Source: clipperroundtheworld.com )
.