Quan The Am Festival from 25 - 27 March
Published: February 25, 2016
The Quan The Am (Avalokitecvara) Festival will run from 25 - 27 March (the 17th - 19th days of the 2nd lunar month) at Ngu Hanh Son District's Quan The Am (Avalokitecvara) Pagoda in the Marble Mountains Tourist Area. The event aims to meet the cultural, spiritual and religious needs of the locals and it is a good opportunity to advertise the city's tourism images to domestic and foreign visitors.
This year's festival will feature a number of solemn Buddhist rituals. Included are the traditional offerings and preaching sessions, a solemn ritual to pray for peace and safety throughout the year, and the Avalokitesvara Bodhisattva Statue procession.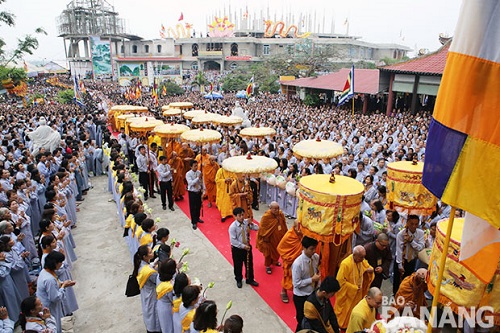 Quan The Am Festival often attracts a large number of visitors
Most notably, there will also be various exciting cultural and sporting activities such as a poetry and music exchange, the floating of flower garlands and coloured lanterns on the river, a traditional boat race, 'bai choi' (singing while acting as playing cards), a Chinese chess competition, fascinating arts performances, and a running race.
During the event, the pagoda's new Buddhist Cultural Museum with its many displays of valuable Buddhist antiques will be open to the public.
.